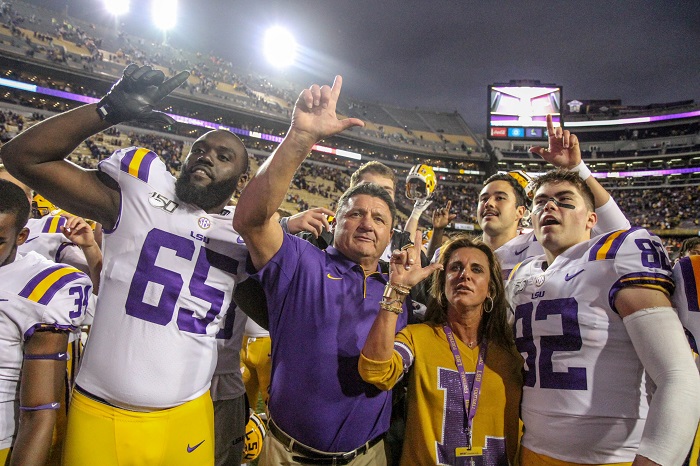 There's an old cliché my dad took a liking too early on in my childhood that's stuck with me for most of my life.
"What have you done for me lately?"
What the No. 1 LSU football team has done lately is incomparable to any other team in the country, the voters in the Associated Press Top 25 Poll rewarded the Tigers with honor of No. 1 team in the country two weeks ahead of a massive showdown with the team they jumped to get there: I really don't have to say who it is, do I?
LSU may have had trouble putting No. 9 Auburn away, but that's par for the course in the rivalry between the two teams who claim the Tiger mascot, and it's one more Top 10 victory than a vast majority of the country has under their belt.
But it wasn't just one solid victory that convinced voters to leapfrog LSU over Alabama. It's an extremely solid resume that includes three wins against Top 10 teams, one of which came on the road in a hostile Big 12 environment against Texas.
That win may not look as impressive as it did back in September after the Longhorns fell to TCU this past weekend, but it doesn't really matter. At this point, the Longhorns could lose out and the Tigers' resume would still speak for itself.
The only LSU team in recent memory to face such a gauntlet through eight games and come out unscathed was the 2011 squad (perhaps a good omen for an LSU squad looking to take down the Tide for the first time since that season), and believe it or not, it had only beaten one Top 10 team up at this point in the season.
That game was a 40-27 romp of No. 3 Oregon in a neutral-site season opener at Jerry World. LSU followed that up with wins against No. 25 Mississippi State, No. 16 West Virginia, No. 17 Florida and No. 19 Auburn, all but one of which were won in absolutely dominant fashion.
This season hasn't provided LSU with as consistent a gauntlet of Top 25 opponents, but the three teams the Tigers have beaten in 2019 are far better than most of the aforementioned 2011 opponents, through eight games.
But nobody team in the FBS has three wins in 2019 as impressive as LSU's against Texas, Florida an Auburn through nine weeks
Texas may have dropped out of the Top 25, but a non-conference game on the road is never easy, and LSU protected Death Valley with impressive wins against Florida, currently ranked No. 6 in the country, and Auburn, who dropped to No. 11 after the 23-20 loss to LSU.
Let's take a look at the rest of the Top 5's most impressive victories for comparison.
We'll start with Alabama, whose opponents have a resounding 25-39 record combined this season. Only two of those teams (Southern Miss and Texas A&M) currently have a winning percentage above .500, and the Aggies are the only team that the Tide have played that was ranked at the time of kickoff.
I realize Alabama is Alabama. Nick Saban is still the head coach in Tuscaloosa and the Tide haven't seen a scare all season, but it's frankly kind of ridiculous it took this long for LSU to jump the Tide in the first place. I still think they're ranked too high, as Ohio State has the only reasonable argument to be No. 1 outside of LSU.
The Buckeyes have only faced one team with a losing record this season, and their opponents have a combined 36-26 record through nine weeks.
In addition, Ohio State just passed its first big test of the season, torching a defensive-minded No. 13 Wisconsin squad by a score of 38-7.
Defending champion Clemson, on the other hand, has a resume similar to that of Alabama's. The only ranked team on the schedule so far was Texas A&M, and with the exception of a close call against UNC, the Tigers out east have laid waste to their opponents who have a combined 30-33 record.
LSU's opponent record currently sits at 33-30, better than Alabama and Clemson but worse than Ohio State's, but the quality of the Tigers' wins give them a slight edge over the Buckeyes, and I mean very slight.
Only six AP voting points separate No. 1 LSU and No. 3 Ohio State in some of the tightest voting in the modern era of college football, especially this deep into the season.
All four teams mentioned in this column have a stellar shot at reaching the postseason, especially with Oklahoma picking up its first loss of the season to Kansas State this past weekend.
With four games left on the regular-season schedule, some have a tougher road moving forward than others. But since when have projections ever mattered in college football?
We're in for a sprint to the finish line with the Top 5 teams holding on for dear life, and I, for one, can't wait to watch it unfold.
Photo Credit: Jonathan Mailhes