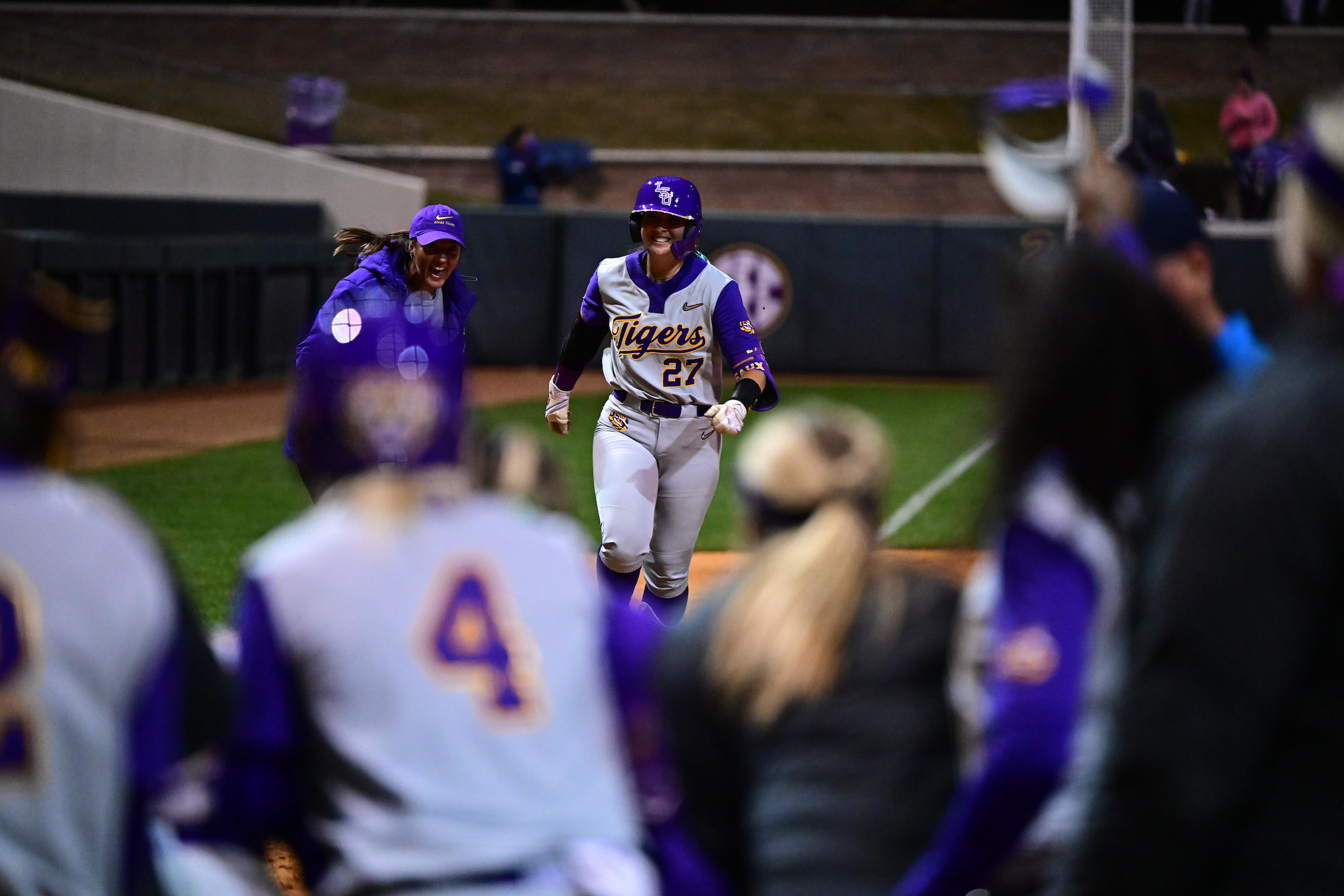 LSU's Shelbi Sunseri had a senior moment, and the Tigers couldn't have been more thankful.
Sunseri, this year's lone senior on the team, led off the bottom of the 10th with a solo homer for a 3-2 victory Saturday to finish the second day of the Purple & Gold Challenge.
No. 24 LSU relied on the long ball with a season-high four home runs in an 8-0 win over Purdue in five innings in Saturday's opener.
"We are just lucky she is on our team; she is an incredible player," LSU softball coach Beth Torina said of Sunseri. "She is our only fifth-year player, and she just looked like our leader tonight. We count on her a lot to be that leader, be brave, and take us into big situations. She was all of that and more tonight, without question."
The Tigers (10-5) close out the Purple & Gold Challenge with its third doubleheader in three days, hosting both Purdue (11:30 a.m.) and Stephen F. Austin (2 p.m.) at Tiger Park.
LSU 3, Drake 2 (10)
Sunseri had a pair of solo homers off Drake's losing pitcher Nicole Timmons and also homered in Saturday's first game to lead LSU with six on the season.
Sunseri also turned in quite a performance in the circle, throwing a three-hitter with two runs (none earned), a walk and career-high 11 strikeouts. She threw no-hit ball over the final 7.2 innings after a two-out double to Drake's Makayla Rice with two out in the top of the third.
"She is what we always talk about wanting to be," LSU third baseman Danieca Coffey said of Sunseri. "She does everything you could ask of a person; she is always there and being a good teammate."
LSU, which had 12 hits led by Ciara Briggs' three-hit effort, rallied from a 2-0 deficit after the first inning and scored a run in the fourth on Sunseri's first solo home run of the game.
The Tigers tied the game with two outs in the seventh when Ali Newland, who doubled to lead off the inning, scored when shortstop Taylor Pleasants bounced an RBI-double off the wall in center field.
LSU 8, Purdue 0 (5)
Junior pitcher Ali Kilponen (6-1) allowed a pair of singles, struck out six and walked none in her fifth complete game and second shutout of the season.
LSU tallied single runs in each of the first three innings before delivering a five-run fourth inning to put the mercy rule in play which Kilponen made stand up with a scoreless fifth.
Pleasants homered for the second time in two games for her second of the season that made it 3-0 after Danieca Coffey's RBI-single that scored Savannah Stewart who reached on a fielder's error to lead off the third.
A two-run double from Coffey (2-3, 2 RBIs) ignited the fourth which was followed by solo homers from Briggs on a full-count pitch and Sunseri unloaded a solo homer to center field.