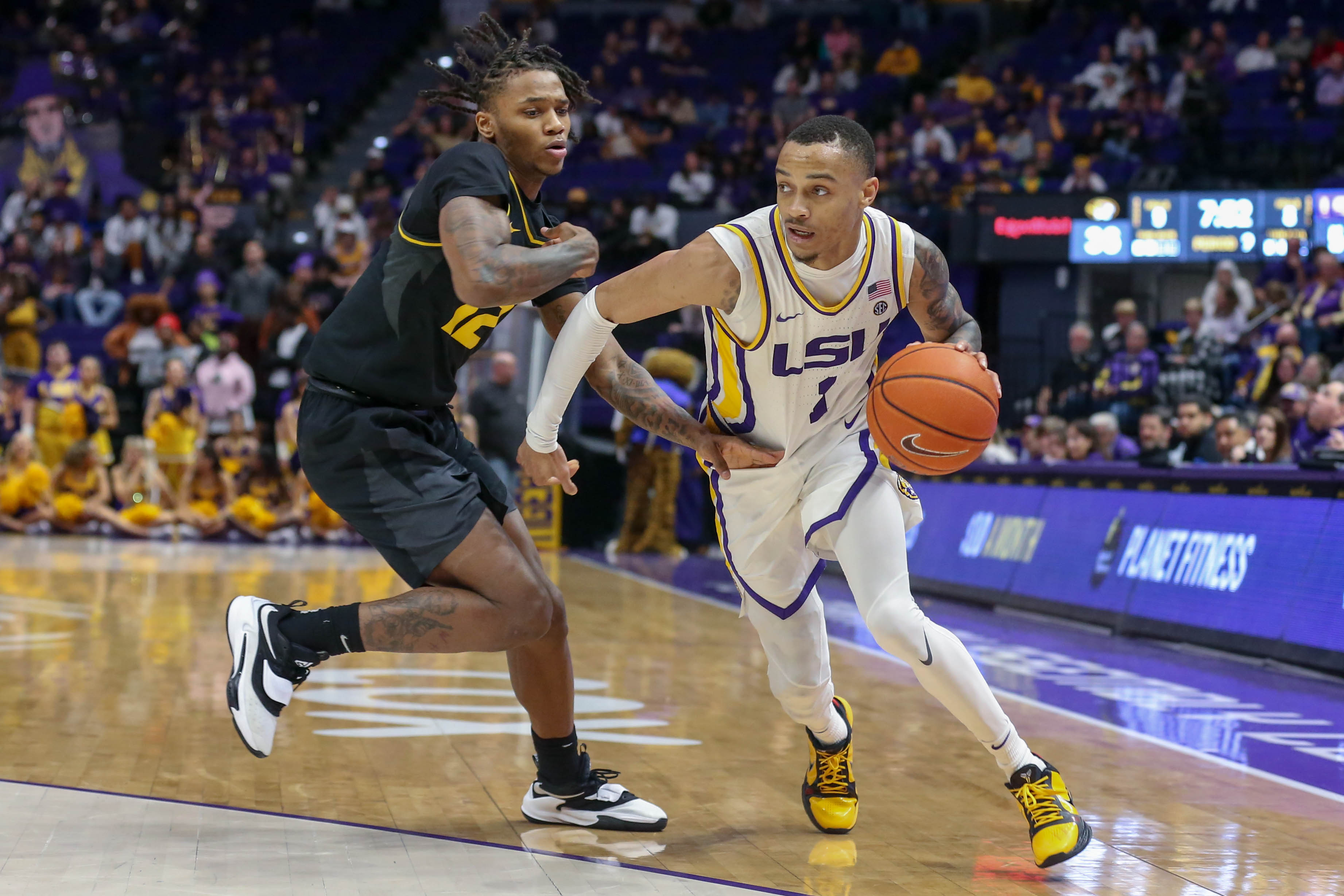 A good basketball team, the kind that make runs in March, operates like a band. Everyone on the floor brings something to the table. The whole is greater than the sum of the parts, but with room for individual expression within the overall collaboration.
LSU had that early in the season, until point guard Xavier Pinson's knee injury in the waning moments of a January win over Tennessee. LSU coach Will Wade eased Pinson back into the lineup over the past month, but the Tigers still haven't recaptured the magic from a 15-1 start to the season.
"I want get back to winning and that's about it," Pinson said. "Me being 100 (percent) or 98 (percent) doesn't matter right now. I've got to come with it and bring it to the table. No excuses.
"We just have to win and me being hurt is not an excuse for anybody. Winners find a way to win no matter what and we just have to find a way."
Pinson missed five games until returning at TCU on Jan. 29. He played limited minutes until Feb. 8 at Texas A&M, sparking LSU to a much-needed 76-68 road win. The Tigers won three in a row before a 77-75 loss at South Carolina on Feb. 19.
"He's one of our best players and he keeps us calm, poised and composed when we're out there," Wade said. "We need him to continue to play well and he's got to start shooting it better here now that he's got his sea legs under hm and hopefully that'll start happening sooner rather than later."
Pinson scored a season-high 26 points with eight assists in a 71-66 loss at Kentucky on Feb. 23. LSU squandered an eight-point halftime lead and sputtered offensively after forward Tari Eason and guard Brandon Murray fouled out in the second half.
"We imposed our will in the first half and in the second half they imposed their will on us," Pinson said. "It sucks to say but they played harder and were the better team. You could tell they really wanted to win, and they played harder than we did."
Trailing by 15 points with under the minutes remaining, LSU deployed a full-court press and pulled within four points with 33 seconds to go. Pinson missed a layup that would have cut the lead to one basket.
For the second time this season, LSU faced a Kentucky team playing without guards TyTy Washington and
"We changed our pressures up more," Wade said. "We were so worried about them in transition, so we just changed up what we did, and I thought that helped us."
LSU followed the Kentucky loss with a 75-55 win over Missouri on Feb. 26 at the Pete Maravich Assembly Center. The offense returned to its early-season form with Eason scoring 18 points with six rebounds while once again fouling out at the 11:35-mark. Murray (11 points), Pinson (10 points) and forward Darius Days (10 points) also finished in double figures.
Since Pinson's return, the best game LSU played was an 84-65 win over hapless Georgia on Feb. 16. Eason scored 21 points on 9-of-15 shooting. Murray and forward Darius Days each scored 15 points while the Tigers shot 18-of-33 (.545) in the second half.
Shareef O'Neal, the son of LSU legend Shaquille O'Neal, played 19 minutes off the bench. With his father in the crowd, the younger O'Neal had nine points and seven rebounds on 4-of-10 shooting.
"When we have all our pieces, we're very hard to beat for sure," Days said. "We got our point guard (Pinson) back. He helps us out of a lot with the talking on defense, just being in the right spots, directing and facilitating on offense, so you know, him being back plays a big part in our success."
Despite allowing Georgia to shoot 20-of-45 (.444) from the field, 15-of-24 (.625) in the second half, LSU forced 26 turnovers and had 16 steals.
"I felt like with them coming and turning it over 15 times a game, we could get to them with pressure," Wade said. "They have had some injuries, but I thought our pressure was very good. Pinson had four steals and that was great.
"We had a couple with three steals, (Eric) Gaines and (Tari) Eason. Days also had a couple, so I thought our pressure really helped us."
LSU's attempt at a four consecutive win hit the skids when South Carolina pulled within one possession in the second half. The lead changed hands three times until the Gamecocks took the lead with 1:38 to go.
Turnovers, the culprit in so many LSU losses this season, cost the Tigers down the stretch in Columbia.
"After the game, I told the guys regardless of how much we were up, in the last minute of the game I turned the ball over and helped them go up by three," Eason said.
"It was cased closed after that and I expect 100 percent responsibility. Our guys fought hard, and some things may not have gone our way, but for someone who sees himself as a leader on this team, I have to take 100 percent accountability for that loss."
The SEC Tournament looms large for an LSU team fighting for "March Madness" seeding.
"It's that time," Days said. "We need a pretty good seed to start and we're fighting for our lives right now, so we have to take care of business."