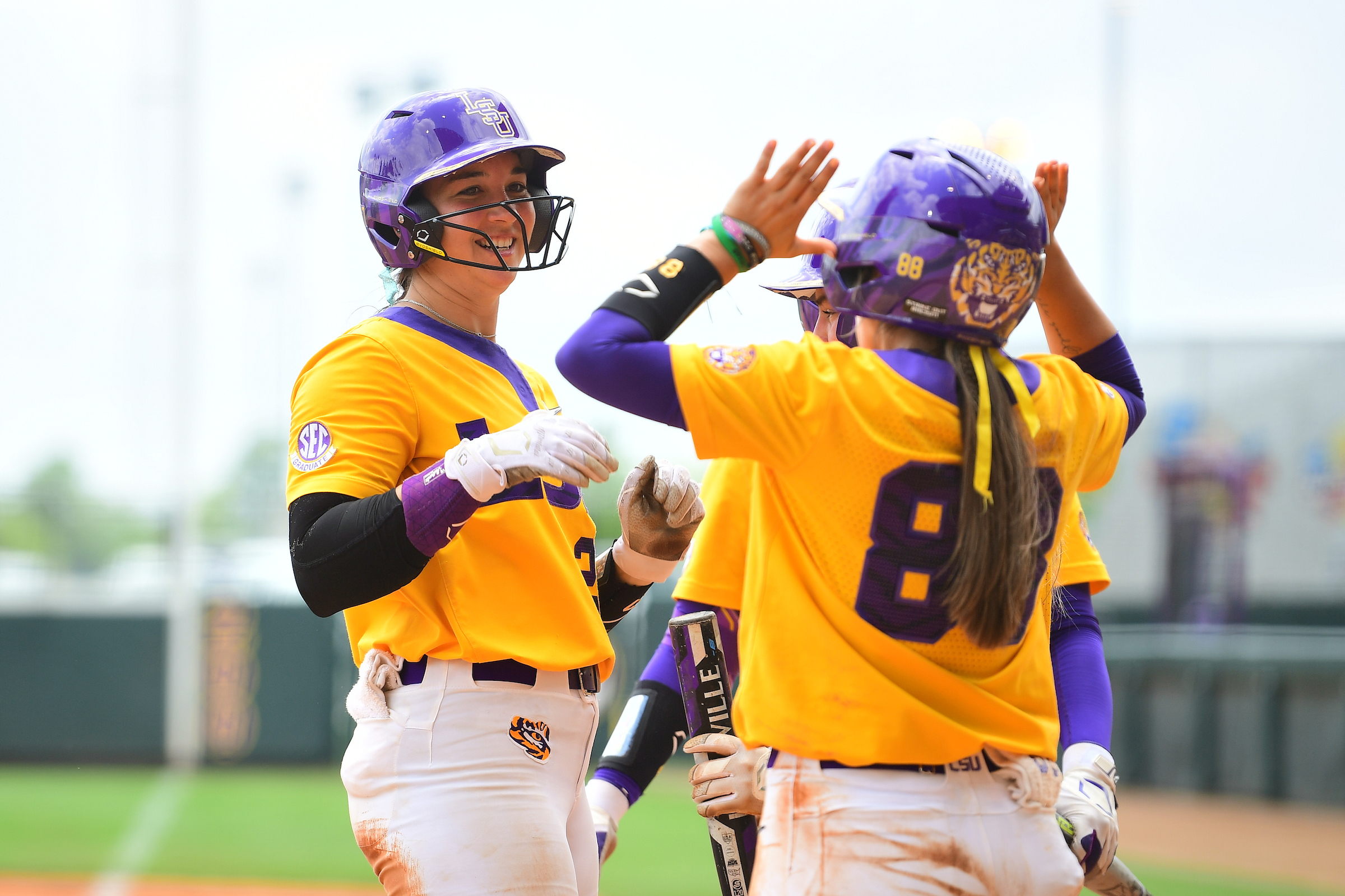 LSU softball coach Beth Torina knew what it meant to have senior Shelbi Sunseri shine again the pitcher's circle.
For the first time in more than a month Sunseri gave a glimpse of her past dominance, firing a complete-game shutout and was part of an offensive onslaught with a two-run homer in the fourth inning that helped lead No. 21 LSU to an 8-0 run-rule victory Saturday over South Carolina at Tiger Park.
"She needed that," Torina said of Sunseri. "I think she needed a win personally, too. Getting some confidence back. Everyone knows how good she is. She's very talented and I think getting out of her own way and going back to being herself just competing and throwing good pitches. I think she did that today."
LSU (27-16, 8-7 in SEC) completed its first sweep of a Southeastern Conference opponent since 2019 with its second shutout of the series and moved to seventh in the league's standings. After getting just two hits in Thursday's 4-0 victory, the Tigers collected 21 hits over the past two games, including 10 on Saturday, and invoked the mercy rule against South Carolina (23-21, 2-13) with back-to-back doubles from Ali Newland and McKenzie Redoutey.
"We don't really focus on it," Sunseri said of the sweep. "We try to focus on one game at a time. We have a process and it's win one pitch, win the next one, and win the game. Then it's win game two and win the series. I think really focusing on winning each pitch leads us to get a sweep."
Sunseri (6-6) picked up her first conference win of season. She didn't make it out of the third inning last week against Texas A&M but responded with her fifth complete game of the season, pitching at least six innings for the first time since Feb. 26 against Drake.
Sunseri picked up her second shutout of the season, scattering five hits with five strikeouts and a walk. She stranded two runners in scoring position and got a pair of key double plays from her defense to close the first and fifth innings.
"We've shown that our team can win in a lot of different ways," Torina said. "We've shown that we can do it all. It's nice to put it all together in one weekend. That's what we've really been searching for all season long."
LSU jumped out to a 3-0 lead in the bottom of the first on three singles, but it was Georgia Clark's execution that put the team's run support of Sunseri into motion.
Clark, the SEC's leader in RBIs with 45, followed consecutive one-out singles from Ciara Briggs and Taylor Pleasants by dropping down a suicide squeeze bunt that resulted in an infield single and scored Briggs.
The Tigers took advantage of the first of two errors when Newland's potential double play grounder not only enabled Pleasants to score but an errant throw that bounced past first base also allowed Clark to score.
"She's such a power hitter and at the top of the country and league in RBIs and is willing to do that for us," Torina said. "It's harder than you think. She's willing to practice and put time into that to make sure she's capable of that. The fact that she's willing to do something small like that means she's also going to do a lot of big things for us also."
LSU, which picked up a run in the third on Newland's groundout, extended its lead to 6-0 in the fourth on Sunseri's two-run homer.
Briggs, who was 3-for-4, singled for the third time and after retiring Pleasants and Clark, USC relief pitcher Karsen Ochs didn't fare too well when Sunseri delivered a 2-1 pitch over the wall in left field. It was her team-leading 13th of the season and 46th of her career.
"I was just trying to put the bat on the ball," Sunseri said. "I've been disciplined all weekend. I took a guess on what was coming. It was there and it happened. I was trying to extend the inning, just pass the bat to the next person."
LSU closed out the sweep after two were out in the sixth and pinch-runner Savannah Stewart at second. Newland doubled to the wall in right-center and drove in her third run of the game to score Stewart and Redoutey followed with a run-scoring double to the left-center wall that scored Newland.
"We've talked all year about this team building momentum as the season goes on," Torina said. "Just continue to get better and play our best softball at the end and I think we're on our way to doing that."