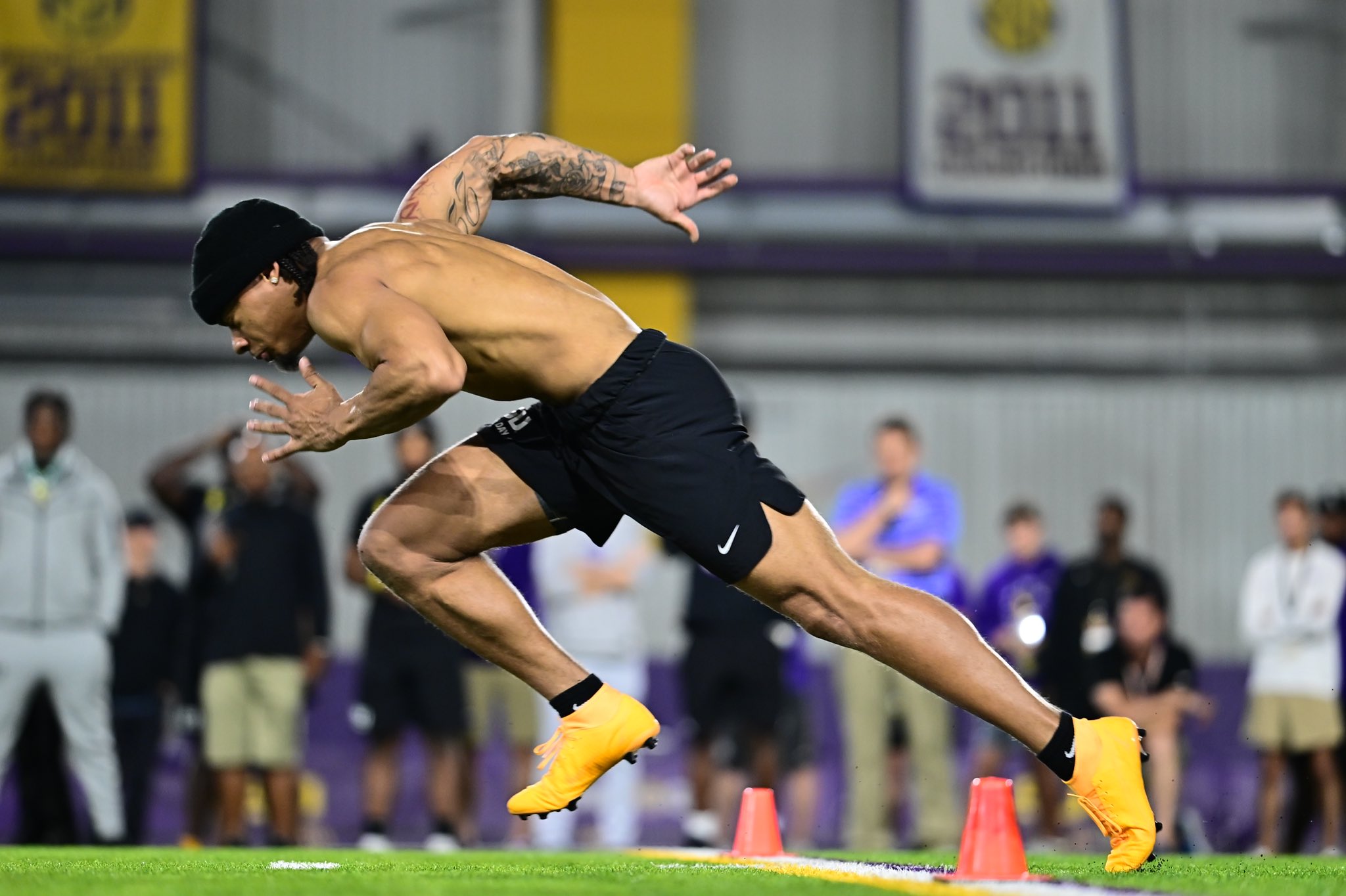 He said very little about his LSU experience.
But Derek Stingley Jr. simultaneously said quite a lot with the brevity of his response after being asked directly about it.
"It was good," he said.
Asked to elaborate, Stingley – dogged by questions about his injuries and motivation for much of the past two seasons – opted to employ the same three words.
"It was good," he said again.
And that was that. Nothing more to say.
Stingley's showing in front of a throng of scouts on LSU's Wednesday Pro Day, however, spoke volumes about the former Tigers cornerback's readiness for the April 28-30 NFL Draft in Las Vegas and the season ahead.
Checking in at 6-0¼ and 188 pounds, Stingley ran the first of his 40-yard dashes in 4.37 seconds, which would have ranked fifth among cornerbacks at the recent NFL Combine in Indianapolis. He had a vertical jump of 38.5 inches, which would have ranked fourth among corners at the Combine. His wingspan was measured at 74 inches.
More than the numbers, though, Stingley showed he's back to where he was before missing the final 10 games of LSU's 6-7 2021 season with a Lisfranc injury in his left foot – and perhaps back to the best of his college days, circa 2019.
Which was his goal all along.
"I just wanted to show that nothing has changed after these past couple years," said Stingley, a 2019 consensus All-American as a freshman who also missed the Tigers' 2020 season-opener with what LSU called an "illness" and the last two games that year with an ankle injury.
The Dunham School product from Baton Rouge started all 15 games at corner in '19, when his six interceptions led the SEC and were fifth-most nationally.
"The teams just wanted to see how I moved," Stingley said, "and after I showed them that I'm still me everything's gonna be good."
The day, however, wasn't a good one just for Stingley, a projected first-round pick who is the son of 1993 Philadelphia Phillies draft pick Derek Stingley and the grandson of late NFL receiver Darryl Stingley.
Defensive end Andre Anthony ran the 40 just seven months removed from an ACL tear and was quite happy with his 4.63 clocking.
   Versatile Jontre Kirklin, a receiver who also worked in front of the scouts at defensive back in position group drills, had a broad jump of 11 feet, 5 inches, that would have ranked first overall at the Combine, topping North Dakota State receiver Christian Watson's 11-4, and a vertical of 42 inches that would have tied Georgia linebacker Channing Tindall and UTSA cornerback Tarik Woolen for first in Indianapolis.
But it was the show by Stingley, who didn't take part in the Combine due to recovery from his foot surgery, that was all the talk as 13 former Tigers tested.
"Derek was great," Kirklin said.
"That dude's amazing. … Sting, that's Sting every day," added defensive tackle Glen Logan, who also took part in testing. "Sting is a really good competitor – probably the best defensive back I've ever seen. … He's battled-tested. I feel like he's the best DB in the draft, honestly speaking."
   Stingley, cleared to resume working out post-surgery with no limitations just three weeks before Pro Day, said he wasn't really 100% until a couple of days prior to the event that attracted scouts from all 32 NFL teams to Baton Rouge.
Stingley also revealed he played the first three games of last season injured before shutting down for the rest of the year.
"The Lisfranc injury, it happened on the first day of (preseason) camp," he said. "And I played those three games with the Lisfranc."
Yet Stingley was good to go in time for Pro Day, and he performed well enough that it could land him in the top half of the draft's opening round.
   Stingley did run a slower second 40, clocking 4.44 seconds, which he attributed to popping up at the start. He ran the second time, he said,  "because I can run faster than a 4.3."
Beyond that, though, Stingley was pleased.
His performance was self-assessed with similar succinctness to his answer about his time at LSU, but in this instance it sounded sincere.
"I think I did good," Stingley said.
This time he did elaborate.
The scouts, Stingley said, "wanted me to just come out here and be me, so that's what I did. … They all loved what I went out there and did."