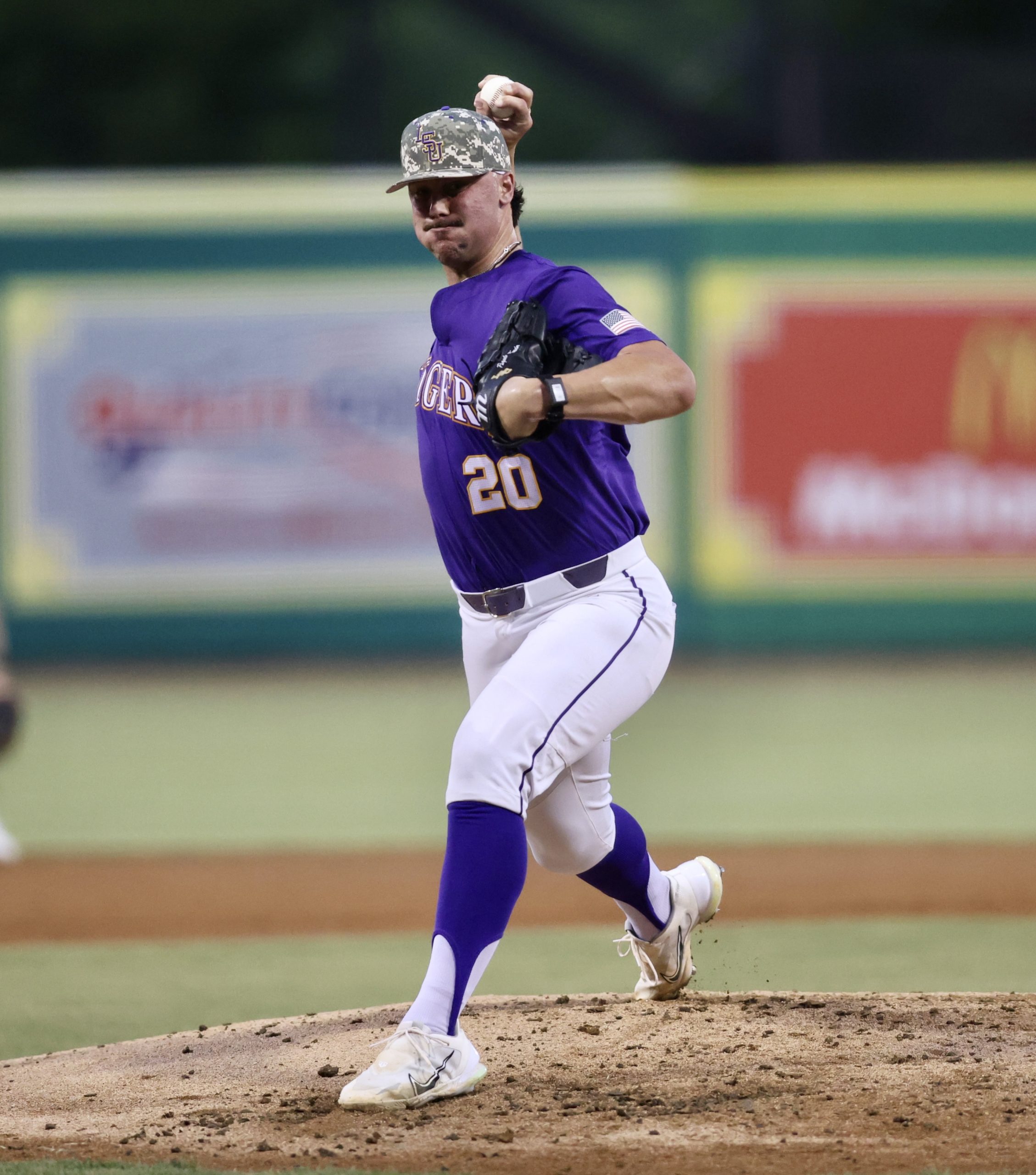 LSU's Paul Skenes was selected the 2023 D1Baseball Player of the Year after helping lead the Tigers to the national championship.
The Tigers wrapped up the school's seventh national title last Monday with a best-of-three victory over Florida where Skenes was voted the event's Most Outstanding Player.
Skenes (13-2, 1.69 ERA) led the nation in strikeouts with 209, breaking the 34-year-old single-season mark of former LSU All-American Ben McDonald. He only walked 20 batters and held opponents to a .165 batting average in 122.2 innings.
"I've gotten to talk with Ben a lot, and he called a lot of our games," Skenes said of McDonald's record. "Obviously had a really good career at LSU and in the major leagues. It's cool. And it's cool to leave a legacy.
Skenes was the 2023 SEC Pitcher of the Year and was 1-0 with a 1.15 ERA with 21 strikeouts against two walks in 15.2 innings over two superb starts in the CWS.
"I mean, this is something that we look forward to all year. This is why I came to LSU," Skenes said. "But honestly, playing in front of as many fans as we have at Alex Box, and kind of mentally preparing over the last 10 months or whatever it's been, when it comes down to it, it just comes down to execution. And Coach says the game doesn't change, people change. As long as we make it to where we don't change, then that allows to us have success here."
Skenes transferred from Air Force, where he was a two-time All-American as a two-way talent, splitting time between pitching and catching. He was an established star who hit double-digit homers in each of his first two seasons while posting a sub-3 ERA, first as a closer during his freshman year, then as a starter in his sophomore campaign.
Working with LSU pitching coach Wes Johnson, Skenes' velocity spiked into the high 90s and regularly exceeded 100 mph, topping out at 103. He sustained that premium velocity all season long, throwing more than 40 pitches 100 mph or faster during his first CWS start against Tennessee. He also made dramatic strides improving his slider under Johnson's tutelage, and the pitch became a power offering in the high 80s this year, giving him another out pitch along with his fastball and changeup.
In Omaha, LSU coach Jay Johnson explained that Skenes' huge leap forward and LSU's decision to use him exclusively as a pitcher this year went hand in hand:
"There's a lot of value in simplicity, I think, and he's a great two-way player," Johnson said. "This dude was launching home runs in fall baseball. I mean, as impressive as it gets He definitely could make an impact. Had I just made him a position player, he would have 20 home runs right now and potentially be hitting fifth or sixth for our team.
"Well, we had a really deliberate plan on the pitching side of it. We got him started right when he got to campus with Coach Wes Johnson to develop his slider. There were some things that we needed to do. So we started to do that early. We shut him down earlier in the fall to give him more ramp-up time for the season. Then it wasn't intentional, but I think kind of removing the two-way player thing, I started to see his ability to recover physically better. You're minimizing the rotations because the rotation of a pitching delivery, rotation of a hitting swing, he is right-handed in both, it's very similar."