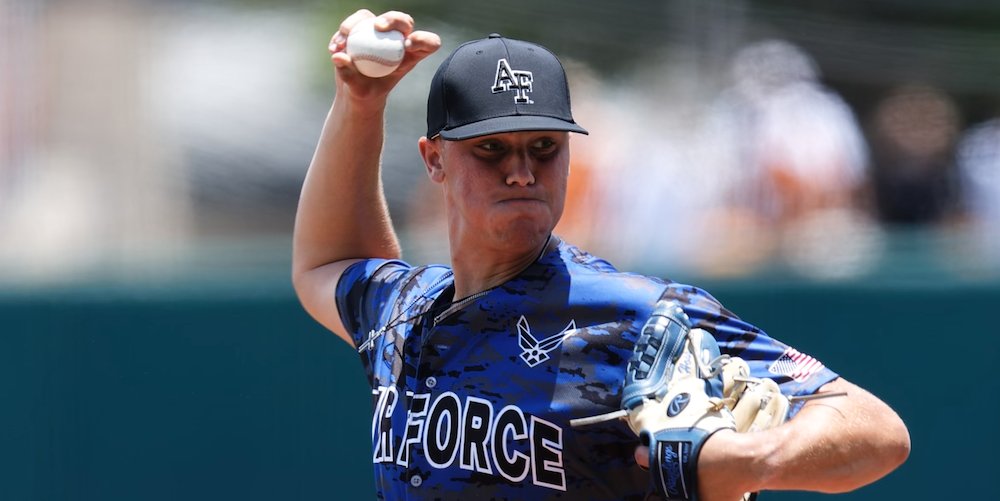 In his search for one of the nation's top pitchers still available in the NCAA transfer portal, LSU coach Jay Johnson did one better.
The Tigers picked up a commitment from college baseball's reigning top two-way player, landing Air Force pitcher/catcher Paul Skenes.
"I think it was just the best fit for me to develop as a player during my draft year — both as a hitter and pitcher," Skenes told D1Baseball.com. "I really clicked with the coaches and I think the culture of the team and the atmosphere at LSU presented the best opportunity for me to enjoy this year as well."
Skenes, a 6-foot-6, 235-pounder, distinguished himself at Air Force as one of the country's premier players with his powerful right arm and potent bat.
He was selected this year as winner of the John Olerud Two-Way Player of the Year after going 10-3 with a 2.73 ERA. Skenes also batted .314 with 13 homers and 38 RBIs, despite back problems that limited him early in the season.
The hard-throwing Skenes, whose fastball reaches 93-to-95 miles per hour, fills a huge void.
Johnson believed he resolved some of his team's shortcomings in starting pitching earlier this summer through the transfer portal with the addition of Dylan Tebrake of Creighton. But the New York Mets made Tebrake an eighth-round selection in the recent MLB Draft, then signed the righty.
Skenes, who chose LSU over Arkansas, Mississippi State, Texas and Vanderbilt, gives the Tigers a legitimate Friday night starter. He joins fellow signees Thatcher Hurd of UCLA and Christian Little of Vanderbilt as pitchers signed through the portal.
A native of Lake Forest, California, Skenes is listed as the No. 25 prospect in the 2023 Major League Baseball Draft. He also was a member of 2021 U.S. College National Team.
"Skenes is quite simply one of the very best and most valuable players in all of college baseball," Aaron Fitt, co-editor of D1Baseball.com, wrote on Twitter.
Air Force finished 32-29 after reaching the 2022 NCAA Regional in Austin, Texas.
Skenes earned first team preseason and postseason honors on the All-Mountain Conference team and was named the league's co-Player of the Year plaudit. He was also selected as a first team All-American by College Baseball News.
A season after being the team's closer, Skenes became the staff ace in '22 and had 96 strikeouts in 85.2 innings and 30 walks. At the plate, he had 15 multi-hit games, 10 doubles with a .634 slugging percentage and fielded at a .982 clip.
Skenes was the only player in Division I baseball in '21 to record double-digit homers and saves. He was named the Mountain West Conference Player of the Year and as a semifinalist for the Golden Spikes Award, symbolic of the nation's top player, after batting a team-high .410 with 21 doubles, 11 homers and 43 RBIs last year. In 18 relief appearances covering 26.2 innings, Skenes also was 1-1 with a 2.70 ERA and 11 saves, the latter tying a school single-season record.