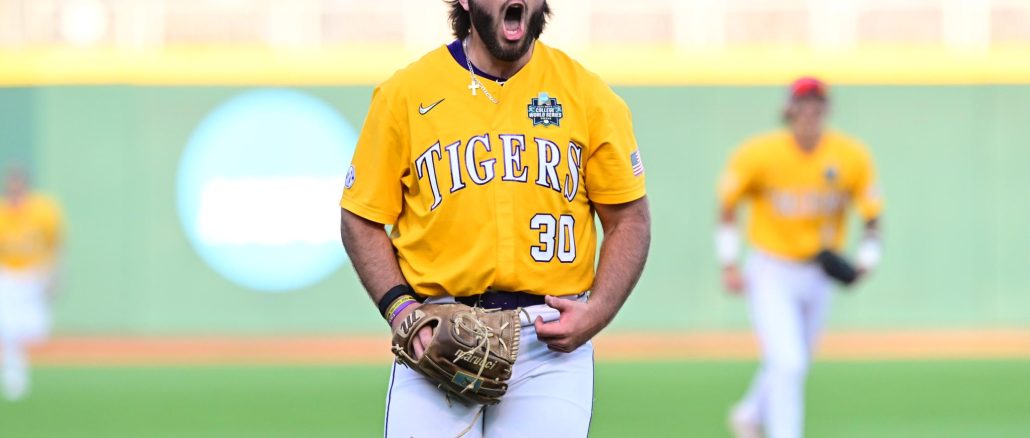 ---
The last time pitcher Nate Ackenhausen started a game was during last year's South Central District Tournament in New Orleans.
Ackenhausen was a primary starter for Eastern Oklahoma State College when Crowder (Missouri) College handed the 6-foot-2, 240-pound lefthander a 6-4 defeat, his only loss of the season.
Fast-forward to Tuesday's elimination game of the College World Series and facing SEC foe Tennessee for the right to keep its season alive, LSU relied on reliever-turned-starter Ackenhausen for the performance of a lifetime. He combined with reliever Riley Cooper on a six-hit shutout to lead the fifth-seeded Tigers to a 5-0 victory over the Volunteers.
Ackenhausen, who was making his first start in his 16th appearance of the season, became the first pitcher in LSU history to get his first start of the year in the College World Series.
"Coach (Jay Johnson) texted me at 8:56 (a.m.) and I didn't respond until 11:10," Ackenhausen said of learning of his starting assignment. "I was sleeping in a little bit. I just texted him that I would give it all that I've got."
It was only the third time this season Tennessee was shut out and first since May 23.
"If you're going to have a chance to do something, you need a performance like Nate gave us tonight and I'm really proud of him," LSU baseball coach Jay Johnson said.
Ackenhausen (3-0) worked a career-long six innings, allowing four hits with no walks, a career-high seven strikeouts and three hit batters. He threw 58 of a career-best 93 pitches for strikeouts to surpass his previous best of 67 in LSU's 10-3 win over South Carolina on May 24 in the SEC Tournament.
"He was down with sore shoulder right before conference," Johnson said. "I didn't feel very comfortable about that because he was a huge part of it. Then there was a little bit of working his way back. The pitch ability led you to believe he could start. A key outing was when we extended him at the SEC Tournament against South Carolina.
"He had a good outing in the regional against Oregon State (clinching 13-7 win) and then fortunately in the Super Regional, we won two games, but he was kind of that piece that was going to be part of a Game 3 if we needed it," Johnson added. "Super job tonight. Maybe that time off allowed him to do what he did tonight."
Johnson said Ackenhausen far exceeded his expectations for the game. Johnson was hopeful that he could get three innings or 60 pitches out of Ackenhausen, initially concentrating on the first 12 hitters of the game.
"He had excellent command at the start of the game," Tennessee's Tony Vitello said. "Then as the game went on a little bit, there were some mistakes he made out of the zone, whether it be hit by pitch or something like that, but then he kept his composure, regathered and did well."
Ackenhausen was far from perfect during that stretch, allowing three hits and also plunking a batter, but kept Tennessee scoreless. He twice retired the side in the second and fourth innings, getting a key double play that shortstop Jordan Thompson ignited to get out of the second.
"This is a big deal if you haven't been here before," Johnson said of the World Series stage. "I think our team's handled it great. I knew he would handle it great. I knew he would throw strikes. I saw some things in the matchup that I liked. I saw some things in previous games here throughout the tournament that I liked. That I thought he could be effective."
Ackenhausen ran into a two-out jam in the fifth with a hit batter and double to Maui Ahuna to the left-center gap and after a visit from Johnson, got Hunter Ensley to fly out to right field on a 2-0 pitch.
LSU increased its lead to 2-0 with a run in the sixth and put the game away with a run in the eighth and two more in the ninth.
Johnson finally took out Ackenhausen who hit Blake Burke with a pitch to lead off the bottom of the seventh.
"The change-up was really working for me," Ackenhausen said. "I knew with the wind blowing in, and how hard it is to hit a ball out of here on a normal day, I was like I can get a 2-0 change-up call and just throw it down the middle and let them put it in play. You saw some balls hit today that were 108 (exit velocity) off the bat and they were kind of at the warning track. I pitched with confidence. I had confidence in my defense behind me."
Tennessee wound up loading the bases on a fielder's choice, a walk and fielding error, but Cooper remained unfazed with a weak grounder from Ensley that Tre' Morgan gobbled up at first base to end the threat.
"I knew I could get out of it," Cooper said. "I've been in that situation before. I just know to fill up the zone and trust my defense behind me and that's what happened, and I got out of it."
Thompson started LSU's second double play of the game in the eighth and after a double from Christian Moore, Burke grounded out to Gavin Dugas at second base.
Cooper, who earned his second save of the year, worked a perfect ninth with a pair of fly outs and a strikeout. He allowed two hits over three innings, walked one and struck out two in his 40-pitch outing.
"The big park definitely played to my confidence," said Cooper, one of three players on LSU's roster with previous World Series experience. "To be able to fill up the zone, trust my pitches for weak contact and even if they got it into it, it's really hard to hit hard to hit it out of the park. I was throwing all four pitches and just trusted my defense."