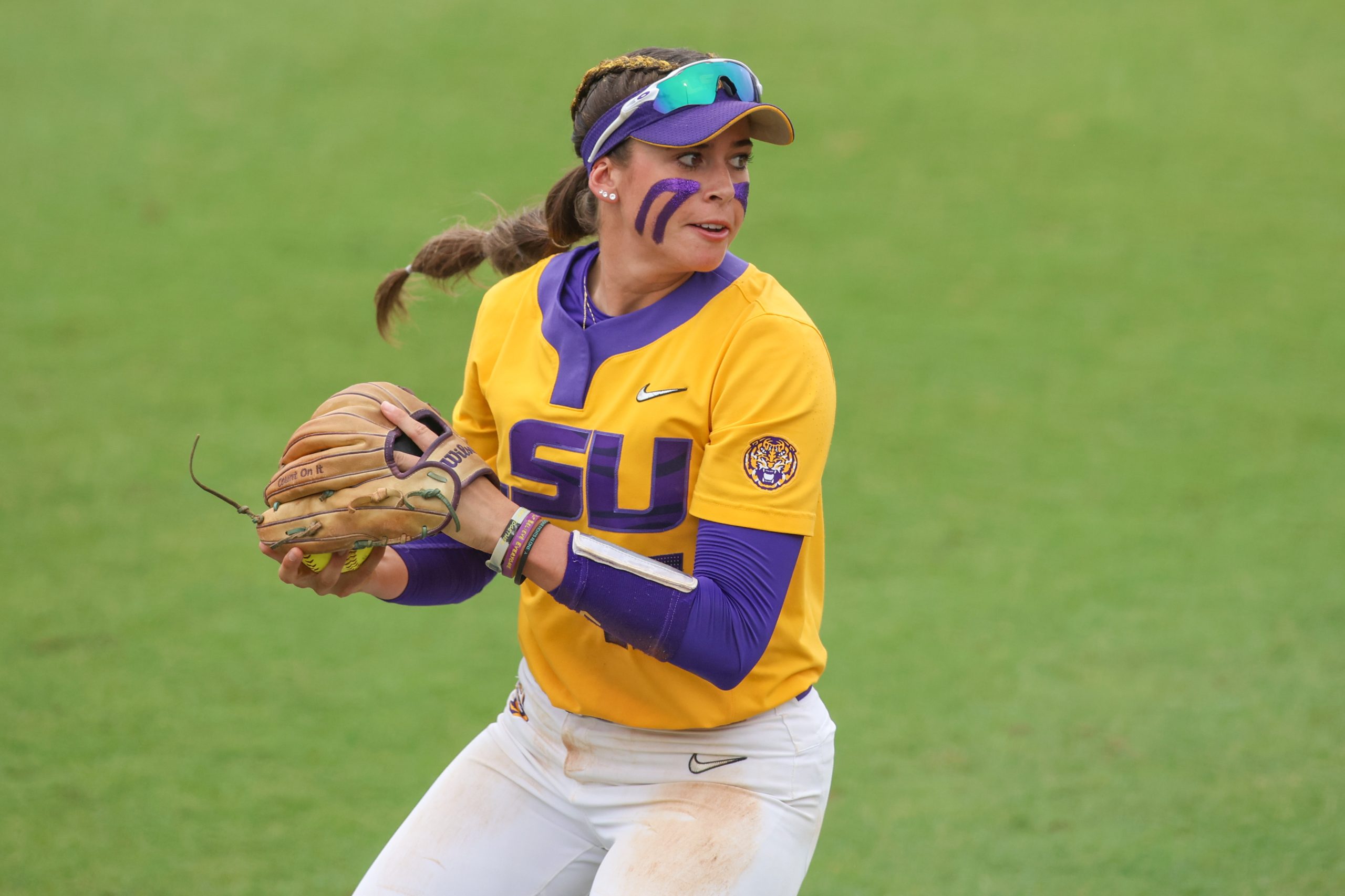 LSU's softball team, which reached the championship of its own NCAA Regional, led the way on the 2023 All-Louisiana softball team with six players voted to the first team.
The Tigers (42-17) also had two players on the second team which was released Tuesday by the Louisiana Sports Writers Association. A panel of media and sports journalists selected the team based on their entire season.
Not even a midseason injury could slow junior shortstop Taylor Pleasants from making her third appearance on the All-Louisiana team. The junior batted .346 with eight homers and 53 RBIs, earning second team All-Southeastern Conference honors in the process.
Pleasants was one of two members for the Tigers on the first-team infield that also included third baseman Danieca Coffey. The first team All-South Region selection, who garnered two votes for the state's Hitter of the Year honor, batted .392 with two homers, 24 RBIs, 33 walks and 12 stolen bases.
Graduate student Georgia Clark was named first team designated player with a .294 average, 13 homers and 46 RBIs. She was also selected to the All-South Region's second team. Junior catcher/left fielder Ali Newland was a first-team choice at utility with a .329 average, six homers and 38 RBIs. She was a first team All-SEC selection.
Junior center fielder Ciara Briggs, a two-time national Gold Glove winner and All-SEC first team choice, was a first team outfielder after batting .347 with two homers, 24 RBIs and 11 stolen bases. She also didn't commit an error in 87 total chances.
Freshman Sydney Berzon was among three pitchers named to the first team. The All-SEC second team selection, who also received two votes for the state's Freshman of the Year honor, had a 13-7 record, 1.68 earned run average and 168 strikeouts.
LSU's second team choices were graduate student Ali Kilponen and sophomore McKenzie Redoutey.
Kilponen appears on the All-Louisiana team for the third time in her career. She had a record of 13-7 with a 2.16 ERA, while Redoutey hit .295 with five homers and 31 RBIs and was named to the All-SEC second team.
An NCAA Super Regional team, UL-Lafayette which defeated LSU in the Baton Rouge Regional, swept four of five of the All-LSWA's top honors for the fifth time in the 37-year history of the team. The Ragin' Cajuns were led by Hitter of the Year: Karly Heath, Pitcher of the Year: Sam Landry, Freshman of the Year: Mihaya Davis and Coach of the Year: Gerry Glasco.
2023 All-Louisiana Collegiate Softball Team
First Team:
Pitcher: Sydney Berzon, Fr., LSU
Pitcher: Sam Landry, So., UL-Lafayette
Pitcher: Whitney Tate, Jr., McNeese
Catcher: Bailey Krolczyk, Jr., Southeastern Louisiana
First Base: Lauren Allred, Fr., UL-Lafayette
Second Base: Erin Krause, Fr., Nicholls
Third Base: Danieca Coffey, Jr., LSU
Shortstop: Taylor Pleasants, Jr., LSU
Outfield: Ciara Briggs, Jr., LSU
Outfield: Karly Heath, Sr., UL-Lafayette
Outfield: Mihyia Davis, Fr., UL-Lafayette
Designated Player: Georgia Clark, Sr., LSU
Utility: Ali Newland, Jr., LSU
Major Awards
Hitter of the Year: Karly Heath, UL-Lafayette
Pitcher of the Year: Sam Landry, UL-Lafayette
Newcomer of the Year: Mariana Torres, McNeese
Freshman of the Year: Mihyia Davis, UL-Lafayette
Coach of the Year: Gerry Glasco, UL-Lafayette
Second Team:
Pitcher: Chloe Bennett, Sr., LSU-Eunice
Pitcher: Ali Kilponen, Sr., LSU
Pitcher: KK Ladner, Sr., Southeastern Louisiana
Catcher: Sophie Piskos, Jr., UL-Lafayette
First Base: Lexi Johnson, Jr., Southeastern Louisiana
Second Base: Mariana Torres, So., McNeese
Third Base: Maria Detillier, Fr., Southeastern Louisiana
Shortstop: Reese Reyna, So., McNeese
Outfield: Kylie Neel, Jr., Louisiana Tech
Outfield: Alexa Poché, Jr., Nicholls
Outfield: McKenzie Redoutey, So., LSU
Outfield: Alayis Seneca, Sr., McNeese
Designated Player: Audrey Greely, Jr., Southeastern Louisiana
Utility: Katie Salling, Fr., LSU-Eunice