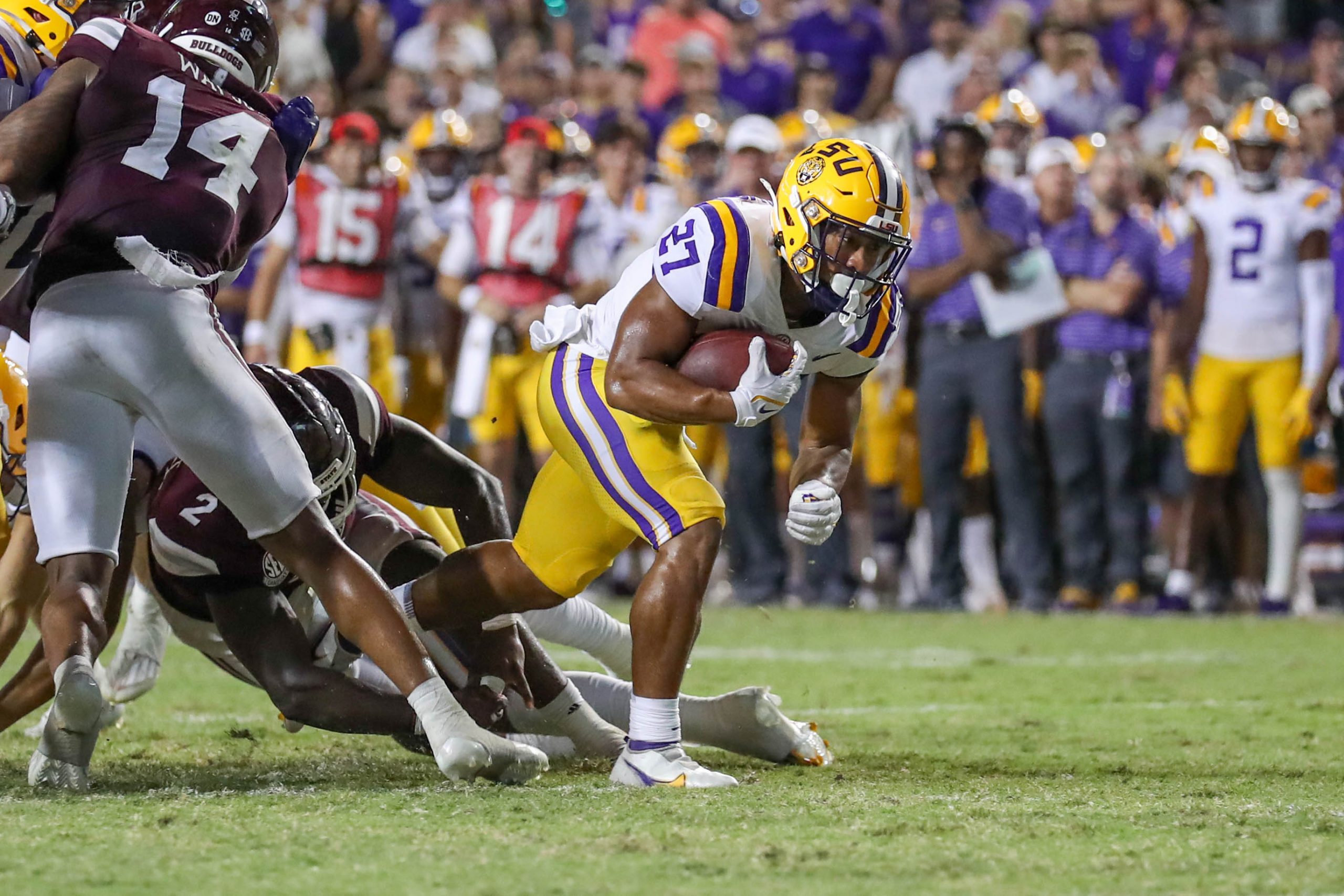 LSU was in the process of giving the ball back to Mississippi State near the end of the third quarter when fate intervened.
Because of a sputtering early offense, the Tigers were forced to play from behind to that point when the team's long snapper Slade Roy turned in the play of his brief career.
Roy hustled downfield and recovered a muffed punt by Mississippi State's Austin Williams, triggering a 21-point onslaught that carried LSU to a 31-16 victory Saturday in the first Southeastern Conference game for both teams.
Three weeks ago, in its season opener, LSU (2-1, 1-0 in SEC West) lost two punts in similar fashion and fell to Florida State, 24-23.
"Just a classic battle of two really good defenses," LSU football coach Brian Kelly said. "Then there were guys making plays in the second half. Jayden Daniels made a lot of plays for us, receivers stepping up, the backs stepped up.
"Jayden Daniels made a lot of plays for us," Kelly said. "What was evident to me was our physical conditioning in the third and fourth quarters. We were able to gain control of the line of scrimmage and when we needed to run the ball, we did so effectively, and that's what you must do to close out the football game."
This time it was the Tigers that produced their first turnover of the game, a sequence that opened the door for three straight touchdowns over a 10-minute span, turning a six-point deficit into a 15-point victory before an announced crowd of 98,520 at Tiger Stadium.
LSU quarterback Jayden Daniels cashed in Roy's fumble recovery into a 3-yard touchdown run at the 14:11 mark of the fourth quarter and placekicker Damian Ramos' extra point gave LSU its first lead at 17-16. The Tigers followed with two more scoring drives that ended with Josh Williams scoring on a 7-yard run at the 6:53 mark and Armoni Goodwin bursting up the middle for a 47-yard score with 4:50 to play.
Daniels accounted for 303 of LSU's 416 total yards, 175 of which came in the fourth quarter, and a pair of touchdowns. The junior completed 22 of 37 passes for 210 yards with a score and rushed 16 times for 93 yards and another score.
Goodwin added nine attempts for 75 yards and a TD and Malik Nabers led the receiving corps with six receptions for 76 yards.
Josh Williams' touchdown run came at the end of a 14-play, 85-yard drive that consumed just over six minutes. It also included a clutch fourth-down conversion when Daniels, after a timeout by State, found Nabers for a 27-yard catch over his outside shoulder to the Bulldogs' 7-yard line. He caught four passes for 51 yards on the drive.
"I got open, and Jayden made a great pass," Nabers said. "They had confidence in me, and I had to make the play."
Mississippi State (2-1, 0-1), the fourth-ranked offense in the SEC with 486 yards a game, was limited to 289 yards that included 105 in the second half.
"I think the kids did a great job of executing the game plan and (defensive coordinator) Matt (House) did a great job with the staff of putting together the kind of disguises necessary," Kelly said.

Quarterback Will Rogers, the SEC's leader with a 78% completion percentage and yards, was 24 of 42 for a 57% completion percentage with 214 yards. He threw a touchdown was picked off by LSU's Jay Ward – the seventh of his career – with 3:04 to go in the game.
Ward led the Tigers with a career-tying 11 tackles, 1.5 tackles for loss, an interception and pass breakup. Linebacker Micah Baskerville added eight tackles.
"I thought we were explosive, but inconsistent," Mississippi State coach Mike Leach said. "We have just got to be consistent, especially against a team like that."
The Tigers punted from State's 45 when Williams fumbled his attempt at a fair catch and Roy recovered at the Bulldogs' 9-yard line with 33 seconds still left in the third quarter.
LSU needed three plays to score when Daniels, who dropped back to pass, squirted out of trouble and scored, spinning into the end zone and scored with his back to the student section on third-and-goal.
The two teams traded field goals in the third quarter until Roy's momentum-changing play.
LSU closed to within 13-10 on Ramos' 35-yard field goal at the 10:56 mark, only to have State's Ben Raybon answer five minutes later with a 45-yard effort.
LSU wiped away the frustration of its seven previous drives in the first half by going up tempo and finally getting into the end zone, reducing State's lead to 13-7 at halftime.
The Tigers, which had 70 total yards and a turnover going into their final series, went no huddle during a 7-play, 75-yard drive with Daniels accounting for all of his team's production that ended with an 8-yard TD pass to Jaray Jenkins with 46 seconds to go. Ramos added the extra point.
"We went into some seven-man protection, we left the tight end in some for max protection," Kelly said. "The ball came out quicker. There's no doubt about that. We wanted to make sure that we protected him, we also sprinted out on some key situations and came up with some big plays on third down. Defensively, there was no major adjustments."
Daniels completed all four of his passes on the drive, capped by the finale to Jenkins who broke a tackle on a short slant and crossed the goal line. He also scrambled out of the pocket and rushed three times for 48 yards, including a 20-yard gain to State's 8-yard line that set up his TD pass to Jenkins.
LSU started its third different offensive line this season, adding true freshman Emery Jones Jr. at right tackle and moving Miles Frazier to right guard to replace injured Anthony Bradford.
The Tigers were guilty of three false starts on their first two series, and after gaining two first downs on their initial series, didn't run a play in Bulldogs' territory until the defense foiled a fourth-and-one run at the 29 on the first play of the second quarter.
However, LSU held onto the ball for two plays when Daniels and Josh Williams couldn't connect on a handoff which State linebacker Tyrus Wheat recovered at the 14:16 mark.
LSU's defense was solid throughout, yielding 184 yards in the first half, but allowed Jo'quavious Marks to dart right past LSU safety Major Burns near the line of scrimmage en route to a 37-yard scoring run for a 6-0 lead.
The Bulldogs extended their lead to 13-0 with 2:14 before halftime when the Tigers answered with a touchdown right before halftime.
"I think the score right before the half was crucial, getting something on the board and building momentum with the group," Kelly said. "They had something where we could say, 'we didn't play great on offense, but now we're right in it'. I think there are a number of moments that you could look to, but certainly you know we got one back there certainly."