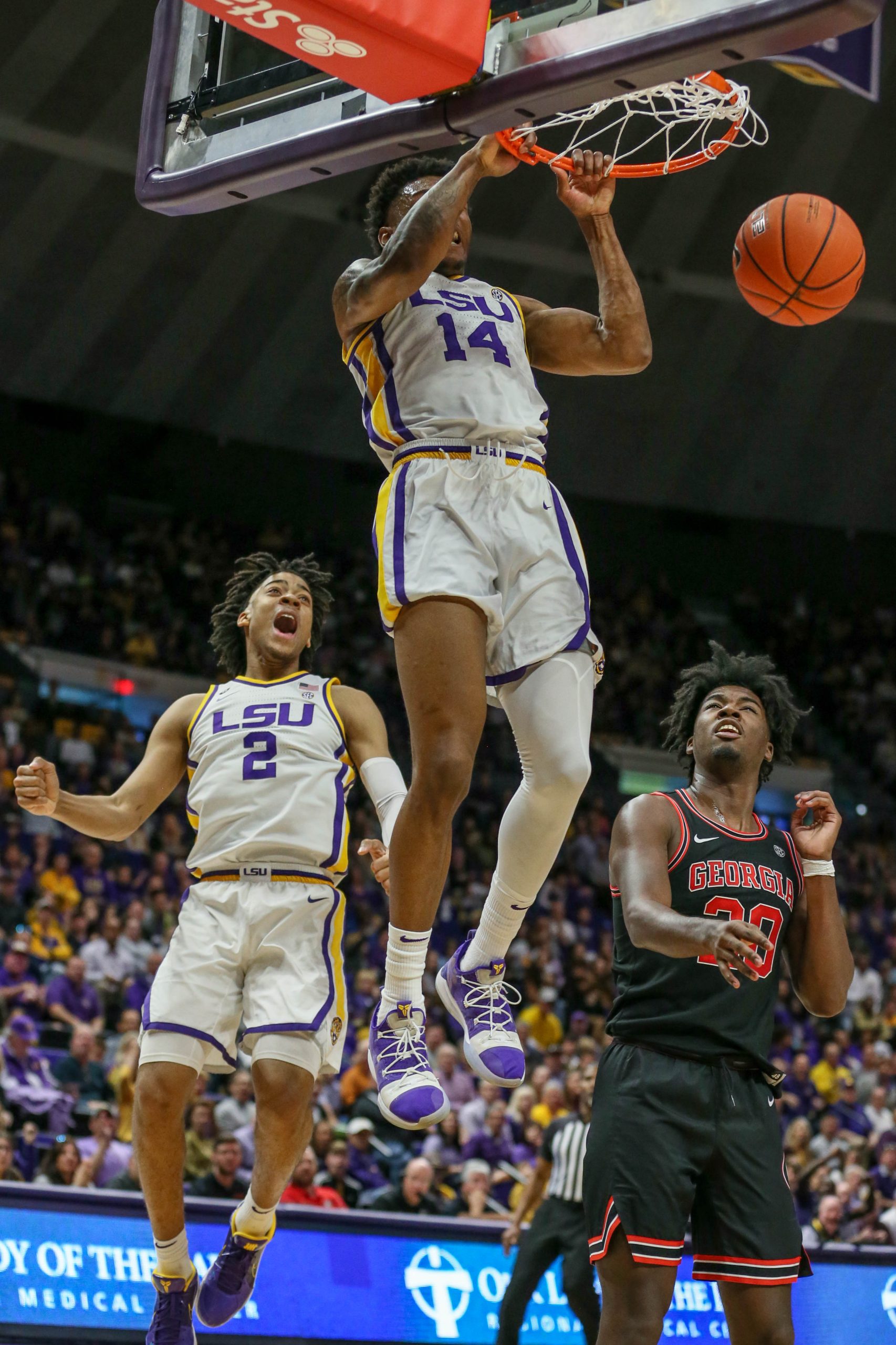 After a pair of foot surgeries in the months leading to the 2019-20 season, LSU's Marlon Taylor didn't know if he'd ever have liftoff for his senior year.
The Tigers' 6-5 guard with a 42½-inch vertical jump desperately wanted to feel like he did as a junior when he started 24 games for the SEC champion and Sweet 16 qualifiers.
He's had bursts of brilliance at various times this season trying to find his way back, but he saved his best for LSU's Senior Day Saturday afternoon in the Pete Maravich Assembly Center.
With Taylor's family in the stands after traveling all the way from Mount Vernon, N.Y., he scored a career-high 30 points mixing highlight reel dunks and deep 3-pointers in the Tigers' 94-64 victory over Georgia.
"I used to score 30 a lot in junior college," said Taylor, who has been more of a defensive specialist since joining the Tigers last season after transferring from Panola (Texas) Jr. College. "Today, I was just trying to give the team everything I could. I got a good feeling early on (during the pregame warmups)."
Taylor's positive vibes permeated. LSU led by 15 points at the half and ended up with its largest SEC victory margin of the season, finishing the regular season 21-11 and in a second-place tie in the SEC at 12-6 with Auburn, which also won Saturday.
By virtue of the league's tie breaker procedure, LSU is the No. 3 seed in next week's SEC tournament in Nashville. The Tigers have a bye until Friday's quarterfinals when they play the last game of the day at approximately 8:30 p.m.
LSU third-year coach Will Wade would like to bottle Saturday's performance and take it to the SEC tourney where the Tigers have lost four straight including their first game in each of the last three seasons.
"We've got as good as shot as anybody rolling into Nashville," Wade said. "The first game is always the toughest. Once you win that first game, you get it rolling downhill from there."
Wade called Saturday's blowout of the Bulldogs "fun."
Yes, it was, especially for a team that has played most of its SEC schedule without the injured Charles Manning, Jr., its most consistent bench player who has been sidelined twice breaking his right foot first, coming back to play after missing eight games and then breaking his left foot.
Wade tipped his hat to the Tigers' senior class of Taylor, Skylar Mays and Marshall Graves, who were honored in the pregame. Also remembered was the late Wayde Sims, who would have been a member of the current senior class had he not be tragically shot and killed just before the start of the 2018-19 preseason practice.
"I just told them in there that we flipped it," Wade said. "Their first year (in Johnny Jones' last season as LSU's coach) they were 10-21, we just finished 21-10. It's a perfect inverse. Skylar with his work ethic. Marlon, being a defensive guy and Marshall Graves is the ultimate teammate. All of them have helped us big time."
Mays scored 19 points in his career home finale and Graves added 5 points, including a 3-pointer with 44 seconds left in the game, which happened to be the gone but not forgotten Sims' jersey number.
"That's perfect, you can't end it on a better story," Mays said. "That's the only story that comes close to how Marlon played today."
Georgia came into Baton Rouge having won three of its last five games, its best stretch of season after a pair of four-game SEC losing streaks.
The Bulldogs hung around for the first eight minutes against the Tigers, trailing 17-14 at the 11:50 media timeout. Eight of Georgia's points came off five offensive rebounds, including three putbacks.
After that, LSU just erased coach Tom Crean's team in every way possible. The Tigers shot 57.6 percent (34 of 59) from the field, 52.4 (11 of 21) in 3-pointers and 78.9 (15 of 19) from the free throw line.
Meanwhile, Georgia shot just 36.2 percent (25 of 69) from the field, highlighted by 3 of 26 3-point clanking. Freshman guard Anthony Edwards, a projected lottery pick in the 2020 NBA Draft, led the Bulldogs with 17 points but was limited to 6-of-22 field goal shooting including 1 of 12 3s.
"We have a couple guys, they don't guard," Crean said. "They're (LSU) hard to defend, no question about that. They're really good. They have a lot of talented guys who make shots, who can make plays at the rim. Everybody they put on the floor can play. You have to guard everybody they put on the floor, there's really nobody you can tag off."
Mays, who finished 7-of-11 from the field, including 3-of-5 3-pointers, scored 15 of his points in first half when a couple of Tigers' offensive bursts provided LSU with a 49-34 halftime lead.
In the second half, Mays attempted just three field goals. He preferred to make sure the ball eventually ended up in the hands of Taylor and freshman forward Trendon Watford, a duo that combined for 30 of the Tigers' 45 points after halftime.
Watford finished with 13 points and 11 rebounds and sophomore point guard Javonte Smart had his first college double-double with 13 points and 10 assists.
The Tigers now head into the SEC tournament with a totally different feeling than last year when LSU suspended Wade for refusing to talk to school officials about possibly being involved in a recruiting scandal.
Also, Smart, who was withheld from the season finale vs. Vanderbilt for also allegedly being involved in recruiting violations, wasn't given clearance to play until just before the Tigers boarded a team bus at their Nashville hotel to head to Bridgestone Arena to play Florida.
"It's a great feeling to go in (the SEC tourney) solid," Mays said. "We're a dangerous team. We definitely have some momentum. We're looking to do big things in Nashville."