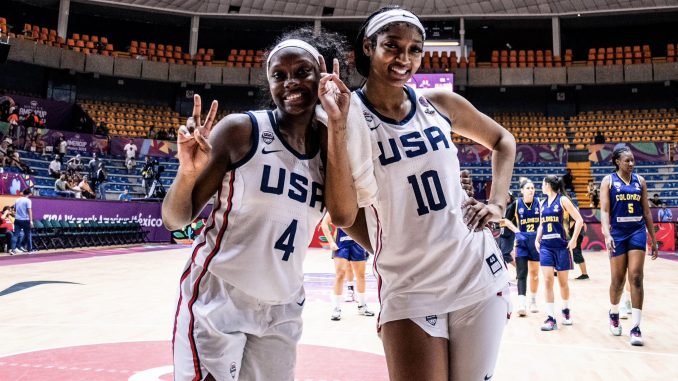 Team USA moved into Saturday's semifinal round behind a double-double from LSU All-American Angel Reese in a 68-49 victory over Colombia at the 2023 FIBA AmeriCup in Leon, Mexico.
The top-ranked U.S. team will face either Argentina or Canada in the semifinals.
Reese was one of three double-digit scores for the U.S. with 13 points on 5 of 14 shooting. She had 11 of her team-high 18 rebounds on the defensive end, the most rebounds for a U.S. player since Aliyah Boston's 19 against Puerto Rico.
"Most of those (rebound) are from my misses," Reese said with a laugh. "I'm just doing whatever it takes to win. I know I'm an impactful piece to this team and when it comes to rebounding it's to my advantage. I bring whatever it takes to win."
UCLA's Lauren Betts, a Stanford transfer, topped Team USA with 16 points and had 14 rebounds, while Tennessee's Rickea Jackson added 15 points.
The U.S. team shot 37% (24 of 64) from the field, outrebounded Colombia 59-35 and forced 21 turnovers. Team USA also held a decided advantage in second-chance points (24-10) and bench points scored (31-11).
"Angel has a motor that very few people have," Team USA coach Kamie Ethridge of Washington State said. "She makes a lot of plays. She's kind of the heart and soul of our team. The passion, that relentless pursuit of the basketball … that inspires our team."
Team USA led from wire to wire, limiting Colombia to 25% (18 of 72) shooting.
A pair of putbacks from Reese helped the U.S. to a 23-11 lead at the end of the first quarter. Jackson's layup and two free throws made it 27-13 and Reese added two more free throws for a 29-15 lead at the 7:26 mark.
The U.S. closed strong on Jackson's two free throws and a 3-pointer from Tennessee's Jewel Spear for a 43-29 halftime lead.
Team USA built a 47-32 lead at the 8:38 mark of the third quarter on Reese's offensive putback and Betts' layup with 20 seconds showing made it 53-41. Reese pushed her team's lead to 56-41 with a putback and a pair of free throws in the first minute of the fourth quarter, and later added a layup for a 64-45 cushion.
Southern Cal's Rayah Marshall extended her team's margin to 21 (68-47) with two free throws with 2:40 left.