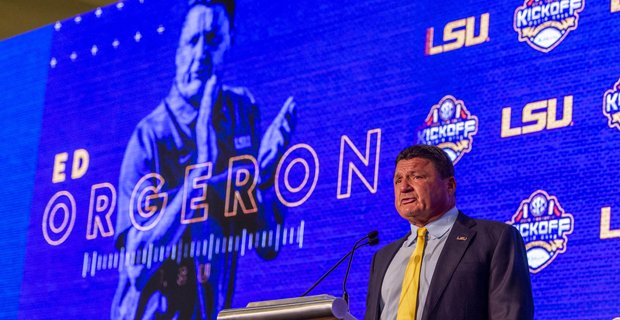 HOOVER, Ala. — Ed Orgeron ran through the LSU depth chart, just like he does every time he takes the podium at SEC Media Days, but his opening statement felt much briefer this time around.
Maybe it's because LSU enters the 2019 season with less uncertainty in terms of who is starting where than either of Orgeron's previous two seasons on the job. Perhaps he was more eager to take questions from the assembled crowd of reporters.
Whatever the reason, it felt like the best clue yet of just how much has changed for the formerly-embattled boss of the Bayou Bengals.

Orgeron went to Atlanta last summer atop just about every national list of coaches who entered 2018 on the hot seat. Facing a daunting schedule, most prognosticators forecast his LSU team would struggle to win seven games.
Instead the Tigers won 10 games for the first time since 2013 and made a New Year's Six bowl for the first time since that nomenclature came into use. Orgeron backed up that success by signing a top-five recruiting class and hiring Joe Brady as his passing game coordinator.
Orgeron received a lucrative extension this offseason, and his Tigers are considered by most to be a legitimate contender to make the College Football Playoffs this season. LSU has gone from the butt of national jokes to a media darling in one year, but Orgeron is still preaching the same motto.
"Our block out the noise statement is going to be there again this year," Orgeron said. "Last year there was negativity. People didn't know what type of football team we were going to have or was talking about this, talking about that. Now this year they say we're going to have a really good football team, and I do believe we're going to have a really good football team, but we have to get back to work."
Quarterback Joe Burrow, safety Grant Delpit and center Lloyd Cushenberry, LSU's three player representatives at SEC Media Days, all sung the same tune.
All three veteran leaders would gladly swear on a stack of bibles that Orgeron is the same coach today that he was going into last season. The perception of the program and even the man himself may be different, but he's the same old Coach O.
"Coach O is the same Cajun guy," Delpit said. "He's not going to change. He's not going to get big-headed. He's not going to get worried. He's still going to be the same guy. So no, I don't think he's changing because of that."
The challenge is a bit different for LSU headed into this year's Fall Camp, though.
Negative press can be something of a blessing for a football team before the season. Every six-win prediction can be used as bulletin board material. It can stoke the fire under players through grueling summer workouts and tedious two-a-day practices.
Pundits are singing a far different tune heading into the 2019 season. Complacency is the enemy of any team looking to make the leap from very good to great.
Orgeron spoke to that on the podium by harping on the two tight defeats — Florida and Texas A&M — that kept LSU from a 12-1 record last season. His leaders seemed to have heard his message loud and clear.
"It's very hard to block it out when it's good stuff that people are saying about you, but you can't fall into the trap," Cushenberry said. "And that's exactly what it is, a trap. We just have to keep working and know we have things to improve on. We have a standard that we haven't reached yet."
"We've still got a lot of motivation," Delpit added. "Last year we dropped a couple of games that we shouldn't have dropped, and that motivates me. I've still got a burning ball of fire in my chest from those games we dropped. I don't think we need extra motivation."