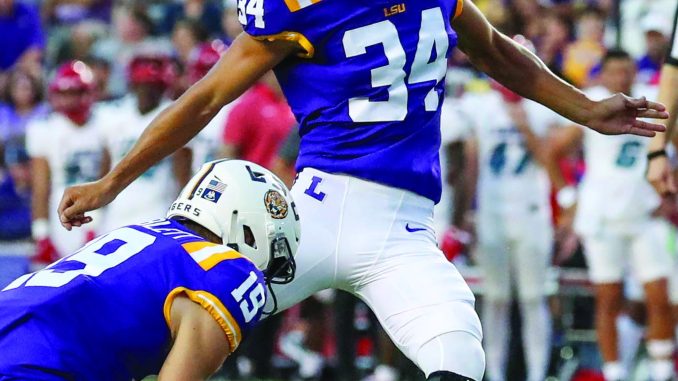 LSU sophomore walk-on placekicker Damian Ramos made five of his last six field goals to close out the 2022 season. He was the team's leading scorer with 85 points, a tribute to his mettle after experiencing a career debut that included having a field goal and extra point blocked in a 24-23 setback against Florida State.
"I wasn't impacted that much," Ramos said of the FSU game during an Aug. 23 interview with local reporters. "I know what the fans are going to say. You're either a hero or a villain. Things happen.
"The important thing about field goal kicking is short term memory loss," Ramos added. "Forget about whether it's good or bad and just move on."
The picture for LSU's placekicker was murky at best entering the '22 fall camp where Ramos wasn't a part of the team's roster. He was added once fall camp began and wound up winning a battle with freshman scholarship kicker Nathan Dibert for the starting placekicking job.
The two kickers dueled through a less-than-memorable spring practice and spring game. They took that battle into the offseason where Ramos emerged as the team's starter going into Sunday's season opener at 6:30 p.m. against Florida State at Camping World Stadium in Orlando.
"We compete every day," Ramos said of Dibert. "We push each other, we help each other in certain things we see. It's like any other position. We go out and compete every day and we get better and better."
The 6-foot-2, 186-pound Ramos is accustomed to having to persevere.
When the Baltimore, Maryland native showcased his talents across the nation during Chris Sailer's Kicking Camps in 2019 and '20, scholarship offers were non-existent. He was rated a five-star prospect by the recruiting service, which hailed his leg strength, technique and consistency as "D1 ready".
Ramos was used to improvising, having started kicking in his basement after watching YouTube videos. He joined Sailer's kicking circuit and competing and enjoying success at camps throughout the nation. He was also used to having to be his best salesman, usually videoing most of his performances and posting them to social media outlets such as TikTok, YouTube and Twitter.
"Coming out of high school Twitter's everything recruiting wise," Ramos said. "A lot of high-level coaches don't have their direct messages open because they would be receiving a million messages a day. I would go to the kick all the time; record myself. Coaches want to see running film, consistency obviously. That's what I did … tagged coaches."
One such person on the receiving end of a Ramos email was Jose Avilas, former Vice President of Enrollment at LSU. After receiving a form email from Avilas about attending the school, the kicker returned a more detailed email touting his kicking prowess and Avilas forwarded it to the football staff.
They eventually called.
With the majority of his senior season at St. Paul's wiped out (other than three games in the spring) there wasn't much game film or statistics for Ramos to push. LSU already had a standout kicker in Cade York and Ramos, who had an offer from Sacred Heart University in Fairfield, Connecticut, wanted more and accepted the Tigers' walk-on invitation.
Ramos redshirted in '21 and was thrust into the conversation for the team's starting placekicker the following season when York bypassed his senior season to enter the NFL Draft. He was taken in the fourth round by the Cleveland Browns where he played the entire '22 season before getting cut on Monday.
"I watched Cade a little bit," Ramos said. "I knew who he was before I committed to LSU. He kind of stood out to me. I'm pretty skinny, too. He was kind of built like me. I watched him. I knew he was a pretty good kicker.
"He was really consistent," Ramos added. "There were certain things he did, routines to stay consistent. It doesn't matter if you can hit a really long ball once, but if you can do it multiple times that's what coaches want to see."
Ramos won the team's starting job in fall camp and overcame an inauspicious debut against Florida State to lead LSU in scoring on 10 of 14 field goals and 55 of 57 on extra points. He also shared kickoff duties with Dibert, averaging 62.2 yards on 25 kickoffs with 11 touchdowns and two kicks going out of bounds.
"I wouldn't say I was nervous," Ramos said of his first game against FSU. "Maybe a little nervous. I was focused. Once I was out there it was like always. It's a football field. It's kicking. It's what I've always done."
During a five-game win streak that ultimately carried LSU to a SEC Western Division title, the Tigers received competent play from the kicking position.
Ramos helped LSU cement a 45-35 win at Florida with a season-long 47-yard field goal at the end of a nearly six-minute drive with 1:52 remaining.
"It was a game sealer," he said, calling it his best kick of the season. "We were already up by a touchdown with more than minute left. That was a really good feeling."
Ramos made a 32-yard field goal for a 17-15 lead in the third quarter over Alabama and followed that with field goals of 38 and 29 yards, respectively, to help the Tigers win at Arkansas, 13-10, and clinch the division.
"I was happy," Ramos said of his season. "There's always room to grow and get better. I think I've come a long way since last year. I think I'm a lot better since last year. I take it day by day, kick by kick. Everything happens for a reason. I came in halfway through fall ('22) camp, but I stayed positive. Just kept working."
All the way to start of a new season.
Following a non-descript spring that left Kelly non-committal on a starting kicker, Ramos continued to work through a scorching summer and into August to nail down the team's starting job for the season straight season.
"Ramos has been outstanding on field goals in camp," Kelly said.
Said Ramos: "I just take it day by day. I've got to keep doing what I've always done. Working."