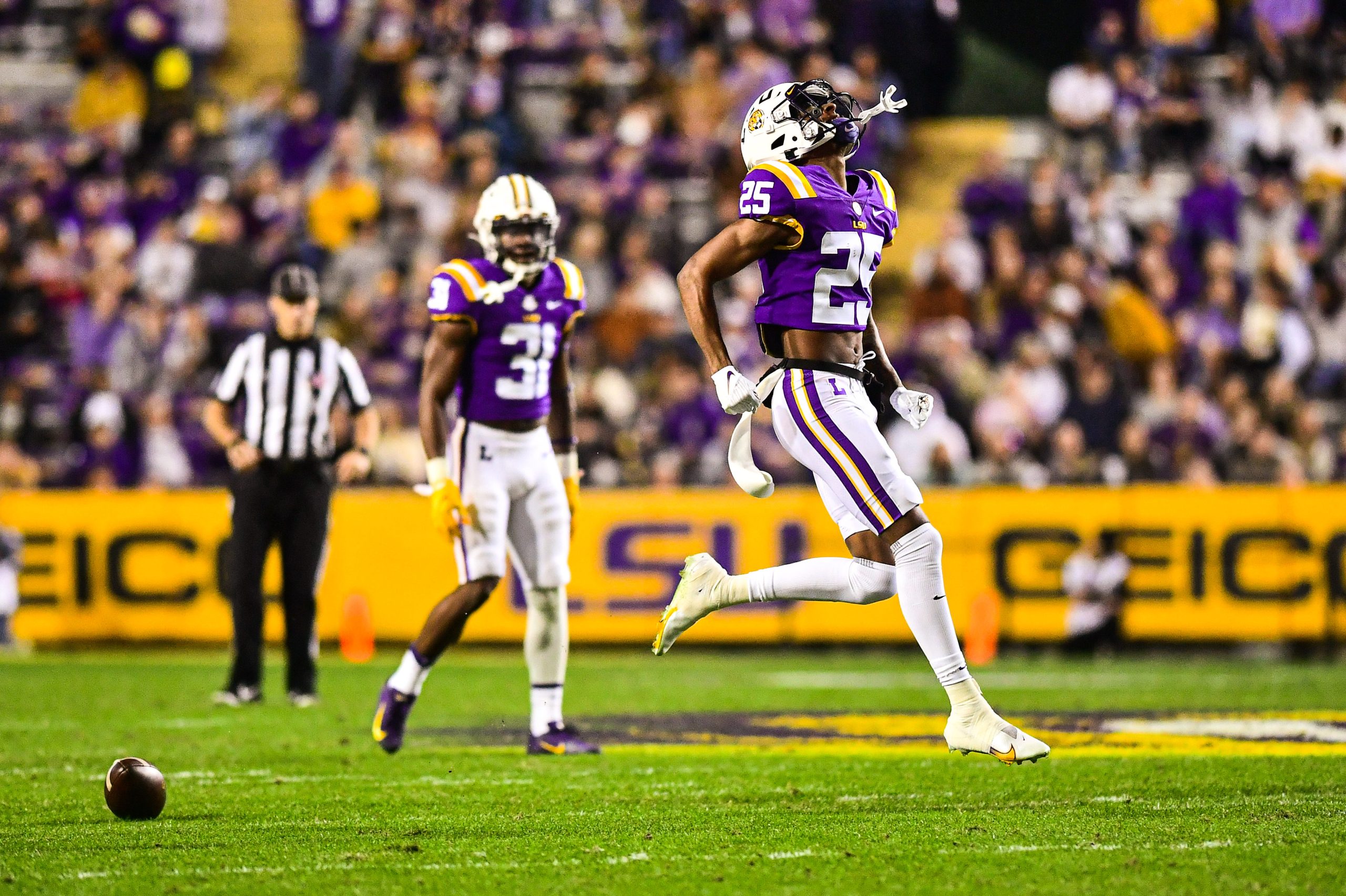 The good news is LSU won its fifth football game of the 2021 season Saturday night, a totally uninspiring 13-point win over 29-point underdog UL Monroe.
The bad news is the 5-6 Tigers are now one game shy of bowl eligibility heading into next Saturday's regular season finale here in Tiger Stadium vs. Texas A&M.
If Aggies' head coach Jimbo Fisher doesn't fill the LSU head coaching vacancy as he said he won't, the least he can do is beat the Tigers and put this team and this fan base out of its misery
The thought of watching Ed Orgeron, LSU's fired head coach-in-waiting, getting one more opportunity to make "what are they going to do, fire me twice?" in-game decisions, is nauseating and insulting to all LSU fans who wasted their hard-earned money watching this embarrassing trainwreck.
There's probably not a program ever that flipped from one of the greatest teams of all-time two years ago with a 15-0 national championship squad to the biggest laughingstock punchline in college football.
If you want to feel bad for somebody, it's the LSU players. They signed on believing they were joining an elite program that could challenge for SEC titles and national championships.
Instead, they've spent the last 21 games playing for a coach who cashed in his lottery ticket massive contract raise a couple of weeks after winning the national championship and decided having a helluva good time was more important than interviewing coaching staff candidates in 2020.
Of course, Orgeron did correct that when hiring for the 2021 staff, but then he hired coaches no one else wanted.
Guess it takes one to know one.
After Orgeron served as LSU's interim in 2016 for the last eight games of the regular season, schools weren't lining up to hire him. Then-LSU athletic director Joe Alleva, having been played by coaching candidate Tom Herman's agent before Herman filled the Texas vacancy, hired Orgeron as a consolation prize.
The best things Orgeron did at LSU was convince quarterback Joe Burrow to transfer from Ohio State and hire relative-unknown Joe Brady who was basically an analyst on the Saints' staff.
The talent and plan of attack on LSU's 2019 team was so good that even Orgeron couldn't screw it up. He was more of a cheerleader and motivator, which are his strengths.
For someone who his players have vowed knows his football Xs and Os inside out, he's hired coordinators who finally got him fired. And he must be a hands-off coach because all this season he has seemed genuinely surprised at some of his team's offensive and defensive strategies.
From the opening loss at UCLA all the way through a lousy season that Orgeron apologists have written off to injuries, his postgame assessments made you wonder if he had even glanced at the game plans of first-year coordinators Jake Peetz (offense) and Daronte Jones (defense).
After the 38-27 Sept. 4 loss at UCLA, Orgeron said, "We've got to be more diverse. We have to have multiple runs and multiple sets which we didn't do tonight. That's going to get fixed immediately."
He has said stuff like that all season. After every loss, after every game where it appeared the Tigers were adequately prepared, his standard statement has been "I'm responsible for the performance of this team, I've always been responsible, and I always will be."
The first time Orgeron said it, it seemed like a noble fall-on-the-sword statement. Now, after he has said it in almost every media opportunity, it's like a fall into a pile of coaching buyout cash manta.
Saturday's 27-14 win for the Tigers, whose four and three-star rated backups should have destroyed the visiting Warhawks, was an accurate sample of this season.
After all, the rest of the SEC blew up scoreboards Saturday in their other four store-bought wins . Tennessee leveled South Alabama 60-14, No. 1 Georgia blitzed Charleston Southern 56-0, No. 25 Mississippi State hammered Tennessee State 55-10 and Texas A&M erased Prairie View A&M 52-3.
Instead, after LSU scored on its first possession, which it has done several times this season, the Tigers' offense stumbled around, gained a lot of inconsequential yardage and in this case hit on TD passes of 67 and 42 yards against athletically overmatched defensive backs.
Even when LSU safety Jay Ward's interception at the ULM 33 set the table for the Tigers' offense, it took LSU eight plays to settle for a 27-yard Cade York field goal for a 10-0 lead early in the second quarter.
UL Monroe's offense, not exactly a juggernaut averaging 22.1 points, scored twice and had two possessions end on failed fourth downs at the LSU 1 on ULM's second possession of the game and at the LSU 2.
"It seemed like we could never throw the knockout punch," Orgeron said. "We never had a chance to throw it. Give them (UL Monroe) credit. They kept playing."
LSU? Not so much.
In the fourth quarter, the Warhawks outgained LSU 138 to 24.
If ULM wide receiver Adam Sparks doesn't overthrow quarterback Rhett Rodriguez who was wide-open for a 2-yard TD pass that would have cut the Tigers' lead to 24-14 with 12:18 left to play, LSU may have been staring at a one-possession game in the final five minutes.
In the end, the three hours of futility was just another example why the last thing the Tigers need is to play on the lowest rung of the SEC bowl ladder.
The 15 extra bowl practices won't help a freshman class which already has plenty of game experience.
A bowl certainly isn't a reward for the seniors, especially NFL prospects like Damone Clark, Neil Farrell Jr., Glen Logan and Ed Ingram who would welcome the rest before beginning training for the NFL combine.
The sooner Orgeron packs his stuff and moves on and the sooner this season ends the better.
And whoever LSU athletic director Scott Woodward hires better know how to handle success and understand how to build on it.
Orgeron, 10-11 since collecting a national championship and about to depart with $16.9 million worth of financial security for life, certainly didn't care to construct something long-term.
He got his ring and his cash and he's ecstatic laughing all the way to the bank.