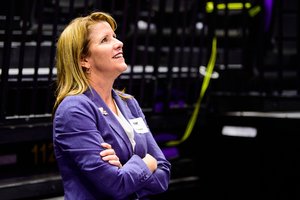 Stephanie Rempe, who served as LSU athletic director Scott Woodward's right hand for the past three years, is leaving to become athletic director at the University of Nevada, ESPN's Pete Thamel reported Monday.
Rempe would become the second female athletic director at Nevada and second in the history of the Mountain West Conference.
During Woodward's quest to work as his alma mater at LSU, he's had Rempe by his side the previous two steps of that journey at the University of Washington and Texas A&M before hiring Rempe in July of 2019.
She also worked in the athletic departments of both Oklahoma and Texas-El Paso.
Nevada was looking to replace Doug Knuth who mutually agreed to leave the school after 8 ½ years last April.
Rempe, a former standout volleyball player at Arizona, has spent the past three years as LSU's executive deputy athletic director/chief operating officer. She is credited with playing a significant role in the school's hiring of football coach Brian Kelly, men's basketball coach Matt McMahon, women's basketball coach Kim Mulkey and baseball coach Jay Johnson.
According to LSU's web site Rempe is credited with overseeing, 'every facet of the daily operations' of the athletic department.
Rempe has an extensive administrative history in college athletics and at LSU helped the school forge its first NIL program. She's also been credited with organizing LSU's social justice movement and, 'helping to overhaul the prevention of sexual and domestic abuse'.
Rempe, who was inducted into the Santa Barbara (California) Athletic Round Table of Hall of Fame in 2002, is married to Greg Remien and the couple have two children.