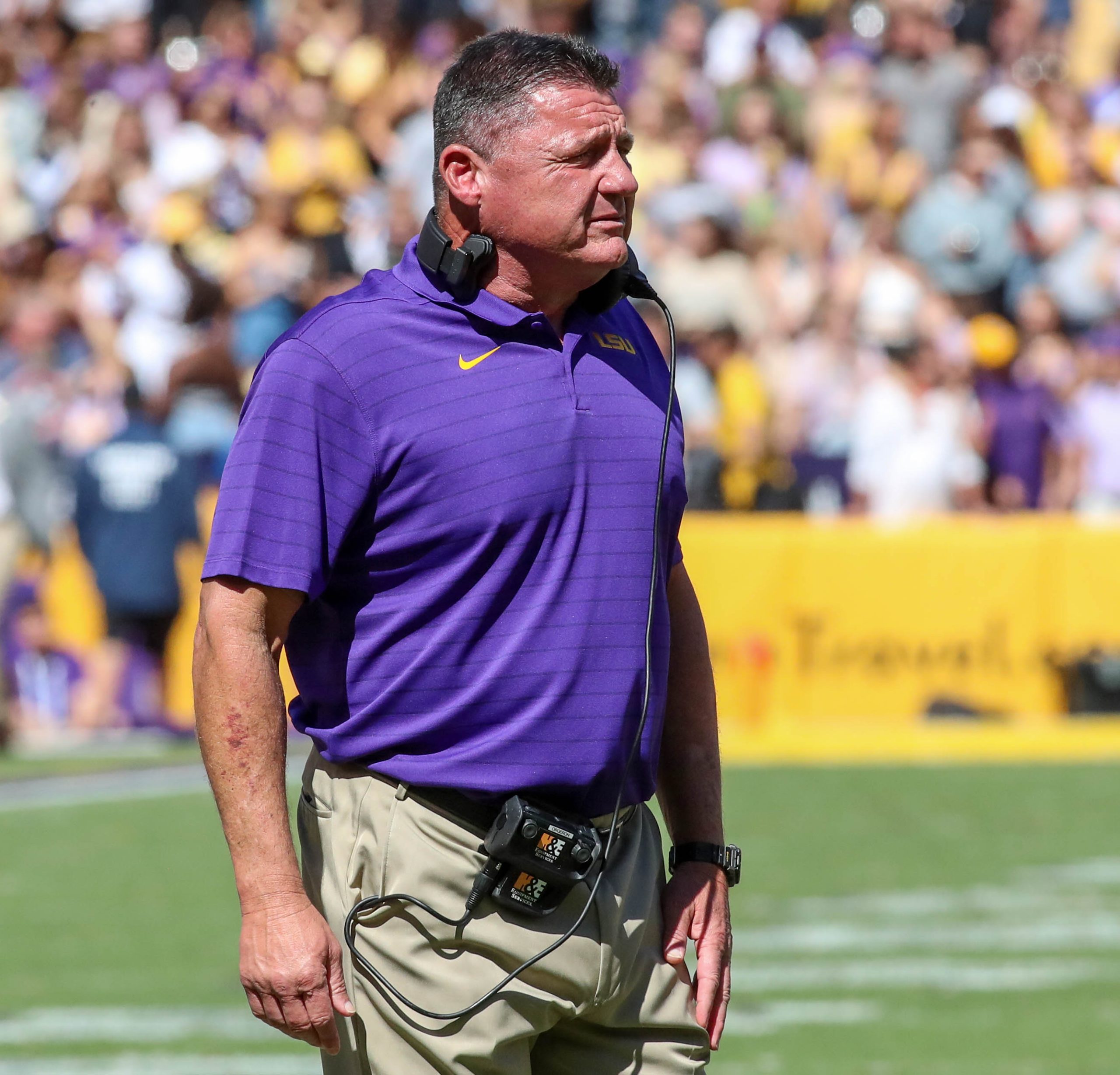 There won't be a next season for LSU head football coach Ed Orgeron.
After Sports Illustrated college football writer Ross Dellenger reported via Twitter on Sunday that the school and Orgeron "have reached a separation agreement," LSU confirmed the news late Sunday afternoon and called a press conference for 7 p.m. Sunday night.
Orgeron, who is in his sixth season as the Tigers' head coach, will coach for the remainder of the 2021 schedule. Since leading LSU to the 2019 national title, Orgeron and the Tigers have gone 9-8, including a 4-3 mark in 2021. Last year, LSU went 5-5, the school's first non-winning season since 1999.
"We have very high standards for all of our sports programs at LSU, and we will stand proudly behind our expectations of competing for SEC and national championships year in and year out," LSU athletic directpr Scott Woodward said in a release. "Our last two seasons have simply not met that standard, and based on our on-field results and our evaluation of the potential for future immediate success, it is time for a new direction."
LSU will eventually pay about $25 million in buyouts, including $17.6 million to Orgeron and $7,205,000 to his coaching staff.
After the 2020 season, the school paid $5 million in buyouts, including defensive coordinator Bo Pelini ($4 million) and passing game coordinator Scott Linehan ($1 million) when they were fired after one season. Also after the 2017 season, Orgeron fired offensive coordinator Matt Canada after one season with Canada receiving a $1.7 million buyout.
In total when Orgeron and his current staff is released, it will have cost LSU $31.7 million in buyouts during Orgeron's five full seasons as head coach.
Negotiations supposedly began last week prior to LSU's 49-42 win over 20th ranked Florida on Saturday in Tiger Stadium.
Several elements have led to the buyout besides the win-loss record.
The LSU administration hasn't been thrilled with Orgeron's mismanagement of the program, which included his admission he didn't interview the two coaches he hired for 2020 staff.
Also, the administration was not amused prior to the 2020 season of a picture circulating on the internet of a shirtless almost 60 years old Orgeron lying side-by-side with his then and now past girlfriend who was half his age.
The pictures showed up just months after Orgeron filed for a divorce from his second wife.
Also, Orgeron was completely out of touch on the feelings of his team, particularly his African-American players, who marched across campus to LSU presidents office last August at the start of the Black Lives Matter movement.
He didn't know his players were marching until he showed up for a team meeting and the team meeting room was empty.
Finally, Orgeron claimed he couldn't remember if he spoke to elderly Louisiana Superdome security guard Gloria Scott. She said she called the football office in December 2017 shortly after LSU running back Derrius Guice made lewd and suggestive comments to her while attending the high school state championship games.
"Coach O is telling a lie," Scott told a USA Today reporter this past March as tears rolled down her cheek. "He's not telling the truth. I don't have no reason to lie. I know who I was talking to. He knows he talked to me."