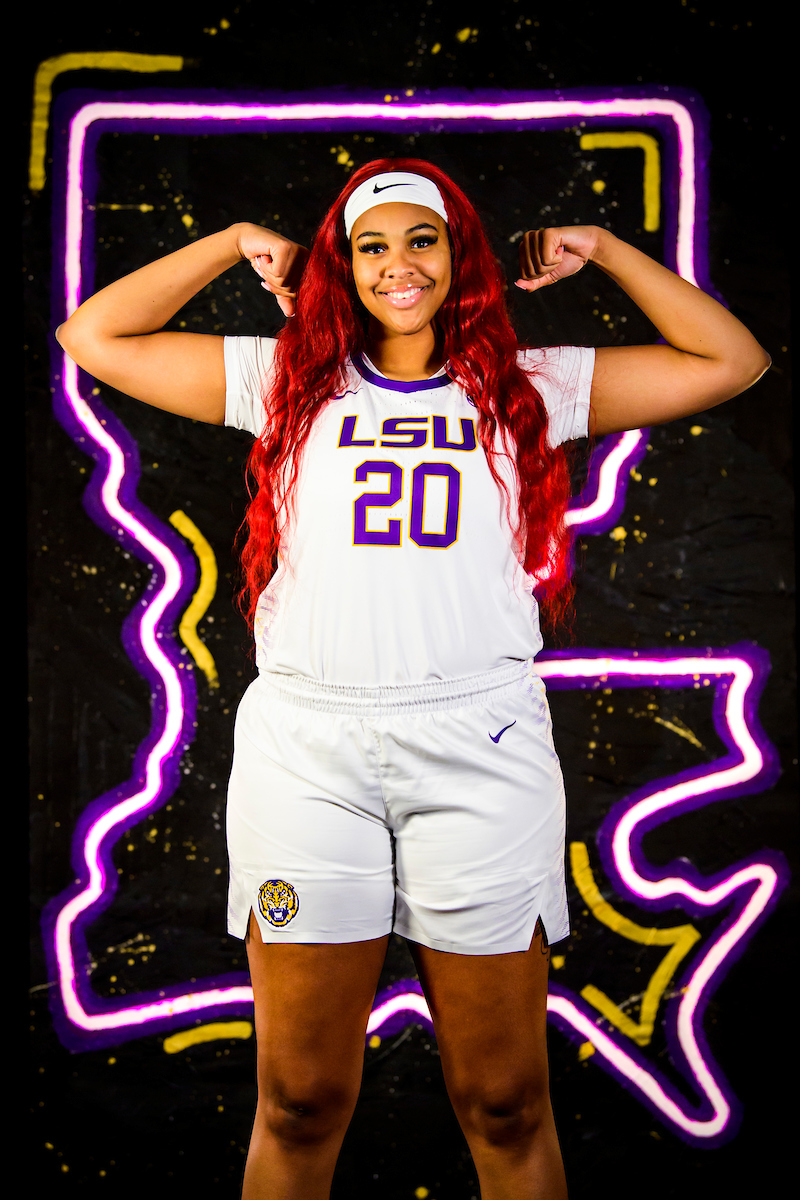 Former McDonald's All-American center Hannah Gusters believes she gave head coach Kim Mulkey her best last season at Baylor University which won the Big 12 Conference tournament championship and reached the NCAA's Elite 8.

A good portion of the Bears' postseason run came with Gusters watching from the bench where she urged on her teammates, in particular interior players such as upperclassmen Queen Egbo and NaLyssa Smith, who were setting the example for the talented 6-foot-5 player to follow when it became her time to perform on such a stage.

"There's definitely a time, especially as a freshmen, where you hit a wall," Gusters said. "Especially since the high school season ends so much earlier that the college season. You have preseason, then conference, the conference tournament and then the NCAA tournament. You're playing harder for longer. The upperclassmen don't hit the same wall. "It was hard not being able to find that next gear.
"At the same time, I fell in love with Queen and Liz (Smith) becoming their best selves," Gusters said. "Liz transformed into the Big 12 Player of the Year and an All-American and doing as well as she did in the tournament was very inspiring. I thought, 'Oh wow, that's going to be me next year'. I took that knowledge from them with me."

With the person singularly responsible for her being at Baylor – long-time head coach Kim Mulkey – having resigned to take a similar job April 25 closer to her Louisiana roots at LSU, Gusters' world was turned upside down. The Dallas native met with her family and instead of waiting to see who Baylor would hire, Gusters followed Mulkey to Baton Rouge where in her second collegiate season, feels prepared to contribute to what she believes will be a transformative season.

"I knew Baylor wasn't Baylor without Kim," said Gusters, who averaged 5.0 points and 2.0 rebounds in 30 games. "I knew whoever they brought, if it's not Geno Auriemma, it's not going to be the same at Baylor. I knew that she wanted me to come with her. I trust her with my career. I know she can make me an All-American. I knew she was the
only person who would be able to make me rise to my highest potential as a post player."
Gusters was named Friday to the Lisa Leslie watchlist as one of the nation's top 20 centers. LSU hosts the first of its two exhibition games at 2 p.m. Saturday against Langston at the Pete Maravich Assembly Center.

Gusters' resolute belief in Mulkey is not only rooted in the coach's long standard of success, something she established in 21 seasons at Baylor, but the foundation in which she built such an identity.

Gusters pointed to the program's almost assembly-line like production of some of college basketball's top post players which began with Sophia Young, continued with Brittney Griner, Kalani Brown and Lauren Cox – all of whom earned All-America status and were firstround WNBA selections.

"I knew staying with Kim was the right thing for me," Gusters said. "Seeing what she's done with all of those post players was amazing. I wouldn't say that it was a hard decision. I'm the type of person that goes with my heart and does what feels right to me."

Mulkey won a key recruiting battle with UConn to keep Gusters in state where the nation's second-ranked center had averaged a double-double (22/10.3) in her final season at MacArthur High. She had also led Duncanville to its first state title as a freshman before transferring.

Gusters was a consensus All-American, rated the nation's No. 16 overall prospect by ESPN's Hoopgurlz.com, was selected a McDonald All-American and picked to play in the Jordan-Brand All-America Classic. She also earned a spot on the Naismith High All-America team.

With the nation stymied by the coronavirus pandemic Gusters didn't get the benefit a normal ramp up to her freshman season.

"Nobody knew what was going to happen," she said. "We didn't have the summer to prepare. We jumped into practices. We had to get in shape, do a lot of extra work and it was definitely hard. It was getting in shape and trying to learn at the same time. To understand the level of speed and intensity of college basketball. It was hard to have confidence at that time. But I felt once we started playing and once, I got into the flow of things, I was going to be OK. I also had to understand the people that were above me (upper classmen) weren't at their best at that time."

With veteran leaders Egbo and Smith already in place, Mulkey allowed Gusters to develop at her own pace and gain confidence throughout the early portion of Baylor's schedule. She scored in double figures six times in her first 12 games, including a career-high 22 points on Dec. 18 against Northwestern State where she made 11 of 14 field goals and pulled down five rebounds in 19 minutes.

With Baylor's schedule turning toward Big 12 Conference play, a time of year where teams are more apt to lean more on their veteran players, Gusters went through a stretch in her final 18 games of the season where she averaged 2.0 points and 1.8 rebounds.

In eight of those games, Gusters didn't play more than eight minutes and twice didn't play in games with Texas in the Big 12 Conference tournament and UConn in the NCAA's Elite 8. She did get a taste of NCAA experience, though, in wins over Jackson State and Virginia Tech where she scored four points in a total of 19 minutes.

"She was a McDonald's All-American in high school and because she's so unselfish, she chose and knew what Baylor had in front of her when she signed," Mulkey said.

LSU graduate student Faustine Aifuwa, a 6-5 center, couldn't stop praising Gusters' work ethic, as well as the energy level and intensity she brought to the team.

"She's going to give you 110 percent," Aifuwa said. "She's physical and is definitely going to challenge you. I know she's challenged me every day."

Gusters said her transition to LSU has been seamless and in some regards, she feels even more comfortable. She's ready to add to her job description that focused mainly on rebounding, especially on the offensive end, at Baylor.

Through her work in the summer and in preseason workouts, Gusters feels equipped to display more of an overall game in the mold of Egbo and Smith and show her ability to not only score with her back to the basket, but with a face-up game and soft touch as well.

"I'm really excited to rise to the occasion," Gusters said. "I know that it's in me, it's not on me. I know I have that in me to do the same thing that I saw. I'm excited for people to see me, the team and us transforming this program."