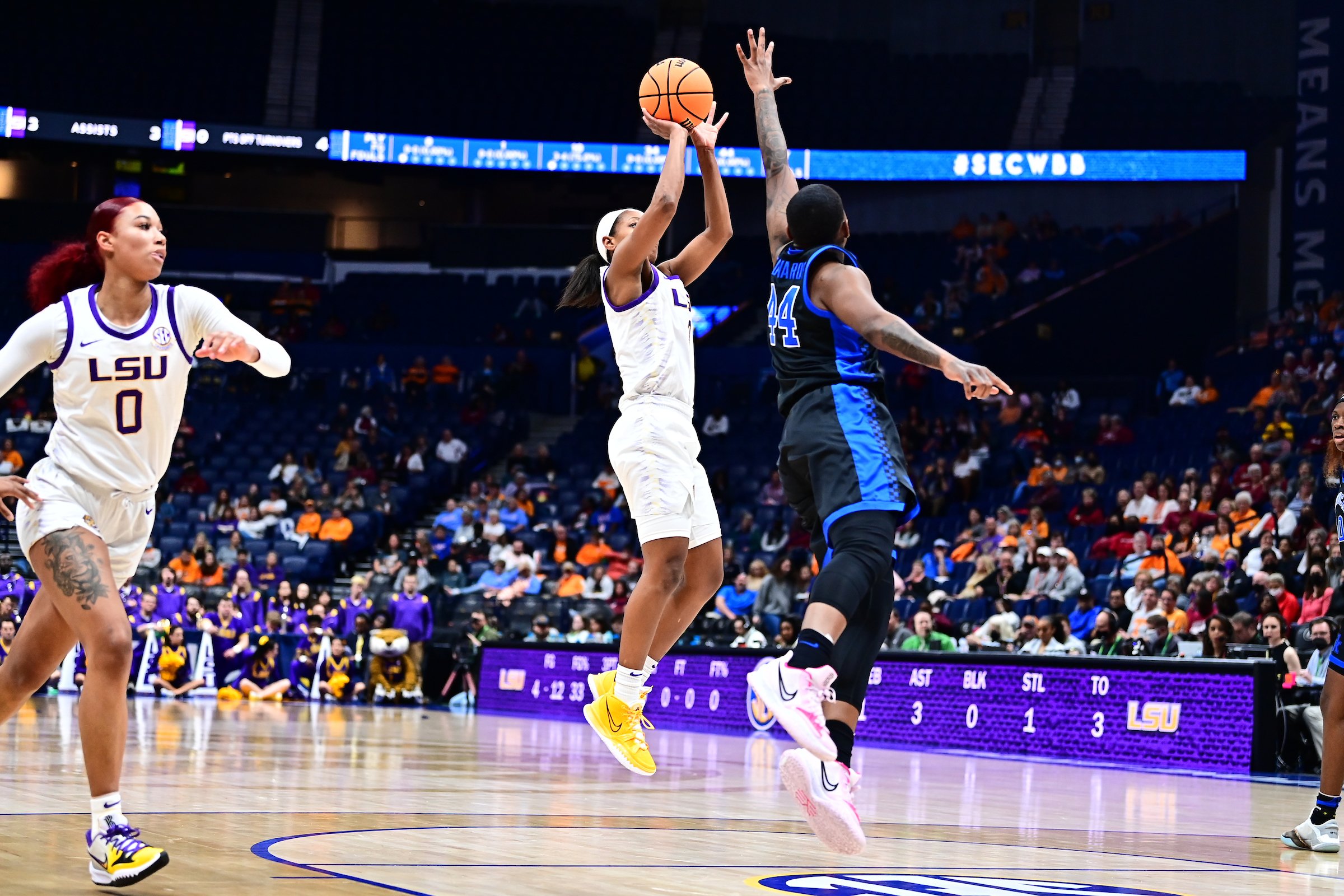 LSU first-year women's basketball coach Kim Mulkey was steadfast in her belief that her team had done enough to host the first-and-second rounds of the NCAA Tournament.
She'll get the opportunity to find out in nearly two weeks.
Facing a red-hot Kentucky team that's been at full throttle since the last time sixth-ranked LSU defeated them more than a month ago, the second-seeded Tigers never led in Friday's quarterfinal round of the Southeastern Conference Tournament which the seventh-seeded Wildcats won, 77-63.
"They just came out on fire. I watched them play previous games and they have all of their parts back," said Mulkey, who played without second-leading scorer Alexis Morris for the second straight game. "They have everybody healthy. They've been on a run. They can score the ball. When you have Treasure Hunt and people like that making threes that helps Ryann Howard not have to do it all. They just punched us in the mouth early. We didn't fold our tent. We kept trying to get back in the game cut it to nine at one point. We kept battling. Give them credit. They're on a roll right now."
Since a 2-8 start in conference play, a fate brought on by a combination of injuries and suspensions to its lineup, Kentucky (17-11) extended its win streak to eight games and advanced to Saturday's SEC Tournament against Tennessee.
"It was go time," Kentucky's two-time, first team All-SEC selection Rhyne Howard said. "We go to the tournament and there was no other option for us than winning and just having fun at the game."
LSU (25-5) had its eight-game win streak snapped. The Tigers, which finished second in SEC's regular season, will have to wait until March 13 when the NCAA unveils its 64-team bracket where Mulkey remains confident her team will remain a regional host.
"Let's move on," she said.
LSU simply couldn't keep up with Kentucky in the first quarter after Jailin Cherry's 15-footer that left the Tigers with a 10-8 deficit.
The Wildcats finished the quarter on a 15-5 run, shooting 67 percent (10 of 15) overall and 80 percent (4 of 5) from 3-point range where Howard was warming up with 13 of her game-high 32 points with Hunt and Dre'Una Edwards adding 13 apiece.
"She showed why she's the No. 1 (potential WNBA) player, why she's the GOAT," Kentucky coach Kyra Elzy said of Howard. "She put us on her back, but we had so many people step up. I'm so proud of what we did today."
Kentucky bombed away with five of its eight 3-pointers in the first quarter, adding to a 25-13 first quarter led with two more trifectas from Hunt in the first three minutes of the second quarter for a 33-15 cushion.
By the time the Wildcats picked up their seventh three of the half, they led 39-17 on a 3 from Howard and layup from Edwards at the 5:37 mark.
"They came out and punched us in the mouth," LSU's two-time, first-team All-SEC pick Khayla Pointer said. "They pretty much hit every shot they took. We had to battle. We were choosing who we wanted to get the shots and we lost Ryne a couple of times in transition. It was tough. We got ourselves in a really big hole and it was too hard to get out of that."

Howard finished with 19 in the first half, including five 3s, to push Kentucky's lead to 44-23 when a 15-footer from the baseline by LSU's Ryann Payne made it 45-25 at halftime.
The Wildcats' shooting tapered off somewhat, finishing the half at 55 percent (17 of 31) shooting from the floor and 61.5 percent (8 of 13) from 3-point land.
LSU had also trailed Kentucky for much of the third quarter before staging an improbable fourth-quarter comeback, overcoming a five-point deficit behind Pointer's 19 of 28 points for a 78-69 victory in Baton Rouge on Jan. 30.
"I don't have Alexis Morris out there and that's almost 17 points a game and we lost by 15," Mulkey said of any comparison to the first meeting with Kentucky. "It had the same feel. We're just a little bit shorthanded but that's not an excuse because they were going to through injuries themselves and even a suspension maybe. It's just the nature of the beast. We miss Alexis not being out there on the offensive and defensive end."
Pointer was LSU's most effective weapon on offense and came alive with 11 of her team-high 27 points during the third quarter to go along with seven assists. She scored her team's last nine points to cut into Kentucky's 53-33 lead and made it 57-46 going into the fourth quarter.
Payne scored two of her 13 points on a 10-foot bank shot that brought LSU to within 59-48 with 9:23 but following a timeout from Mulkey, Kentucky went on a 7-0 run with Howard knocking down her sixth 3-pointer and helping her team maintain no worse than a 12-point margin the remainder of the way.
The only late fireworks came from Mulkey who received a technical foul with 1:36 to play when she objected to Kentucky's Jazmine Massengill landing on top of Pointer in front of LSU's bench following a 3-point attempt without a foul called.
Howard sank both foul technical free throws for a 72-58 advantage.
"I thought she got fouled after the shot," Mulkey said. "She didn't get fouled when she went up. It's a point of emphasis. We've had it called on us two or three times this year. I thought after the contest she just laid on top of Khayla. That's what I saw. It was right there in front of me."