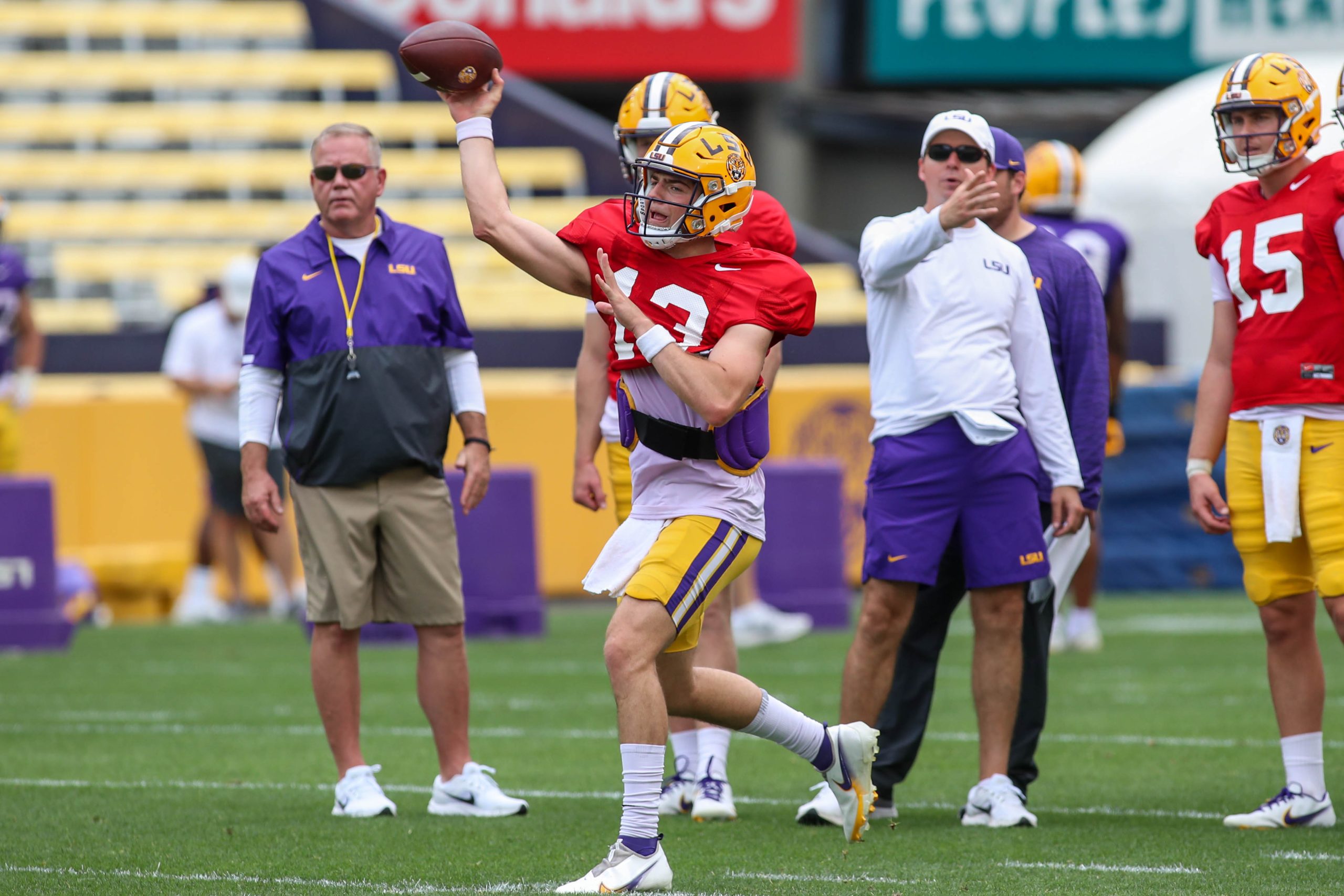 All eyes will be on LSU quarterbacks when the Tigers play their annual spring game Saturday (1 p.m., SEC Network+, 104.5/104.9 FM, LSUsports.net/live) at Tiger Stadium.
Understandably so.
   "There are competitive battles for positions that are really, really crucial," first-year coach Brian Kelly said after Thursday's 14th practice since spring drills opened March 24, "and obviously the one we all want to talk about, and we should, is the quarterback position.
"That is a hotly contested position that requires this kind of game so those guys can sort out where they are."
Sixth-year senior Myles Brennan, who missed all of last season and most of 2020 due to injury, has been battling Arizona State transfer Jayden Daniels, a three-year starter for the Sun Devils, for the No. 1 job.
But Garrett Nussmeier, who appeared in four games as a true freshman and preserved his redshirt last season, has had a strong spring and shown he deserves to at least be a part of a conversation that seems bound to continue into the offseason.
And freshman Walker Howard, a highly regarded early high school enrollee, has held his own since arriving earlier this year from St. Thomas More High in Lafayette.
Brennan, praised by Kelly not only for his experience but also for his accurate passing and ability to play to his strengths, and Daniels, a strong runner who thrives at the RPO-based offensive system Kelly prefers, have been working with the 1s throughout the spring.
Kelly said he "probably will be able to split the reps pretty evenly" among his top four quarterbacks Saturday, much has been the case all spring.
   "We've been pretty good," the former Notre Dame coach said. "I looked at the numbers, and we're within – from top to bottom – I think it was eight snaps differential between the four in terms of 11-on-11 snaps.
"So we'll try to do the same thing."
   KELLY'S EXPECTATIONS
Kelly has made his expectations for both starters and key backups in Saturday's spring game – which is really more of an offense vs. defense scrimmage than an actual game, for depth-related reasons – quite clear.
He said his wants "guys who can play fast and physical, and that should look different" when they step into Tiger Stadium.
"I don't want another practice," Kelly said, "or we would have just stayed on the (practice) field and called it a practice.
   "So, this is really about watching guys play at a higher level. Once we get that, we'll get them out of the game – the guys that we know about – and then we'll move on.
"But there's a number of guys," he added, "who have to use this game as an opportunity to take another step forward."
   EMERY WILL GO
The Tigers plan to play running back John Emery Jr. on Saturday, Kelly said.
Emery twisted an ankle earlier this month, causing him to miss some practice time.
He missed last season due to academic ineligibility but has been praised by LSU coaches throughout the spring for his work on and off the field.