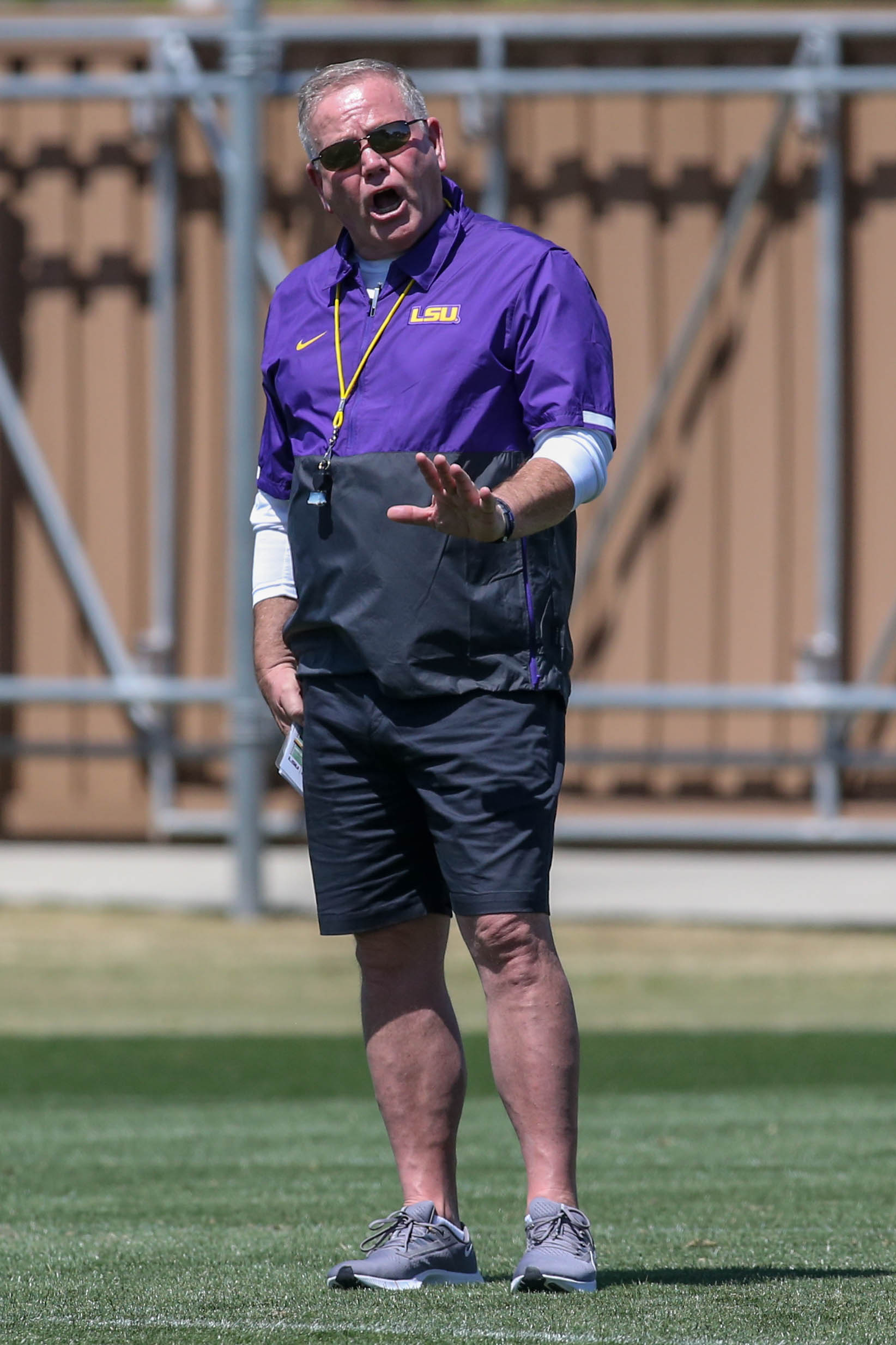 LSU plays its annual spring football game Saturday (1 p.m., SEC Network+, 104.5/104.9 FM, LSUsports.net/live) at Tiger Stadium.
It's the first spring game as coach of the Tigers for Brian Kelly, who left Notre Dame to succeed Ed Orgeron in December.
   Admission is free. All seating is unreserved and will be on the west sideline. Gates open at noon Saturday. Spectators can enter through Gates 1-6 on the west side of Tiger Stadium.
Here's what to know:
   THE FORMAT
LSU will play an offense vs. defense scrimmage.
That's not the preferred format for Kelly, who would rather have a traditional split-squad game. But it's what the Tigers are going with due to a reduced number of available players.
The first half will be played game-like, except for special teams, with two 15-minute quarters. The second half will have a running clock for two 15-minute quarters.
Quarterbacks will wear red, no-contact jerseys. There will be kickoffs and punts, but all will be fair-caught with no returns permitted. Rushes are not allowed on punts, PATs and field goals, and fake punts also are banned.
   THE SCORING SYSTEM
Here's how the game will be scored:
* Offense will be scored like a normal game;
* 3 points for a turnover/sudden change or stop and 3 for 3-and-out;
* 2 points for a color zone field goal and 2 for a third- or fourth-down stop;
* 1 point for a sack or TFL or rush of minus-2 yards or more; and
* usual scoring for an interception, fumble returned for a touchdown or a safety.
   LAGNIAPPE
Parking lots (most on campus available and free to the public) open at 7 a.m. Saturday. … Kelly will lead the Tigers down Victory Hill at 10:45 a.m. on Saturday. … A spring game poster and roster card will be distributed at stadium gates. … Items including helmets, jerseys and cleats will be sold at the Tiger Stadium Store on the stadium's west side starting at noon Saturday. … Former Opelousas High, LSU and New Orleans Saints receiver Devery Henderson will sign autographs from noon until 1 p.m. Saturday near the Tiger Stadium Store. … LSU's band will perform from the stands at halftime.