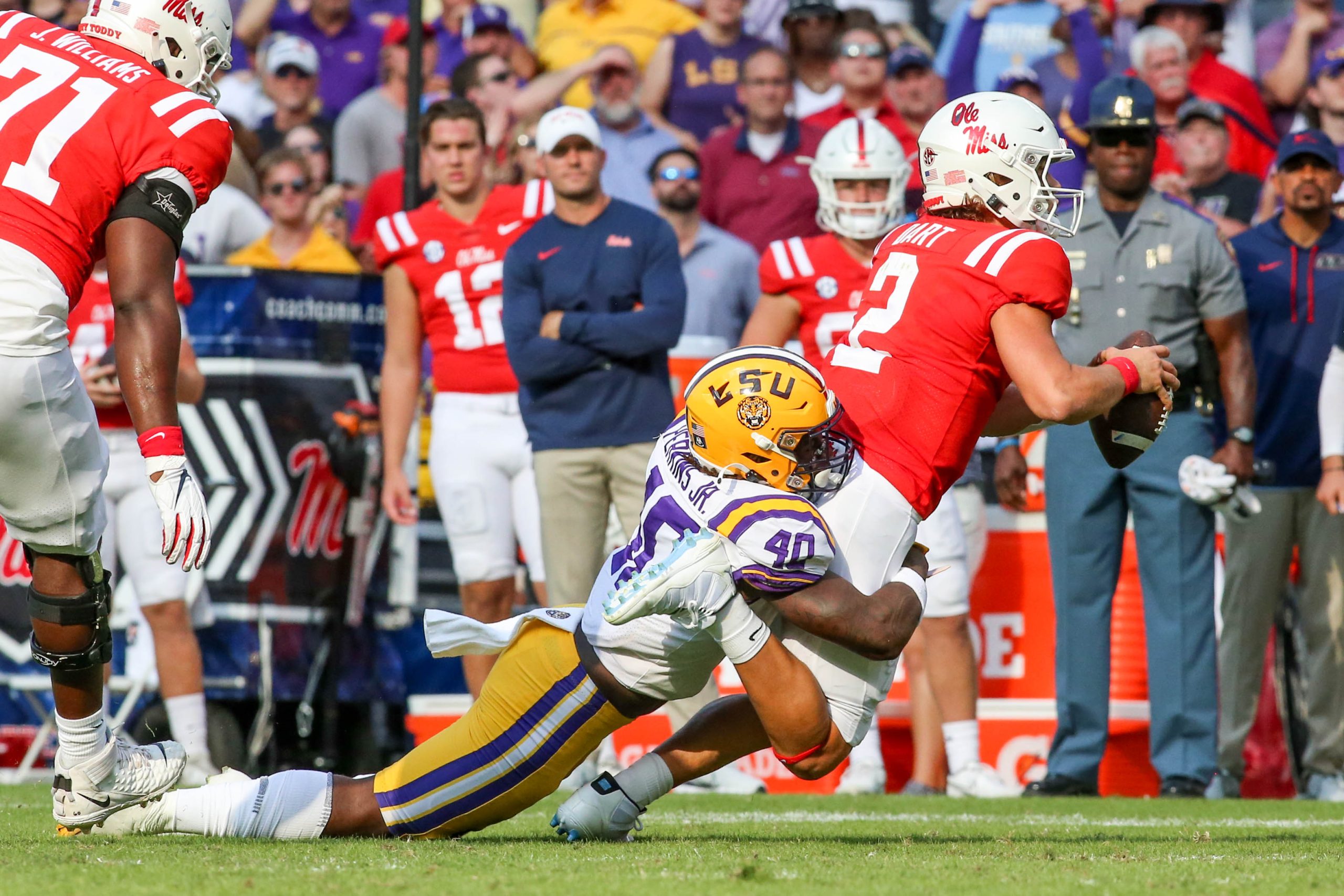 LSU's football team didn't just inch its way back into the nation's two Top 25 polls.
The Tigers found a springboard Saturday with a 45-20 victory over then seventh-ranked and previously undefeated Ole Miss, vaulting to No. 18 in The Associated Press Top 25 which was released Sunday.
In the USA Today/AFCA Top 25, the Tigers debuted at No. 20.
LSU improved to 6-2 overall and gained a share of the Southeastern Conference West Division's lead with a 4-1 record.
"I'm excited for our guys," LSU first-year football coach Brian Kelly said in his postgame address Saturday. "We get some time off, which we need, and we'll get a chance to get on the road recruiting and get ready for our next opponent."
Reigning national champion Georgia is No. 1 in both polls, with Tennessee ranked No. 3.
LSU received 502 votes in The AP Poll, three spots behind No. 15 Ole Miss, while the Tigers were the biggest movers in the Coaches' Top 25 Poll, garnering 350 votes to gain six spots from receiving votes to No. 20 this week.
LSU heads into an open date this week and returns to action, hosting No. 6 Alabama (7-1) on Nov. 5 at a time to be announced.
"I've used this analogy before they jumped in 100% with a whole new way of doing things for me," Kelly said. "I'm just so pleased that they're seeing positive results because I think that that's what I'm most excited about."
The Tigers carried a four-game winning streak and No. 25 ranking into a home game Oct. 8 against then seventh-ranked Tennessee. They lost 40-13 to the Volunteers and dropped out from the rankings.
LSU has followed that with consecutive wins at Florida (45-35) and against Ole Miss.
The Tigers trailed 17-3 early in the second quarter versus the Rebels before getting within 20-17 at halftime.
Quarterback Jayden Daniels, who accounted for 369 total yards and five touchdowns, led a dominant showing in the second half in which the Tigers outscored the Rebels, 28-0.
It was Daniels' 1-yard TD pass to Mason Taylor at the 8:25 mark of the third quarter that gave LSU the lead for good at 24-20. Daniels rushed for two of this three touchdowns and running back Josh Williams added another rushing touchdown with 2:05 remaining to be played.
"Just following the process that coach Kelly has for us," Williams said. "He says you've got to work hard in practice and do extra stuff and that's what I've been doing. I'm just sticking to it."