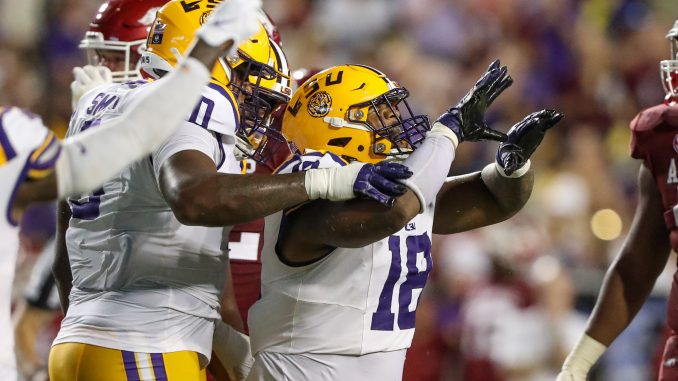 Six days ahead of his team's clash with No. 8 Alabama, head coach Brian Kelly gave a gloomy update on No. 13 LSU.
That was specifically on the team's injury front where the Tigers (6-2, 4-1 in SEC) will face the Crimson Tide (7-1 5-0) without starting defensive tackle Mekhi Wingo and starting cornerback Zy Alexander.
The depth behind Alexander was also affected with the loss of two players from the transfer portal, Duce Chestnut and Denver Harris, who have been inactive and are not available for the game.
"They've been around long enough now," Kelly said of secondary at Monday's weekly press conference. "You're into the season eight games. They had some time here in camp. We had some mid-year enrollment. To say they're inexperienced, yes, they haven't played a lot of SEC games, but they know what they're doing. They understand our techniques. They know what's expected of them.
"We're in a position where we feel comfortable and confident, they can go out and get the job done," Kelly said. "Although they don't have a lot of SEC games under their belt, they're quite capable of going out there and playing at a high level. You have to have confidence in your players and their ability to do it and I've got confidence whether it's Jeremiah Hughes or Javien Toviano, Ashton Stamps. All three of those freshmen can go out and play at the level necessary for us to win a championship."
Kickoff for Saturday's clash is 6:45 p.m. on CBS.
Kelly also announced that junior defensive tackle Mehki Wingo, one of the team's captains who wears the No. 18 jersey, will miss the rest of the regular season after undergoing an undisclosed surgery during the bye week.
It wasn't all doom and gloom regarding injuries.
Kelly said sophomore offensive tackle Emery Jones Jr., who suffered an ankle injury against Auburn and missed the Army game, was expected to return to practice Monday. Kelly said Jones was "moving around" during the bye week and participated in workouts.
Freshman cornerback Ashton Stamps, who appeared in six games and made one start before suffering an injury, is expected to return to Monday's practice and be available for Saturday's game.
Alexander, a transfer from Southeastern Louisiana, is considered LSU's top cornerback. He started in all eight of his team's games, made 44 tackles with a team-high seven pass break-ups and recorded two interceptions with the second resulting in an injury on the return late in the first half against Army.
Kelly reiterated Alexander's absence could be extensive.
Junior Sage Ryan has shifted from safety to cornerback and has played in all of LSU's eight games. He's collected 19 tackles with three stops behind the line of scrimmage. Stamps has eight tackles and a PBU, Welch six tackles in six games with a PBU, Toviano six tackles in eight games and Hughes three tackles in eight games.
"They're elite players coming out of high school," Kelly said of his group of freshman cornerbacks that also includes Jeremiah Hughes and Javien Toviano and sophomore LaTerrance Welch. "Now you're putting them in positions where they have to be confident and trust their technique and trust what we've taught them. Now it's taking that trust and putting it in from preparation to performance and playing emotionally at a level which allows them to do their job.
"I think we've been at it long enough where these guys are ready to go," Kelly said. "They have no choice. These guys are ready to play. They're young, many have said inexperienced. I get it, they haven't played a lot of SEC games, but these guys are really good players. They'll get out there and compete. They'll compete for LSU."

Wingo had been a mainstay for LSU since taking over last year for injured Maason Smith in the second quarter of the Florida State game. He was named third team All-American in '22 and had 22 tackles in seven games, three tackles for loss, 2 ½ sacks and a quarterback hurry this season.
West Virginia transfer Jordan Jefferson has 21 tackles in eight games, 4 ½ tackles for loss and a sack, while Arizona transfer Paris Shand has 11 tackles in eight games with three tackles for loss and a quarterback hurry.
"Clearly, we would love to have Wingo in the lineup, but he has an injury," Kelly said. "We're built for injuries. You can't be built for 11 players. We have depth. We have good players that will step up and be ready to play and play at a high level. It's part of football. In this game, if you lose one guy and you're not able to answer the bell, then you're not very good. We think we've got a good football team and we're going to miss him, but we have guys that will step up and compete at a high level."