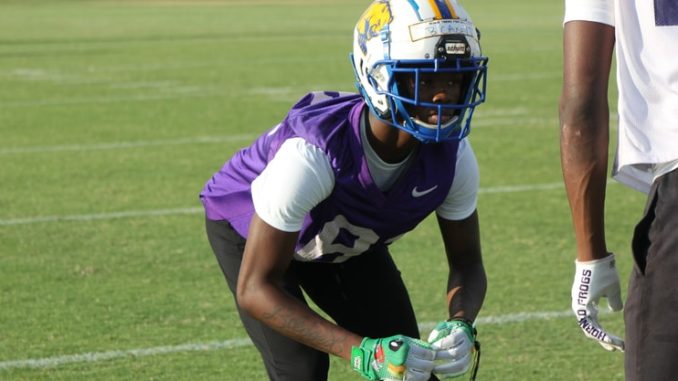 A day after backing off a four-month old commitment to Ole Miss, three-star cornerback Bernard Causey decided to come home.
The 6-foot-1, 170-pound Causey of John F. Kennedy High in New Orleans, kept a recent wave of momentum going for LSU's Class of 2024 with a pledge on Tuesday to coach Brian Kelly.
"LSU is my hometown team," Causey told On3 Sports. "Me being a hometown hero for my family, friends, and the community stands out. I also have access to the resources that I need to succeed."
LSU continued to reap the benefits of a 48-18 home victory over Auburn where the Tigers hosted several of the nation's top prospects in the Class of 2024 and beyond that included Causey.
The Tigers picked up commitments thereafter from four-star edge rusher CJ Jackson of Tucker, Georgia and Class of 2025 wide receiver TaRon Francis of Karr in New Orleans.
LSU flipped the commitment of cornerback PJ Woodland of Hattiesburg, Mississippi to the Tigers and were also successful in getting Causey to rescind his commitment to Ole Miss on Monday. Causey had performed well at LSU's Elite Camp this summer and earned a scholarship offer on Sept. 27 and became the Tigers' 25th member in their Class of '24.
LSU's current class ranks No. 11 nationally by On3 Sports and No. 12 by 247 Sports.
Causey, the No. 101 overall prospect and No. 23 cornerback by On3, becomes the third in-state prospect to join LSU's cornerback group along with JuJuan Johnson of Lafayette Christian and Wallace Foster of Warren Easton. The Tigers also have cornerback pledges from Cai Bates of Orlando, Florida and Woodland.
Causey helped Kennedy to a 10-2 record and appearance in the Division II state quarterfinals last season. The Cougars are 7-1 and ranked No. 7 in this week's Class 3A state rankings.
"Me and the coaching staff have been locked in," Causey said. "I'm really locked in with (assistant) coach Frank (Wilson). He comes from where I do, so he knows how it is coming up. They plan on using me as an open field cornerback."