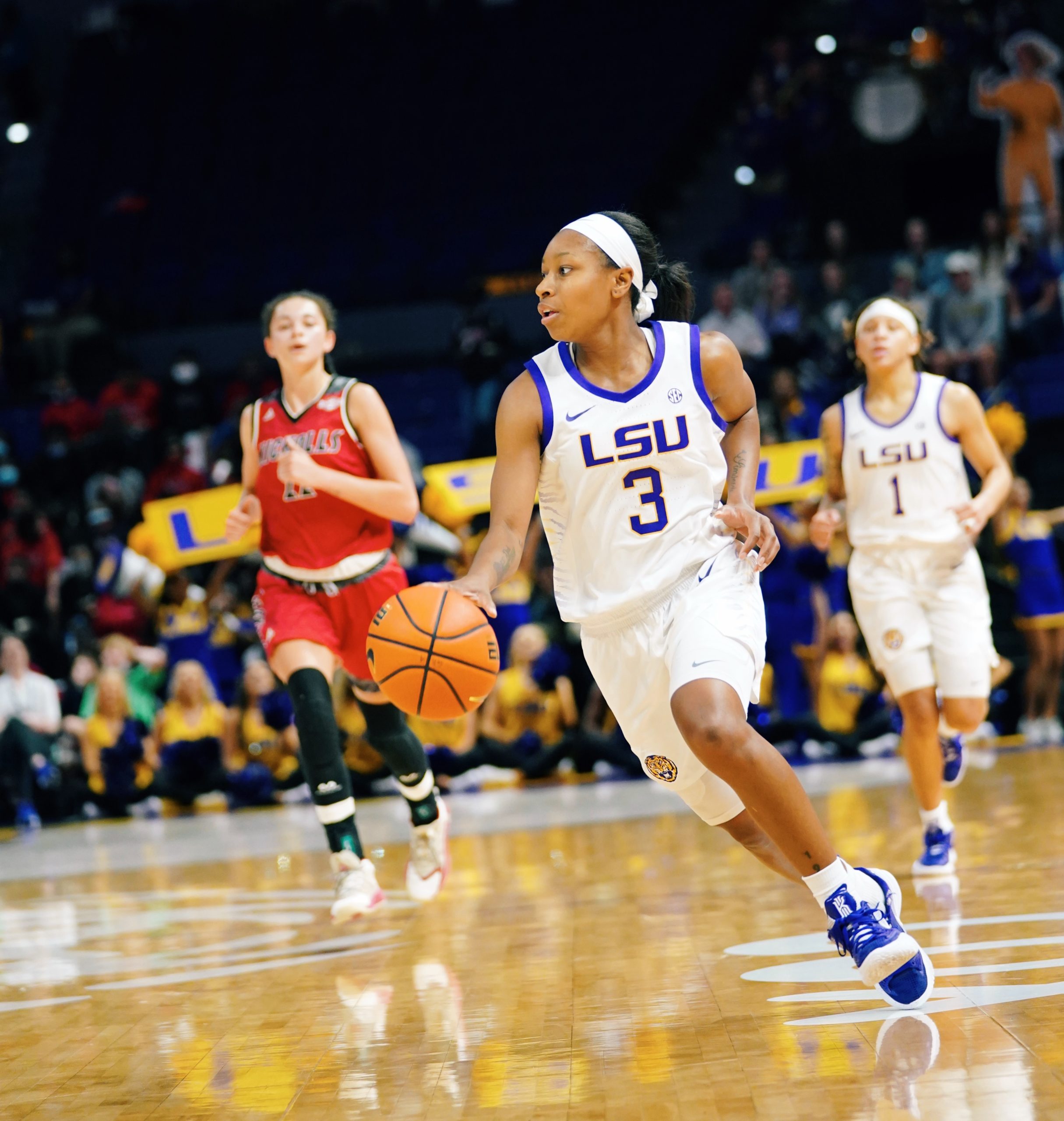 First-year LSU women's basketball coach Kim Mulkey called it a signature win.
The No. 14 Tigers earned such praise for their diligence on the road where life hasn't always been so kind, holding on for a 68-64 road win Monday over Ole Miss where they did just enough to move into a tie for third place in the Southeastern Conference standings.
"It's a signature win for our program right now going down the stretch," Mulkey said. "That team was playing well. I'm as proud of this win as any. We played a solid game."
With graduate students Faustine Aifuwa and Khayla Pointer leading the way, LSU never trailed after the first minute of the game.
Aifuwa matched her career-high with 20 points and added 14 rebounds, a category the Tigers dominated 50-39. Pointer overcame a slow offensive start to become the fifth player in SEC history to record her second triple-double with 16 points, 11 rebounds and 10 assists, while senior guard Alexis Morris has 17.
No. 14 LSU (19-4, 7-3), which extended its win streak to nine games over Ole Miss, moved into a tie for third place in the league with Florida (18-4, 6-3) which both trail South Carolina (9-1) and Tennessee (8-3).
"We laid it out in our film session, here are the (SEC) standings," Mulkey said. "A bunch of us all jammed together, and you control your own destiny. You control it now."
Defense was another key component of the winning equation in LSU's victory. They held Ole Miss (18-5, 6-4) to 40% percent shooting (26 of 65) and limited leading scorer Shakira Austin, a potential No. 1 WNBA draft choice, to 11 points with three of those coming in the last three minutes of play.
"I thought every time she touched the ball or wanted to be in certain spots on the floor, (we wanted) to make it difficult for her," Mulkey said. "I thought we did as good a job as we could possibly do on her."
Pointer came alive in the second half with 13 points, including 10 in the third quarter, where LSU carried a 51-44 lead into the fourth quarter after leading by 11 points (49-38) with 2:54 left.
"We tried to keep her under wraps," Ole Miss coach Yolett McPhee-McCuin said of Pointer. "But she's so good, it's tough. She just found ways to make plays. She just showed her veteran leadership."
She added three steals and was one of three players to log all 40 minutes in the game.
"No, she didn't shoot it particularly well," Mulkey said Pointer who was 4 of 17 from the field. "She had three steals and one turnover in 40 minutes of play. That's just hard to do. We ask a lot of her. She never stopped attacking."
LSU pushed its lead to 12 points (64-52) with 3:33 remaining when Morris made her team's lone 3-pointer and Aifuwa followed with a basket off an inbounds play.
LSU didn't make another field goal the rest of the way but instead of relied on 4 of 8 free throw shooting from Morris and Pointer to keep Ole Miss at arm's length.
The Tigers, who only turned the ball over 11 times, shot 61% percent (17 of 28) from the free throw line.
"We needed to rebound with them, keep them off the offensive boards, and we needed to take care of the ball," Mulkey said. "We got to the foul line which was another way I thought we could win the ball game."
LSU went on an 8-0 run midway through the first quarter for a 8-2 lead on Morris' pull-up jumper.
The Tigers later withstood five straight points from the Rebels to build a 14-9 lead at the end of the first quarter when Jailin Cherry's 17-footer started a 6-0 spurt that included baskets in the lane from Aifuwa and Hannah Gusters.
LSU limited Ole Miss to five field goals in its first 20 shot attempts, a stretch that enabled the Tigers to open a 21-11 lead at the 7:18 mark on three straight points from Aifuwa who made a free throw and finished a lay-up off a feed from Pointer.
Starting guard Angel Baker, who led Ole Miss with 20, scored six points, including a three-point play that got Ole Miss to within three points (26-23) with 42.8 seconds left when Cherry's free throws with 29.3 seconds made it 27-23 at halftime.
"We won a game where we didn't shoot it particularly well," Mulkey said. "But you won it with your defense, you won it with rebounding, and you won it because you took care of the ball."