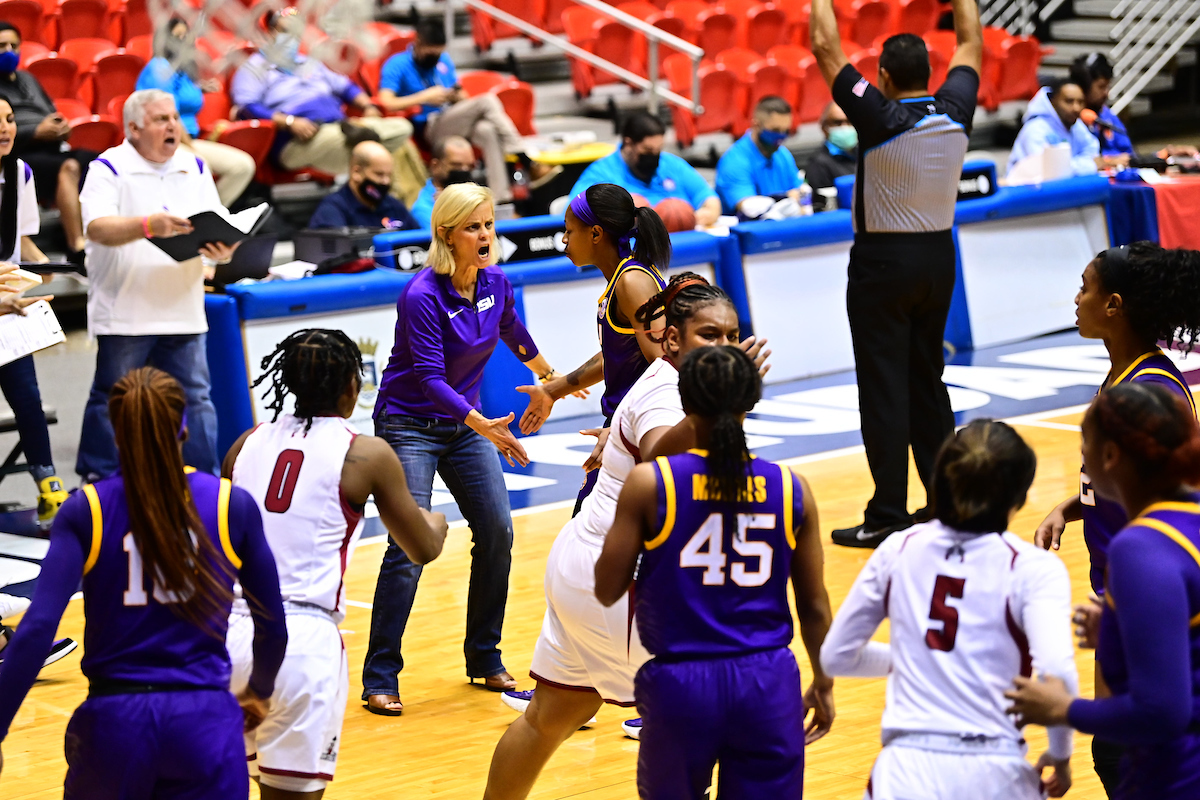 LSU women's basketball coach Kim Mulkey had one thing to say to point guard Khayla Pointer after Friday's 72-52 victory over New Mexico State.
"I thought Khayla Pointer was big time today and I told her so," Mulkey said. "Like I tell all of them, 'I'll tell when you're not big time and I'll tell you when you were'. We don't win today without Khayla Pointer. We ran a lot of stuff for her."
Pointer, a first team All-SEC guard, scored 16 of her 20 points in the second half, helping LSU outscore New Mexico State 43-22 over the final two quarters in their first of two games in the San Juan (Puerto Rico) Shootout at Roberto Clemente Coliseum
Senior guard Alex Morris was LSU's other double-figure scorer with 12 rebounds. She also had a team-high seven rebounds.
The Tigers (4-1) will face Missouri State, an NCAA Sweet 16 participant last year, at 11:15 a.m. Saturday.
"We're going to learn from this game, correct things on film but we've got to move on and get ready for an outstanding Missouri State team," Mulkey said.
LSU twice trailed by as many as nine points 14-5 and 16-7 in the first quarter – the latter with 2:29 left to play – before closing to trail, 17-15.
"I lost count on how many layups that we missed," Mulkey said. "I don't want to take anything away from New Mexico State. That team came out playing physical, they were fired up, excited and we were kind of flat-footed for whatever reason. We did get good looks. We just missed wide-open layups."
After a couple of ties New Mexico State (2-2) regained a 27-21 lead with 5:17 to go when LSU closed with an 8-3 run and trailed by a point (30-29) at halftime.
The game was tied at 39-all at the 7:07 mark of the third quarter when LSU went into overdrive, ignited by a layup from Morris at the 5:30 mark that gave the Tigers the lead for good.
Pointer also made both of her 3-pointers in the quarter, including one at the buzzer for a 53-48 edge.
"She executed somethings where we made sure she was the one taking the shot," Mulkey said. "That's what you expect out of Khayla. I thought her number shots taken (18) were good. I thought the number she made (9) was good. I know she'll say she can do better and I'm glad she thinks that and will do that. We don't win without here today."
After outscoring NMSU 24-16 in the third quarter, LSU held the Aggies to six points on 28 percent (7 of 25) shooting from the floor, outscoring them 19-6.
LSU outscored NMSU 33-13 over the last 17 minutes of play since the game was last tied at 39-39. They also held a 48-32 advantage in rebounds, went 20 of 29 from the free throw line and outscored the Aggies 17-1 in points off turnovers.
"It's a learning process for all of them," Mulkey said. "They all want to do good. They don't go out with the intention of missing shots. I thought the physicality at the very beginning kind of stunned them. Like I told them that's how you have to play every time you step out on the floor."