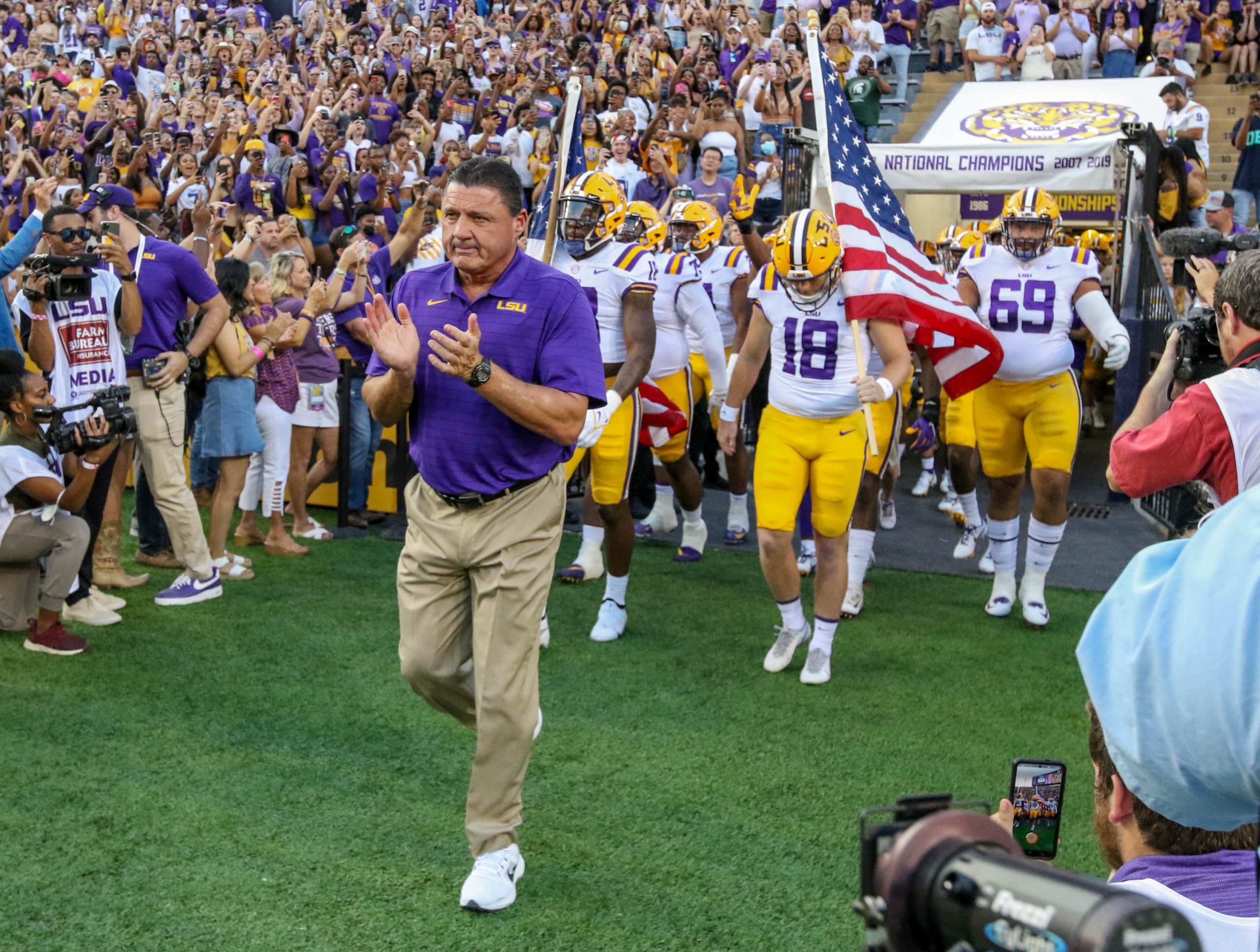 A year ago when LSU had to win its last two games to finish 5-5, the 2020 COVID-19 season was considered one of the worst in Tigers' history, especially from a defensive standpoint.
The biggest disappointment was it followed the 15-0 2019 national championship season, the greatest year in Tigers' history.
Because of three straight top 5 nationally ranked recruiting classes, nobody thought things could get worse for LSU than last season, but they did.
And now, two years removed from Tigers' legendary QB Joe Burrow revealing his iconic B-U-R-R-E-A-U-X jersey on Senior Night ceremonies in Tiger Stadium before the Tigers pounded Texas A&M 50-7, LSU will send fired head coach Ed Orgeron packing along with 19 seniors when the teams meet at 6 p.m. Saturday night in the regular season finale.
The Tigers (5-6 overall, 2-5 in the SEC), losers of 3 of 4 games since LSU athletic director Scott Woodward announced Oct. 17 that Orgeron would not be retained effective whenever the season, are one win shy of bowl eligibility and one loss away from their first losing season since 1999.
Add the backdrop of the incessant speculation of five-week long search for a new head coach that should come to an end within the next week, and it makes for a head-spinning intertwining plotline.
As for Orgeron, he's 50-20 heading into his final game as head coach after going 10-11 in the last two seasons. He was given the job at the end of the 2016 regular season after winning six of eight games as interim coach replacing Les Miles who was fired after a 2-2 start.
Following a 3-2 start in 2017 which included a non-conference loss to Troy, Orgeron's Tigers won their next 31 of 36 games including a 13-5 record against ranked teams.
Then, it all fell apart a year ago. Severe NFL underclassmen early defections, COVID-19 optouts, a season-ending injury to starting quarterback Myles Brennan and bad coaching staff hires by Orgeron sent the program plummeting.
More poor coaching hires as coordinators and another season-ending injury for Brennan in a list of 16 players lost for the year put Orgeron this season in a funk he couldn't overcome.
"After you win a championship, everyone puts their fingerprints on that trophy and everybody's head gets a little bit bigger and you forget how you got there," Orgeron said earlier this week. "The reason that team became a championship team is they had great assistant coaches, they had great players and the day after we lost to Troy (in 2018) we decided we wouldn't be in that position again. That's when I believe that championship started, the day after we lost to Troy. We beat Florida, went to a bowl and won. We had great players, we had great leadership.
"You can't take anything for granted. Life's going to throw you a bunch of curves. I tell the guys it's not what happens to you, it's how you react. This team has learned how to fight through adversity. No matter what the circumstances are outside of you, you've got to get up in the morning and decide to fight and this team has done that."
Some Tigers have more of an attachment to Orgeron than others, like graduate defensive tackle Glen Logan. Orgeron was LSU's defensive line coach when he signed Logan from Destrehan (La.) High in 2016.
"I feel kind of like his son," Logan said. "He's been there to watch my development from my freshman year to now. He always tells me he enjoys what we became. Being around him more and more, we just appreciate what he did for us.
"Everything he said (to Logan during recruiting) came true. Four-year starter. National champion."
LSU is a 6½-point underdog to No. 22 Texas A&M (8-3, 4-3), the only team this season to beat Alabama. Aggies coach Jimbo Fisher, in his fifth season with A&M after being signed by then-Aggies athletic director Scott Woodward, has repeatedly shot down speculation that he would leave A&M to be hired by Woodward for Orgeron's vacancy.
"We're gonna recruit an unbelievable class this year," Fisher said on Nov 15. "So, I'm the dumbest human being on God's earth to recruit all these guys to A&M so I can go across over there (to LSU) and go play against them.
"I want to be at A&M. I plan on being at A&M. I ain't going nowhere and don't want to be nowhere else. I love being right here."
Though the Aggies' offense hasn't been dynamic, their defense is one of the nation's best units.
A&M ranks second nationally in scoring defense (14.9 points allowed), third in total defense (319.8) and fourth in total sacks (33.). Defensive lineman Tyree Johnson has 7 sacks in the last 6 games and his 8 sacks on the season are third-best in the SEC.