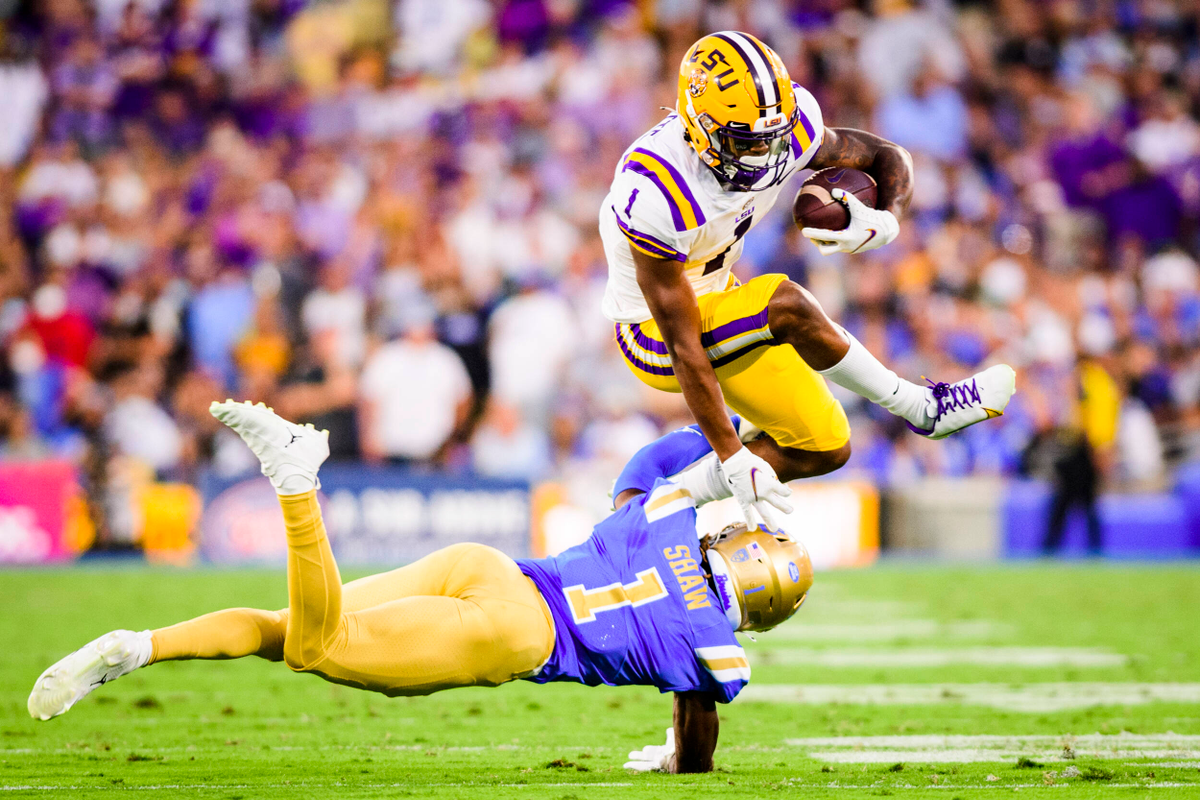 A month ago when LSU looked at its 2021 schedule, no matter how the opener at UCLA on Sept. 4 would transpire, the next two non-conference games against McNeese on Sept. 11 and Central Michigan this weekend appeared to be outings the Tigers could fine-tune things heading into the Sept. 25 SEC opener at Mississippi State.
The phrase "fine-tune" has yet to be uttered by LSU coach Ed Orgeron because the 1-1 Tigers are nowhere near the point where a small adjustment has the engine running smoothly.
"We still have numerous things we have to fix in all three phases of the game," Orgeron said of his struggling squad heading into Saturday's 6:30 p.m. contest vs. the Chippewas (1-1) of the Mid-American Conference in Tiger Stadium.
Certainly, LSU's defense and definitely its kicking game have a lot less to correct than the wheezing offense, featuring sporadic blocking and a running game sorely in need of a fast, elusive running back.
The offense, 11th in the 14-team SEC in scoring (30.5 points per game) and 13th in total offense (342.5 ypg) and 13th in rushing offense (130.5 ypg) under newbie coordinator Jake Peetz, has yet to score touchdowns on consecutive series.
One of the LSU offense's downfalls it has yet to solve the exceedingly slow play-calling, especially when the Tigers are already at the line of scrimmage and check with the sidelines to see if Peetz is calling an audible.
Invariably, LSU is snapping the ball with five seconds or fewer on the play clock, giving defenses an advantage of perfectly timing their burst off the line of scrimmage.
"We're trying to look over (the opposing defense) and get the perfect play for the perfect defense," Orgeron said. "It does give the defense a chance to change defenses on our `check with me's' and they've changed defenses almost every time we've done it, We're going to minimize the `check with mes.' We're better off sometimes when we go fast and attack the defense."
Orgeron said the Tigers planned to practice playing at a fast tempo this past week in practice. He didn't say if or why the offense hadn't previously worked on tempo.
LSU sophomore wide receiver Kayshon Boutte, the Tigers' only offensive playmaker so far, welcomes increasing tempo.
"If you focus on tempo during the game, the faster you move and the more momentum you have as an offense," said Boutte, who has 14 catches for 180 yards with an SEC-leading five TDs. "Lately, we've been starting slow, so I do feel like it has to do with momentum."
A quick rhythm may benefit LSU sophomore quarterback Max Johnson. He's thrown for 492 yards and six TDs, but is averaging just 11.2 yards per completion because he has rarely has enjoyed consistent pass protection and the time needed to throw downfield.
LSU was missing three offensive line starters with injuries last week against McNeese and barely topped 300 yards in total offense. The week before in the 38-27 loss at UCLA, LSU had all of his usual O-line starters available and still allowed two sacks, four tackles for loss and five quarterback hurries.
Previously injured starters right tackle Austin Deculus and right guard Chasen Hines will return for Saturday's game. Left tackle Cam Wire is still out.
The Tigers are also having difficulty keeping able-bodied running backs.
Junior John Emery Jr., who has yet to play a down, has been ruled academically ineligible by the NCAA for the rest of the season. Freshman Armani Goodwin is sidelined with a sprained ankle.
That leaves junior Ty Davis-Price, freshman Corey Kiner and sophomore Josh Williams to carry the load and no one besides Kiner has shown any breakaway ability. There's hope that Tae Bradford, who played for LSU last season, then transferred to Oklahoma and finally back to LSU again, will be declared eligible by the NCAA to immediately play.
LSU's defense has had a few injuries. Senior defensive end Ali Gaye will miss his second straight game.
The charge of the Tigers' defense is to stop Central Michigan's running game, led by redshirt freshman Lew Nichols who's averaging 107 yards per game.
"Lew Nichols is an outstanding runner," Orgeron said. "He does a good job of yards after contact. They have a great scheme. A zone scheme, a gap scheme, they run the ball inside and outside."
No matter the size of the Tiger Stadium crowd, Central Michigan won't be intimidated. CMU head coach Jim McElwain was Florida's head coach from 2015 to 2017 and was 1-1 vs. LSU in Baton Rouge.
"The atmosphere is like no other," McElwain said of Tiger Stadium. "The fans are great. They are rabid about their home team and they make it something special. They don't cut you any slack."