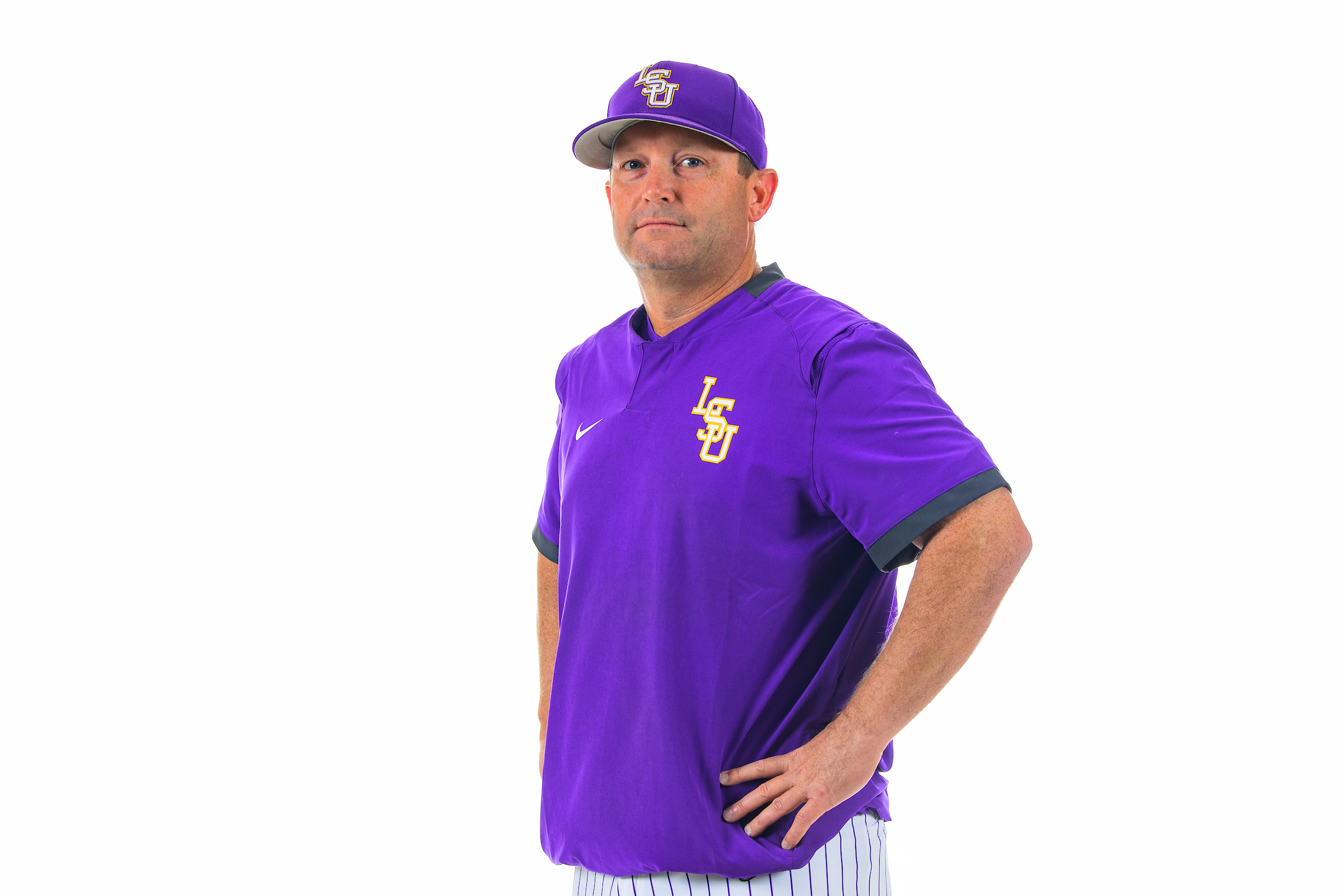 LSU baseball coach Jay Johnson is one tough dude.
At least he is, according to legendary coach Skip Bertman, who happens to know a thing or two about toughness and winning in college baseball.
After all, Bertman became a college baseball coaching legend during his 18-year career at LSU, winning five College World Series and transforming the program from one that, according to Bertman, had never even heard of Omaha when he arrived in the summer of 1983 into a college baseball blueblood by the time he retired after the 2001 season.
"Whatever it takes, Jay figures it out, he's a tough, tough guy," Bertman said, saying further he's not surprised Johnson fought and battled last season in his first season and finished 40-22 overall and fourth-place finish in the Southeastern Conference.
Bertman also is not surprised Johnson won the off-season.
"He recruits his tail off – works, works, works. Goes where he needs to go when he needs to go. He also studies and analyzes everything all the time. Unbelievable energy, passion. Definitely the right person for LSU baseball. I'm proud of him and the way he works. He's extremely talented and knowledgeable. And now he has a pitching coach, so watch out."
The new pitching coach is Wes Johnson, who Jay Johnson hired away from the Minnesota Twins to bridge and to fill a gap that created daily changes for LSU last season.
But hiring Wes Johnson was only one thing Jay Johnson did to "win the offseason."
Johnson, following LSU's elimination from the NCAA Regional in Hattiesburg at the hands of Southern Miss, literally put the pedal to the metal and started working toward 2023 right away.
Johnson finished No. 1 in recruiting, No. 1 in the transfer portal, he hired two new assistants – Wes Johnson and Josh Jordan. As a result, LSU is the overwhelming favorite to win the baseball season itself in '23.
LSU is the preseason consensus No. 1-ranked team nationally, the predicted favorite to win the Southeastern Conference, has four preseason All Americans on its roster and, in Dylan Crews, the player everyone expects will be the No. 1 overall player taken in the 2023 MLB draft.
If you're saying something like "Whoa, now! Slow down," then you're not speaking Jay Johnson's language.
Johnson not only welcomes all the expectations, predictions, acclaim and praise. Talk to him for a few minutes, and you get the distinct impression, he thrives on them.
He's certainly not intimidated one bit. He thinks LSU is going to Omaha this year. And he is not shy about telling you, his goal is to finish what he's started – he means to win it all this season.
"Yes. I mean, I do every year," Johnson said, adding this preseason expectations for LSU this season are nowhere near bloated or unrealistic.
"I don't think you come from a place of building a fence around what your team can accomplish. I think that limits what your team can accomplish. I think what we've tried to do is take every piece of the team and every piece of the program from day one of accepting the job and build this in the image of a College World Series, a national championship contender caliber team and program.
"I mean, we're gunning for it. We're going for it. I mean, absolutely, yes," Johnson said.
Johnson actually said he likes being ranked No. 1 heading into the season.
"I'm happy that we're ranked number one for a couple reasons," he said. "Number one in building a program, you have to capitalize on those types of opportunities. Every great player in the United States is going to look at these college baseball polls and the first thing that grabs their attention is who's at the top. I think that gives us a chance to continue to build and obviously I want to be here for a long time, and so we're always going to be building. I know it's about this year and right now, but it's positive in that regard. As far as how that relates to the team, I think we've addressed it head on and I think our players know that the expectations aren't about a ranking or any of those things. The expectations are about preparing at a high level and executing each of our jobs at a high level that's going to help us win and be successful.
"So, keeping them focused on that and the task at hand, we really haven't had any problem with that," he added. "I don't know if embracing is the right word but running towards it instead of away from it would be a way I would say. I use that analogy the other day of the SEC is like a fire in a house, and you got to run in, and you got to put it out and get people out of there safely. You can't do that with any hesitation, lack of self-confidence, you got to go towards it. Now, we haven't been tested yet, but I like the mentality in which our team is going about their work on a daily basis and that really is not a factor in anything that we're doing at this point."
Interestingly enough, Bertman was the Athletic Director at LSU when Paul Maineri was hired before the 2007 season and Bertman handpicked Maineri to run the program he built, "someone with fire." But Bertman never met Johnson until the two had dinner with their families a few days after Johnson arrived in Baton Rouge after accepting the job.
"The first thing I would say from a personal standpoint, the greatest thing about this job for me has been to build that relationship with Skip," Johnson said.
"I think I've always paid attention to the most successful coaches. As I was starting out this profession, it was right about the time he was finishing up and in my mind, he's the greatest college baseball coach of all time. I really studied him as a young coach and his ability to motivate players and his ability to develop a program.
"Long before I came here and knew him, he was very instrumental in my development. I came in here with a really good background knowledge and understanding of who he was and the things that he did. Now let's just call it 22 years later, I get to talk with him three times a week. He's sitting in the dugout at our intrasquad gate. Those aren't things that I take for granted," Johnson said.
Johnson said he got the first call from LSU after the Pac-12 championship in 2021. When athletic director Scott Woodward asked if Johnson was interested in coming to LSU, "I gave an enthusiastic 'yes.'
But Johnson was told the LSU people weren't sure Bertman — the legend himself, with five rings — could see a "West Coast guy" as a good fit for Louisiana.
Johnson wasn't bothered. And he understood, he said.
But then his Arizona Wildcats swept Ole Miss in the super regionals to earn their berth to the College World Series. And the call came again.
"I thought: Did we really change his mind?" Johnson said.
Apparently so.
Bertman's version is slightly different. He says he'd been following Johnson for years and knew he would be a great fit and the right person for LSU baseball all along.
"When I first got here, we sat down a lot and he was very … things that I needed to know about LSU or Baton Rouge or the Southeastern Conference," Johnson said.
"He was very open and very helpful in that regard. From a baseball standpoint, his mind is … he's brilliant, and so talking about different skills that different players on the team have that he's observed and then talking through those types of things with him. Advice, going on the road and the SEC, I mean, it's been outstanding on those types of levels. I mean, there's really been no limit to our discussions, I would say," Johnson said.
Bertman is now 85. He last coached a college baseball game in 2001. Johnson admits the game has changed significantly in the past two decades, but that doesn't diminish how much he values Bertman's input and continued influence. For his part, Bertman said meeting with the players and giving them regularly and talking with Johnson multiple times every week are a joy.
"Jay's a different kind of coach than I was, and that's okay. It's good. He's the perfect coach for today's college game. He knows what he's doing in every facet. Telling you now, he's a stud," Bertman said.
Johnson knows this is baseball and that no matter how deep and how talented LSU is this year, "and we are very talented and deep," he said, the Tigers will lose a game this season.
"Well, we're going to lose a game at some point. I mean, it's just baseball teaches you that that's an absolute certainty," Johnson said.
"Players are going to go through struggles over a game, over a weekend, over a week. Our job is to help them be prepared for that and then respond accordingly. We talk to them constantly about your ability to recover from failure is going to ultimately determine the level of your success. It's about recovering from failure and then reconnecting to the next opportunity and getting refocused on your job. We work on mindset every single day and I think that was a big part of last year, and I think that's part of building that foundation and I think we'll be in a better place to do that.
"But we're going to have adversity and we're playing in the best league in the country against the best opponents," Johnson added, "and so responding to that in the middle of a game, in the middle of a weekend, a week, tough stretch, whatever, that's what we have to be prepared for because it's a certainty that it's going to happen."
Realistically, LSU's not going undefeated in 2023. But here's something to consider: Johnson is 45-years-old. He said he plans to finish his career at LSU many years from now. He plans to be in Omaha at the end of every season he's leading the Tigers. And, he also, said his goal is break every one of Bertman's records at LSU.
"Yeah, absolutely. I mean, I think results, those types of results are special and he obviously was a special coach. It's just a byproduct of really good discipline, really good decisions, really good people around you. I feel like we're off to a good start of building this in an image that Coach Bertman is proud of and would be proud of," Johnson said.
LSU coach Jay Johnson's Profile
A proven track record of postseason success, explosive lineups and highly-ranked recruiting classes make LSU's Jay Johnson one of the best college baseball coaches in the nation. He has made a significant impact at every program he's led, and he is one of the most energetic, innovative and focused coaches in America.
Entering his second season as the head coach of the storied, six-time national champion LSU program, Johnson is poised to lead the Tigers to an elite level.
He was named the head coach at LSU on June 25, 2021, after guiding Arizona to the Pac-12 championship and a berth in the College World Series.
In addition to his reputation for developing hitters, Johnson is also considered one of the top recruiters in college baseball. His impact at LSU was immediate, as Perfect Game ranked the Tigers' November 2021 signing class No. 1 in the nation. Perfect Game, Collegiate Baseball and Baseball America in the fall of 2022 named LSU's combined class of incoming signees and transfers the best in America.
LSU posted a 40-22 mark under Johnson's direction and advanced to the final round of the NCAA Hattiesburg Regional. The Tigers finished 17-13 in the SEC and placed fourth in the league, marking LSU's first Top 4 conference finish since 2017.
The '22 Tigers were led by centerfielder Dylan Crews, who was voted a consensus first-team All-American and the Southeastern Conference Co-Player of the Year. Crews is projected to be the No. 1 overall pick in the 2023 MLB Draft
Johnson also developed LSU third baseman Jacob Berry, the sixth overall pick – and the first college player selected – in the 2022 MLB Draft by the Miami Marlins; and second baseman Cade Doughty, the second-round choice of the Toronto Blue Jays.
Johnson's first season at LSU featured tremendous SEC road series victories at eighth-ranked Florida; at Mississippi State, the 2021 College World Series champion; and at Vanderbilt, the 2021 CWS runners-up.
The '22 Tigers were one of the top offensive teams in the nation, finishing in the Top 3 in the SEC in runs scored (No. 2 – 503), slugging percentage (No. 2 – .516), total bases (No. 2 – 1100); on-base percentage (No. 2 – .404), RBI (No. 2 – 477), home runs (No. 3 -114), batting average (No. 3 – .289) and hit-by-pitch (No. 1 – 125).
The architect of college baseball's best offense in 2021, Johnson led Arizona to two College World Series appearances – including a Championship Series berth in 2016 – over five full seasons, regularly producing the nation's most potent lineups and signing top players from across the country.
Overall, Johnson's Wildcat teams finished first in the Pac-12 in hits, runs, and on base percentage in four of his five full seasons, while leading the league in slugging percentage, on base percentage, runs per game, and batting average in three seasons. And in each of his final two full seasons, the Wildcats topped the league in hits, walks, runs, runs per game, slugging percentage, on base percentage, and batting average.
When he was hired by Arizona after the 2015 season, Johnson took the reins of a program with a rich tradition and instantly made it richer. In 2016, he became the fifth coach ever – and the first since 1994 – to lead his team to the College World Series finals in his first season. That team, which had finished 12-18 and 9-21 in the Pac-12 in its previous two seasons, slugged its way to Omaha, finishing fifth nationally in hits and leading the conference in walks, doubles, hits, runs, and stolen bases.
The Wildcats returned to the NCAA Tournament in 2017 and finished first in the Pac-12 in batting average, doubles, base hits, on-base percentage, runs, scoring and slugging percentage. In 2019, Johnson's offense led all Power 5 teams and finished second nationally in runs per game, slugging percentage, and on base percentage, while finishing third in batting average and total runs.
THE JAY JOHNSON FILE
Career Head Coaching Record (entering 2023 season)
Overall: 357-194 (.648, 10 seasons)
at LSU: 40-22 (.645, one season, 2022)
at Arizona: 208-114 (.646, six seasons, 2016-21)
at Nevada: 72-42 (.632, two seasons, 2014-15)
at Point Loma Nazarene: 37-16 (.698, one season, 2005)