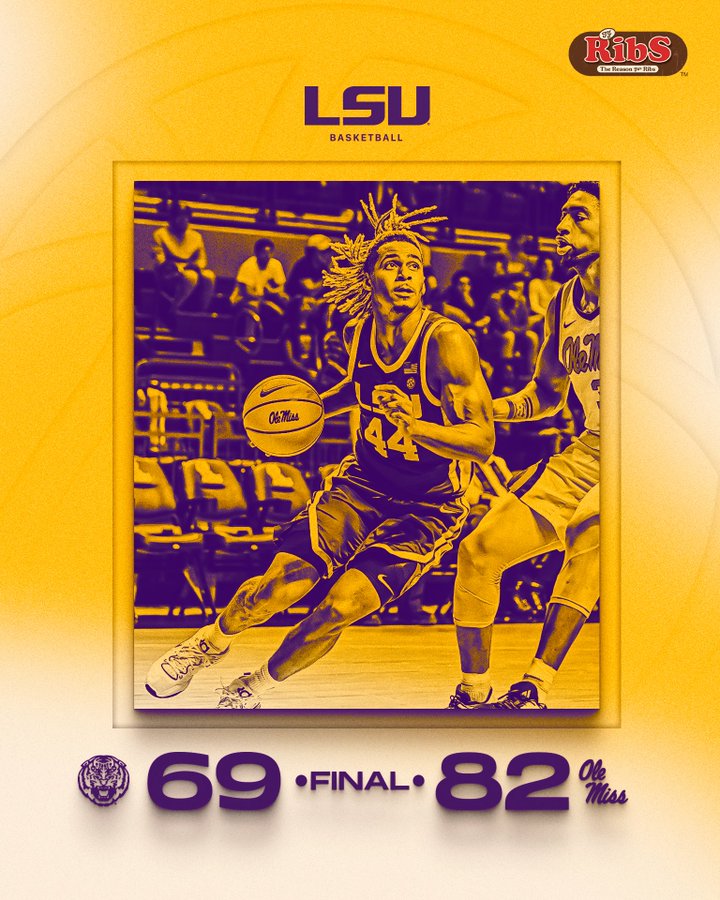 Ole Miss fired its head coach on Friday. It played LSU on Saturday night. Now all is well, relatively speaking, in Oxford if you're Ole Miss.
Never mind LSU had just stopped its big losing-streak over Vanderbilt.
Ole Miss' interim coach is named Win – as in Win Case. That apparently carried more weight than anything else in an otherwise meaningless game.
The two cellar-dwelling Southeastern Conference teams matched deficiencies.
LSU won, in terms of deficiencies but lost the game, 82-69.
"Manhandled us on the perimeter, they just don't miss off every cut, really physical, and then, as you saw there, especially in the second half, we were unable to guard them, just got whipped time and time again off the dribble," LSU coach Matt McMahon said.
"But in the first half, you get off to the great storm. They were trying to double KJ (Williams), they're trying to take him away in the post. We got some good looks out of some of those doubles. We were unable to knock them down and then we also took a couple just horrific shots off the dribble. That really hurt us."
LSU (13-16, 2-14 in the SEC) has two more conference games left, at home on Wednesday against Missouri at 8 pm, and then at Florida on Saturday. Then, of course, the SEC Tournament. Then it will be over.
Williams, as is the norm, scored a game-high 29 points to lead LSU. It was not enough. As usual. But, man, he tried. As usual.
Adam Miller was the only other LSU player in double figures with 15, including three 3s in nine attempts.
Jaemyn Brakefield scored 23 points to lead Ole Miss (11-18, 3-13), which had a total of four players score in double figures. The Rebels eclipsed the 80-point barrier for the first time in SEC play this season.
Amaree Abram added 14 points, and Myles Burns and Matthe Murrell chipped in 12 points and 11 for the Rebels, respectively.
Case took over the program on Friday when Ole Miss fired Kermit Davis, a former LSU assistant, who was nearing the end of his fifth season at the helm.
Brakefield was 8-of-10 from the field and 7-of-7 from the free-throw line. Abram came off the bench to add 14 points with four 3-pointers for Ole Miss which shot 32 of 58 from the field and ended a four-game losing streak.
As per the standard where LSU is concerned, Ole Miss shot over its head in this game. All of LSU's opponents seem to have field goal shooting bonanzas when they play the Tigers and the Rebels continued that trend.
Two bad teams matched wits for the right to avoid being known as the worst in the conference. You can talk about offense or defense all you want.
But in the end, Ole Miss, a team with a new interim coach proved it was better than LSU. Mainly because after shooting almost 40% from the field all season, the Rebels went wild and shot 55%.
The Rebels also scored 16 points off 13 LSU turnovers and outscored the Tigers by 18 in the paint.
Ole Miss built a nine-point halftime lead and had a 72-59 advantage with 4:06 to play. Miller made a 3-pointer and freshman Tyrell Ward converted a three-point play to pull the Tigers to 72-65, but they didn't get closer.
"(Their) Physicality on the glass was such an impact on the game," McMahon said. "I thought it was more of a factor, just their physicality knocking us off our cuts on the offensive end of the floor, and then just bullying us on their drives to the basket and finishing with great toughness around the rim. You know, you're not going to win when the other team shoots 64% in the second half. It really limits your opportunities there. You score 43 points in the second half, that's enough. But we couldn't get the stops that we needed."
So went the saga in Oxford, much as it has for LSU all SEC season long.
Ole Miss, the downtrodden Rebels, soundly whipped the woe begotten Tigers and LSU claimed the cellar as its own in the end. No questions were left unanswered.
LSU is the worst in the SEC. Ole Miss is not, and Win Case won his first as the Rebels head man. How long Win remains at the helm in Oxford remains to be seen.
Former LSU coach Will Wade is rumored to be a frontrunner to be named the head coach, along with two others including former Texas coach Chris Beard and Dusty May, currently the head coach at Florida l-Atlantic. Imagine General Wade running the show at Ole Miss for the next five or 10 years.