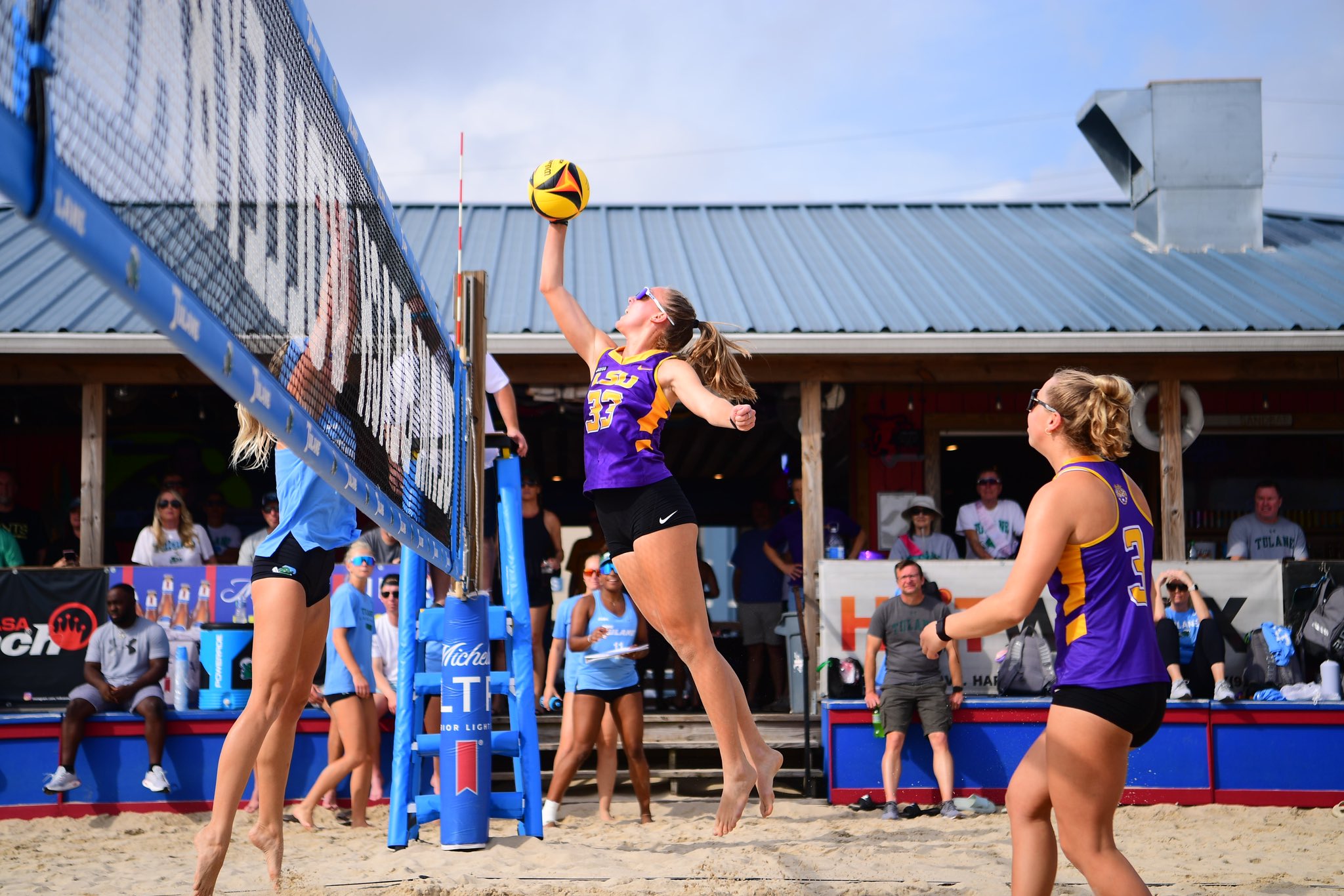 The No. 5 LSU beach volleyball team began its season on Saturday at the Green Wave Invitational with two wins over Tulane and North Alabama.
"Today was a great first step," LSU beach volleyball coach Russell Brock. "I love the challenges we had playing against two scrappy teams. The first time out, there's always nerves and if you aren't tested then you really can't get over them. I was proud of how our teams not only competed to get two dominant wins, but also how our beach family supported and rooted for each other."
LSU (2-0) will play two more matches on Sunday at 12:15 p.m. with Nicholls and at 12:45 with UNO.
LSU began the day with a 4-1 victory against Tulane.
Lara Boos and Ella Larkin got the action started for the Tigers on Court 4 with a dominant two-set victory, 21-17 and 21-11. On Court 5 Cassidy Chambers and Amber Hanyes played three sets, but lost; 16-21, 21-15 and 12-15.
On Court 1, Kylie DeBerg and Ellie Shank won in straight sets, 21-18 and 21-14 and on Court 2 Grace Seits and Parker Bracken won in straight sets, 21-14 and 21-15. Court 3 was a three-set thriller that Hannah Brister and Reilly Allred won; 21-16, 16-21, and 15-10.
LSU took a 5-0 win over North Alabama in its second match of the day. Boos and Larkin won, 21-11 and 21-5 on Court 4. Chambers and Hanyes won, 21-19 and 21-17 on Court 5.
On Court One, DeBerg and Shank won in three sets; 21-11, 15-21 and 15-11. Seits and Bracken won, 21-15 and 21-19 on Court 2. Brister and Allred won, 21-11 and 21-9 on Court 3.