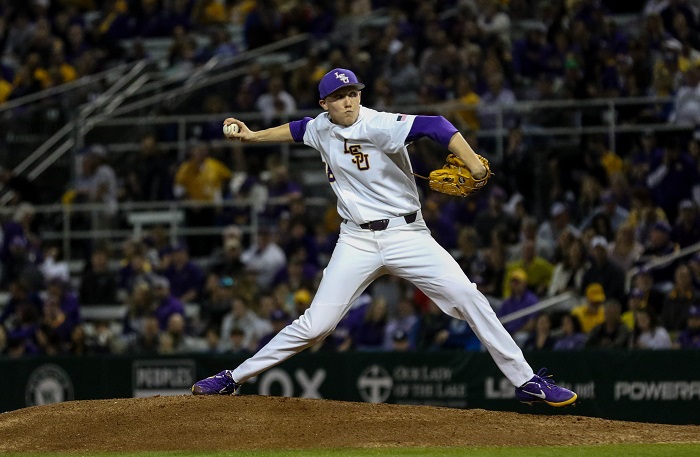 LSU coach Paul Mainieri and Cory Couture, the team's trainer, had a meeting set for Monday morning to discuss a litany of injuries suffered during a series loss at Missouri over the weekend.
Just how banged up are the Tigers at the halfway point of the Southeastern Conference series? Couture went back to his office before the meeting to retrieve a typed list of names out of fear he might forget one.
"The list is too long," groaned Mainieri, who himself is dealing with a cold. "You know that's a bad sign when your trainer can't even remember everybody who is hurt. What a nightmare."
LSU lost three key players to leg injuries within a span of 11 innings in a unseasonably frigid Columbia. Their respective statuses ranged from out to questionable as LSU embarks on a short week in which the Tigers will play UL-Lafayette in the Wally Pontiff Classic before hosting Florida on Thursday-Saturday.
Both third baseman Chris Reid (hamstring) and center fielder Zach Watson (groin) are unlikely to play on Tuesday night, Mainieri said, but neither have been ruled out for the Florida series yet. Watson's injury is considered the more serious of the two.
"Whether or not (Reid) will be ready for Thursday, I don't know," Mainieri said. "And Zach Watson is worse than Reid, so I doubt he'll be out there tomorrow. I'm holding out hope for this weekend, but you never know."
Perhaps the most concerning injury is the loss of ace Zack Hess, who left Friday night's game in the first inning after suffering a groin injury. Mainieri did note it wasn't the same groin injury that hampered Hess during the run up to opening day.
"He said it's feeling better, but I don't know what that means," Mainieri said. "I couldn't even begin to give you a timeline on when he might be available again. The first time he did it, on the other leg, it was a couple of weeks then. I don't know if it'll be that same time frame, more or less."
Complicating matters further, LSU cannot simply slide Cole Henry and Eric Walker up in the rotation to fill the void. Henry and Walker will both be pitching on five-day's rest as it is, and Mainieri all but ruled moving them up any further.
"I don't know what we're going to do about Thursday at this point," Mainieri said. "We'll just have to see how everybody feels when we come out of tomorrow night."
OTHER INJURIES
– Freshman right-hander Landon Marceaux is back on the shelf after feeling a recurrence of arm soreness. He didn't make the trip to Missouri after a rough outing against Southern last week.
– Jaden Hill is "throwing and progressing," Mainieri said, but the freshman is still at least a couple weeks away from a potential return to live action.
OPPORTUNITY KNOCKS?
If Hughes and Reid are indeed out on Tuesday night, that leaves LSU with barely enough infielders to fill out the diamond.
Josh Smith, Brandt Broussard and Cade Beloso remain, but it could mean additional opportunities for Drew Bianco. The freshman did play some second base early in the season.
"He's working at second and third, and he's doing a lot of practicing," Mainieri said. "If he gets a shot to play tomorrow night, we'll hope he plays very well. He works hard. He does the best that he can."
LSU doesn't have much more depth beyond that. Watson is usually the emergency infielder, but he's already hurt. Will Ropoll played infield in high school, but he's slated to pitch against UL-Lafayette at some point.
LSU IN THE POLLS
LSU dropped in all four of the major polls after a 1-3 week in which the Tigers dropped a midweek game to Southern and a series at Missouri. Here's where LSU stands in this week's polls. As always, last week's rankings are in parenthesis:
D1Baseball 14 (9)
Baseball America 15 (12)
Perfect Game 10 (8)
Collegiate Baseball Newspaper 15 (8)
Photo by Jonathan Mailhes