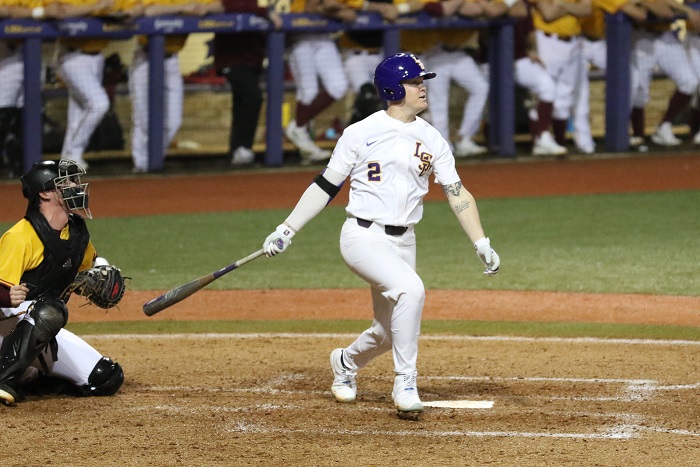 Daniel Cabrera seems to have hit his way out of a strict platoon.
The heralded freshman has been relegated to the bench more times than not when LSU has faced left-handed pitching this season after beginning his college career with an 0-for in left-on-left situations.
That may be a thing of the past after Cabrera went 4-for-5 in a 10-4 victory against Tulane on Wednesday night. Two of those hits came against tough lefties out of the bullpen, an encouraging sign as LSU heads to Vanderbilt for a three-game series this weekend.
"Daniel is a good ballplayer," LSU coach Paul Mainieri said. "I think he's probably through that little bit of a mental block against lefties. He looks like he'll be ready to play against all kind of pitching now."
Cabrera is still hitting just .211 (4-for-19) against left-handed pitching this season, but all of those hits have come in the past few weeks and three were doubles. He's also drawn five walks against lefties, which indicates he's seeing the ball well out of their hand.
The Baton Rouge native insists he never struggled to hit southpaws during his high school career, but adjustments had to be made after he was tied in knots against the parade of soft-tossing southpaws LSU faced during the pre-conference season.
LSU hitting coach Sean Ochinko has worked with Cabrera to cut down on his exaggerated leg kick at the plate and take a more compact swing. The result has been Cabrera looking more like the guy who tore the cover off the ball during fall scrimmages.
"I never really had problems against lefties, but my swing had gotten kind of long," Cabrera said. "The last few weeks Ochinko and I worked on staying short to the ball. Doing that I've been able to see the ball a lot better and more consistent."
Neither of Vanderbilt's announced starters for this weekend are lefties, so Cabrera was likely to be in the lineup either way, but the Commodores do have eight left-handed pitchers on their roster. LSU will also face one of the country's best next weekend in Mississippi State ace Konnor Pilkington.
UP AND DOWN
Saturday starter Caleb Gilbert (2-1, 4.21) has dealt with an unusual fluctuation in his fastball velocity through five starts this season.
The junior right-hander consistently hit 94-95 mph on the radar gun in his start against Texas, but the fastball hasn't topped 92 and dipped into the upper-80s in each of his other four outings this season.
At least one of those starts, a five-inning stint against Hawaii, can be attributed to a bruise on his push-off foot after getting struck with a line drive, but a root cause for the season-long fluctuation remains something of a mystery to this point.
"I think it's just kind of mechanical," Gilbert said. "Me and (pitching coach Alan Dunn) have hit that hard this past week to get it more consistent. There's a lot of variable to it, but we're trying to not focus on it while I'm pitching and just get outs."
That means going to work during side sessions throughout the week. The two spent time watching tape this week and spent part of their weekly preparations working on speeding up his arm.
Gilbert has gutted his way through starts without his best stuff, but the difference in some of his numbers are stark compared to last season. Opponents are hitting a robust .337 against him compared to .190 in 2017 and his strikeouts-per-nine-innings rate has dropped from 10.3 to 5.3.
"It's very frustrating," Gilbert said. "I've kind of always bounced around with velocity here at LSU, so it's not something I'm not used to, but at the same time it would be nice to have a few miles per hour to play around with. I haven't been able to hold it later into games either, which is why I'm getting in trouble in the fourth and fifth innings."
PERSONNEL NOTES
– Freshmen pitchers Nick Storz and AJ Labas are both on the active roster for this weekend and will be available out of the bullpen, according to Mainieri. "If I'm taking them, they're available to pitch," the coach added.
– Freshman Nick Webre made the trip to Nashville despite a scary collision with the tarp during practice Tuesday. The collision produced such force that one of Webre's teeth was ejected from his mouth and punctured his upper lip, resulting in swelling and some fairly gruesome facial scarring. He was held out of Wednesday's win against Tulane.
– The following players were left off the SEC travel roster: Taylor Petersen, Cam Sanders, Brandon Nowak and Josh Smith.
SUIT OF THE WEEK
This will be a fun weekly feature whenever LSU travels to a road series via plane. Team rules dictate all players, coaches and staff must wear a coat and tie on such occasions.
Our inaugural winner is senior outfielder Beau Jordan, who departed for Nashville in this powder blue jacket/tie combination. Honorary mention to Austin Bain for looking sharp and Zack Hess for being a large human wearing a small (but immaculately tied) bow tie.
Beau Jordan wins road trip suit of the week as #LsU gets ready to ship off to Nashville

That's a dope jacket pic.twitter.com/PtyvAiYxxn

— James Moran (@SmartestMoran) March 22, 2018