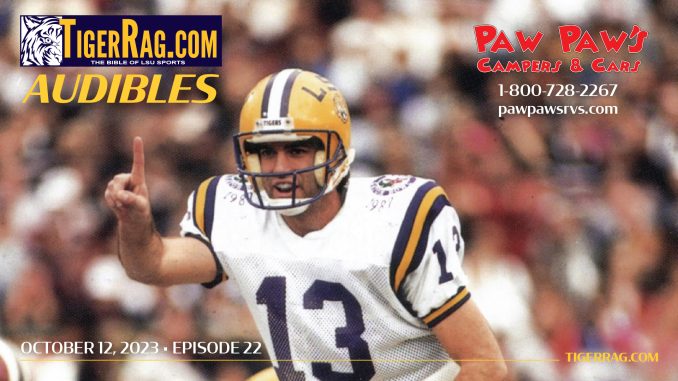 'North Over Zip 40-X Snag': The Play That Shook The Earth against Auburn on October 8, 1988 – LSU's Legendary QB Tommy Hodson relives it all on TigerRag.com's Audibles podcast – Episode 22 – October 12, 2023, hosted by Jake McMains.
LSU's all-time career passing leader, Tiger great Tommy Hodson, relives the day he and Eddie Fuller shook the earth in LSU's dramatic come-from-behind upset of then-unbeaten Auburn, 7-6.
Hodson tells Tiger Rag editor Todd Horne the full story – what he was thinking going into the game, during the game, on "the drive," on the play that produced the earthquake itself, and what he said to Fuller a few plays before. Hodson also talks about how amazed he is today watching LSU quarterback Jayden Daniels, how proud of Daniels he is, and why Daniels should be in the running for the Heisman Trophy this year.
Hodson also makes his prediction on Saturday's LSU game against Auburn – the last time the two rivals square off in the regular season for at least a few years.