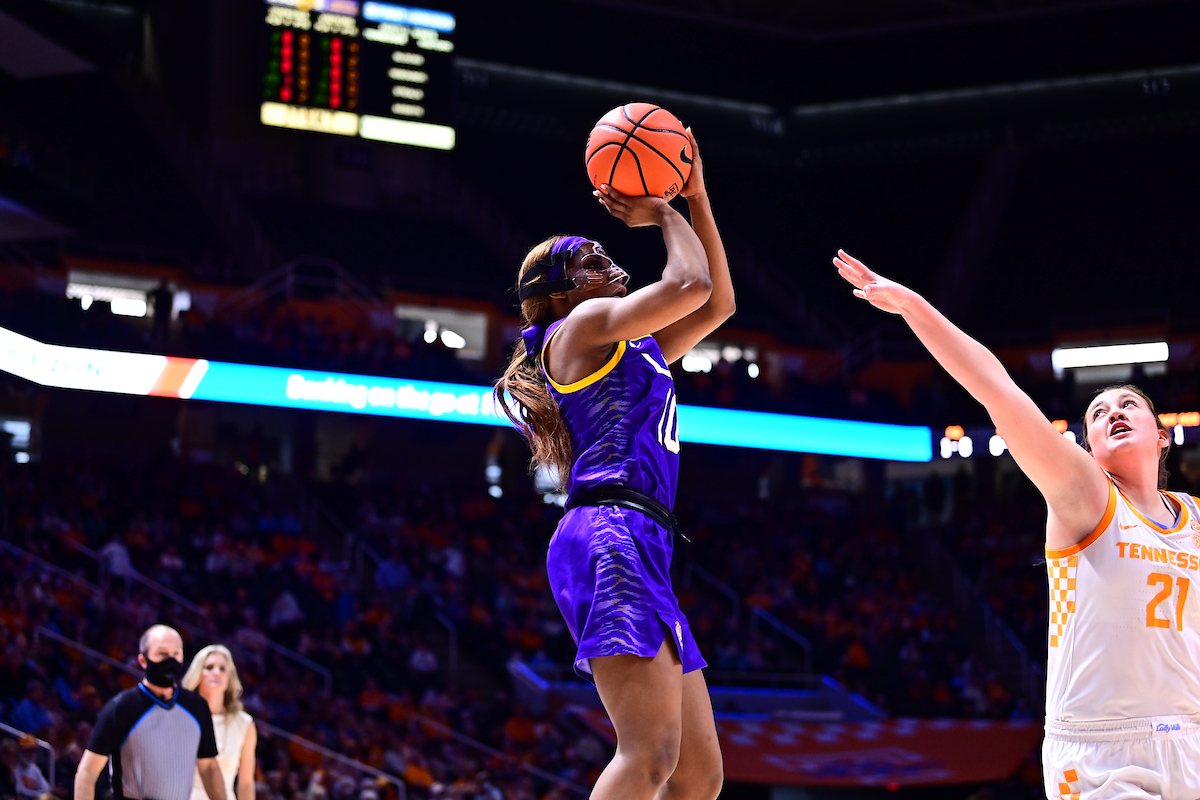 It was the exact finish eighth-ranked LSU women's basketball team envisioned making to the 2021-22 regular season.
Except without the unaesthetically pleasing part at the end.
LSU appeared to be on cruise control with a 56-41 lead over No. 16 Tennessee with just 5 minutes, 22 seconds left to gobble up en route to second place in the Southeastern Conference standings.
The Tigers never trailed in a place they previously had only won three times before but after Jailin Cherry's two free throws appeared primed to conquer the Lady Vols in Thompson-Boling Arena.

"This group, I don't know when it's going to end," said first-year LSU women's basketball coach Kim Mulkey, whose team improved to 25-4 overall and 13-3 in SEC play. "They just grind and try and find ways to win."
That's been the life of LSU's basketball team the last month of the season, inexplicably finding themselves backed into a corner in the fourth quarter only to discover all the right answers to keep their hopes alive for second place finish in the 14-team league.
Tennessee reeled off an 13-0 run during a stretch that coincided with LSU turning over the ball seven times on its final 11 offensive possessions. Without Khayla Pointer enjoying one of her better scoring days and second-leading scorer Alexis Morris out with a knee injury the Tigers somehow found another way to extend their win streak to eight games with an improbable 57-54 victory on Feb. 24.
LSU didn't score a field goal over the last 5:40 of the game and it was the final three acts of Pointer in the last six seconds of the game that help result in the three-point win.
"I thought the only way we could come in here and win under some circumstances out of our control," Mulkey said, "was by rebounding the ball and you had to rebound at all positions."
After LSU's Ryann Payne was called for traveling with 25.8 seconds to go with a 56-54 lead, Pointer secured her team-high 14th rebound with six seconds left when she was fouled.
Pointer, the league's second-leading scorer at 19 points, made it 57-54 with the first of two free throws for her 12th point of the game. UT called timeout after the miss with 3.2 seconds showing to advance to ball beyond midcourt were Pointer stole Sam Puckett's inbounds pass and heaved the ball into the air as the buzzer sounded and cemented the Tigers' fourth all-time road win vs. the Lady Vols.
LSU improved to 11-2 this season in games decided by 10 points or less compared to an 8-9 mark a year ago when the Tigers were just 9-13.
"(It's nice) To see them learn from those games last year and step up and win those games," Mulkey said. "In one of my first meetings with them we talked about that. If I added up the number of games you lost by single digits, you wouldn't have had a losing season last year. Now that you're seniors we're going to put in position to win those games and I guess they took me at my word because they sure have had won a lot of them this year."
LSU displayed the same kind of growth in its previous four games prior to the Tennessee matchup.
The Tigers were either tied or held precarious leads in one-possessions games entering the last four minutes of play against Texas A&M (74-58), Mississippi State (71-59), Florida (66-61) and Alabama (58-50) but found late sparks to keep alive the program's best season in 15 years.
The latest example, though, may have been the sweetest because it came at the hands one of the nation's most recognizable names which was battling LSU for the league's No. 2 seed. The game came with all the trappings visiting teams must endure for a regular season finale – the host team's emotional senior day amid a jammed-packed crowd.
"It was a great atmosphere," Mulkey said.
LSU made a sensational opening statement, jumping out to a 22-10 first-quarter lead where the Tigers shot 52% from the field compared to Tennessee's 18%. Newby exceeded her season's average by the end of the quarter with 10 points with guard Ryann Payne, who started in place of Morris, adding four.
The Tigers made it 29-11 with a 7-1 run in the first 1 ½ minute of the second quarter behind Cherry and Pointer before having to weather a stretch where they were outscored 9-2 to lead 36-22 at halftime.
"The most important thing was how we started the game," Mulkey said. "Very confident, shot it good but defended good as well."
Despite making just 1 of 14 shots (7%) against Tennessee's 2-3 zone, LSU maintained its double-digit advantage into the fourth quarter where center Faustine Aifuwa, a graduate student, was battling foul difficulty and fouled out with 1:43 left.
Cherry tried to compensate for the lack of point production from Pointer and Morris with the second double-double of her career, 14 points, 10 rebounds. It was her free throws that made it 56-41 with 5:22 remaining, but full-court pressure from UT made it treacherous down the stretch for LSU which prevailed for the first time in its last eight trips to Knoxville because of a 47-42 rebound edge.

"It's a win and I could sit here and analyze it," Mulkey said. "I'm sure (ESPN2) TV loved it because it was a close game, much closer than the one (Louisville 86, Notre Dame 64) right before our game. Good for SEC women's basketball."