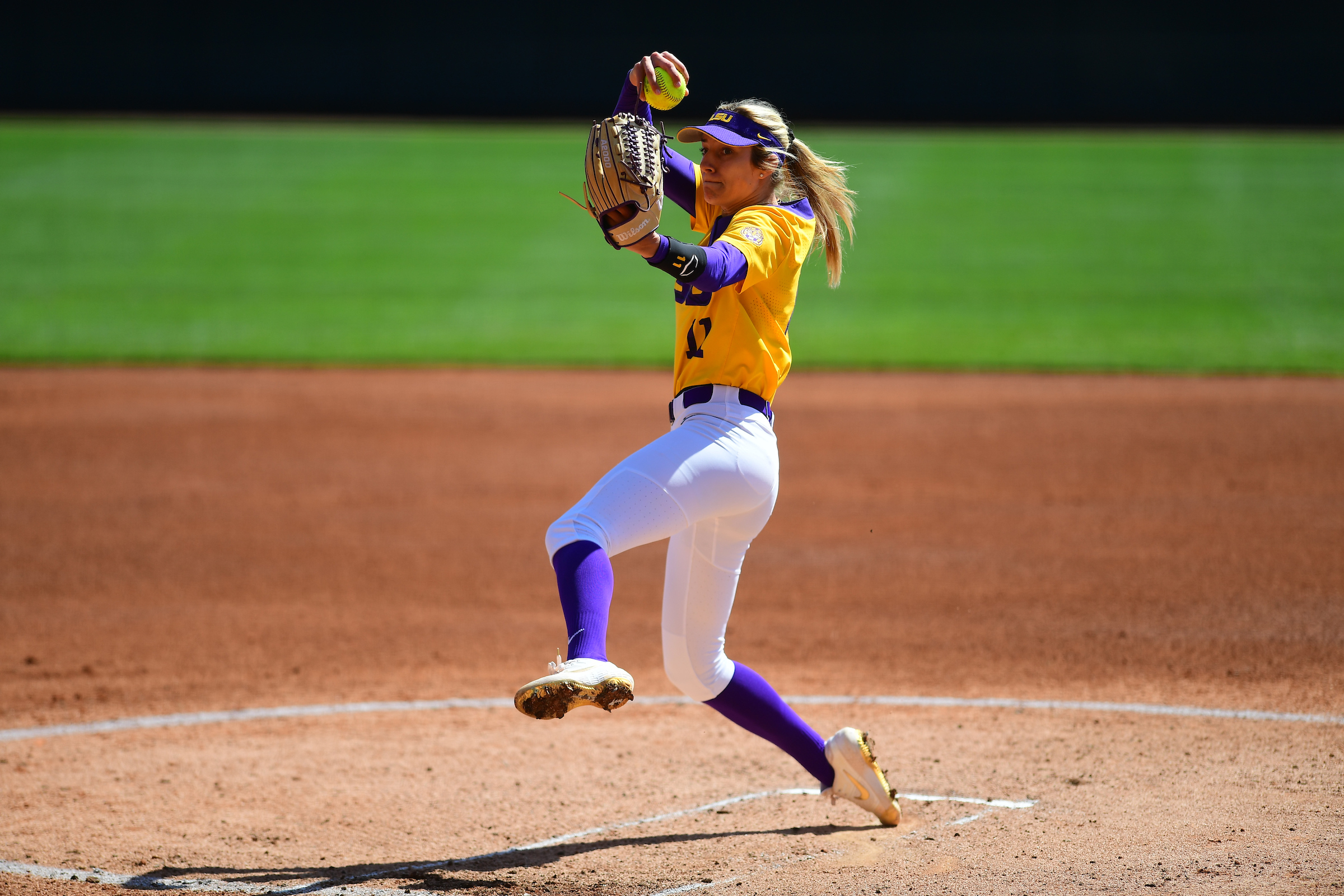 The No. 24 LSU softball illustrated that it could win games in a variety of ways.
The Tigers enjoyed three mercy-rule wins and one of the extra inning variety but when it came to closing out the 2022 Purple & Gold Challenge, they relied on a terrific pitching performance and one mighty swing of the bat.
Junior Ali Kilponen fired a one-hit shutout with 11 strikeouts and junior first baseman Georgia Clark capped a four-run fifth inning with a three-run homer in a 5-0 victory Sunday over Stephen F. Austin at Tiger Park.
LSU (12-5) won all six of its games by a combined score of 55-10.
"I think we needed to do that just to put ourselves in a good spot moving forward," LSU softball coach Beth Torina said. "I thought we took care of everything we needed to. It will set us up for hopefully a good week and a good start to march here this week." 
LSU 5, Stephen F. Austin 0
Kilponen (7-1) yielded only a first-inning single to SFA's Camryn Middlebrook, who after a wild pitch, was the only player to reach second the entire game. Kilponen walked one and registered her sixth complete game of the season.
"Honestly, I was just trusting my stuff and relying on my defense," Kilponen said. "They have been playing well today, so I was just going in there fearless and throwing the best of my stuff and letting it work out that way."  
The Tigers, who have won seven straight games, only had four hits in support of Kilponen. They scored a run in a third on Taylor Pleasants' sacrifice fly to score Ciara Briggs, who had an infield single, stole second base and moved to third on a wild pitch.
Clark put the game out of reach, drilling a full-count pitch over the wall in center with Karrington Houshmandzadeh and KK Madrey aboard. McKenzie Redoutey added a run-scoring double to center.
"I think it went really well," LSU third baseman Danieca Coffey said of the weekend. "I think this weekend was needed for like a self-esteem boost for us to show us that we can keep going and that even though last weekend, and the weekend before was kind of hard, we can bounce back and be right where we need to be." 
LSU 17, Purdue 0 (5)
A day after logging a season-high four homers in an 8-0 five-inning, mercy-rule win over Purdue, LSU showed it didn't the long ball to accumulate a bunch of runs to shorten a game.
Pinch-hitter Jordyn Perkins had a pair of RBI-singles during a season-high 11-run fourth inning that sent LSU to a second-straight mercy-rule win over Purdue of the Big 10 Conference.
The Tigers had a total of five hits, including four singles in the inning, but also took advantage of four walks and three errors against three different pitchers.
Briggs doubled in LSU's first run of the inning with other run-scoring hits coming from Perkins, Pleasants and Raeleen Gutierrez. The Tigers also picked up sacrifice flies from Morgan Smith and Kennedi Houshmandzadeh.
LSU led 1-0 after a run in the first on Clark's RBI-single and they added five more in the third when Shelbi Sunseri singled and Ali Newland tripled with the bases loaded. She also scored on from third on a wild pitch.
Junior Shelby Wickersham (1-3) picked up her first win of the season, allowing only a leadoff single in the first inning. She worked four scoreless innings, walked three and struck out five before reliever Emilee Casanova finished up the fifth with a pair of walks and a strikeout.
"I thought they did a good job," Torina said of Kilponen and Wickersham. "I thought that anytime the other team threatened anything at all, they always were able to come back and get it done with the help of their defense. They did a good job of getting out of any situations they were in. Then every time our team scored, they were able to shut them down in these two games, which is a really cool thing." 
Next up:
LSU takes part in the LSU Invitational, opening play Thursday at 6 p.m. at UL-Lafayette before returning to host five straight games at Tiger Park on Friday-Sunday. The Tigers host Troy University in a 4 p.m. doubleheader Friday then hosting UL-Lafayette at 6 p.m. Saturday followed by a doubleheader Sunday with Louisiana Tech and Central Connecticut State at 12:30 p.m.