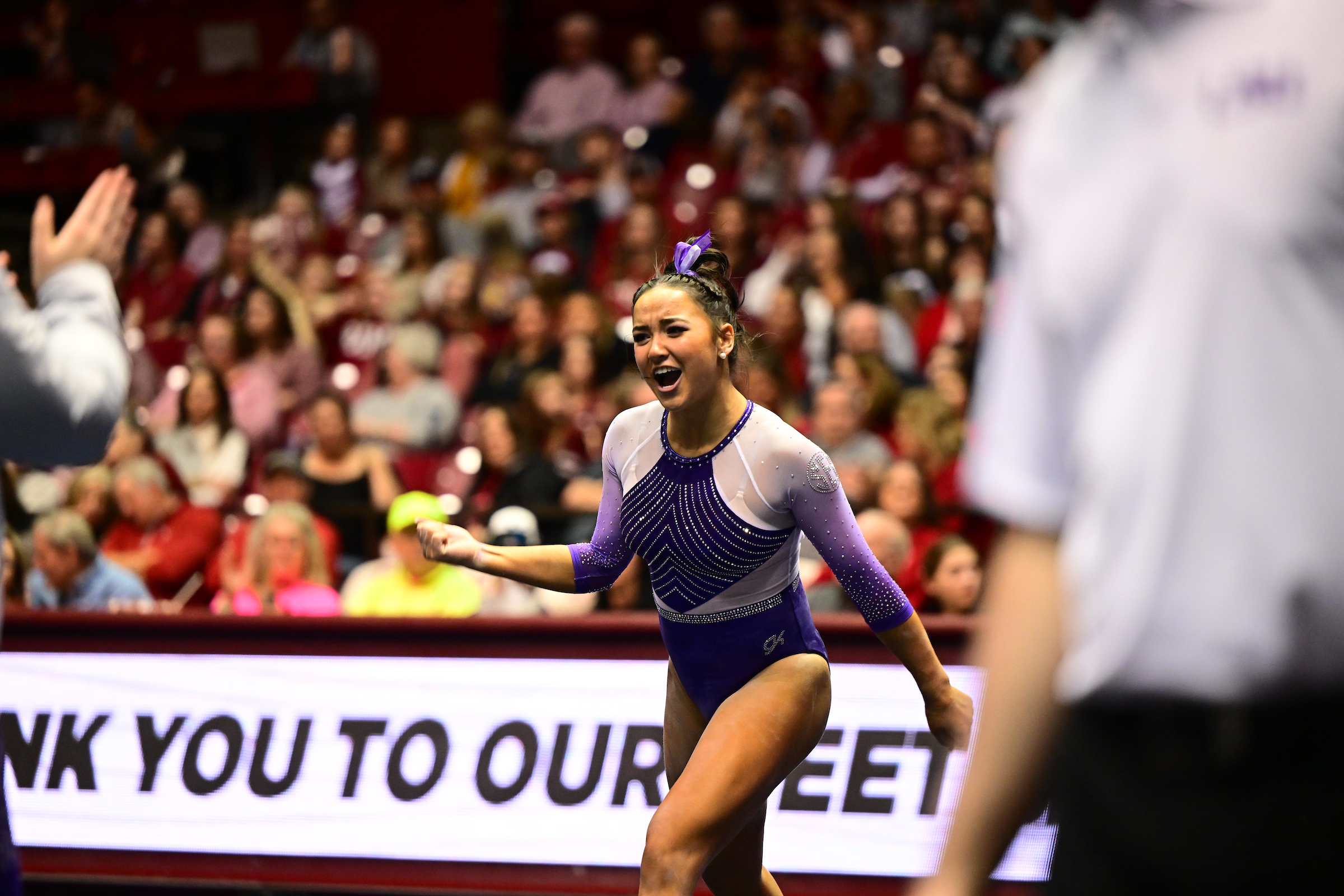 TUSCALOOSA, Alabama – A season-high score on the road was all it took for No. 8 LSU gymnastics to record a win over No. 9 Alabama.
The Tigers put together a score of 197.975 to edge the Crimson Tide 197.925 for the fourth time in their last five meetings at Coleman Colisem.
"It was a great meet and road score for us tonight. This team is full of fighters," LSU gymnastics coach Jay Clark said. "We started out rough, but we didn't let it phase us. They caught fire on vault, and it sent us to floor with a lot of confidence. They never let up. It was a total team effort. No matter how much this team gets set back, they continue to fight and show what they're made of. We weren't perfect, but it was a gutsy performance."
Junior Haleigh Bryant and sophomore Aleah Finnegan both recorded perfect scores to lead the Tigers to victory. The last time two gymnasts earned a perfect score in the same meet was in 2022, when Kiya Johnson and Haleigh Bryant both earned 10's in the Tigers win over Auburn. It was the first time since 2019 two 10's were recorded on the road.
Finnegan's 10 on floor marked her fourth straight in as many meets, making her the only LSU gymnast to record such an accomplishment. The sophomore now owns two career perfect scores on floor and four in her career. Bryant moved her career total to seven on vault.
LSU started the meet off on bars, scoring a 49.175 for the event. Sophomore Alexis Jeffrey led off with a 9.800 followed by junior Olivia Dunne who made her first appearance of the year for the Tigers, scoring a 9.825. Sophomore Tori Tatum earned a 9.875 in the third spot and senior Alyona Shchennikova added a 9.750. Bryant anchored with a team-high 9.925 to send the team to the second rotation.
Elena Arenas hit a huge 9.925 routine to lead off on vault and earn a season high. Chase Brock scored a career high 9.975 in the third spot and freshman Bryce Wilson followed with a 9.875 in her first career appearance in the event. Finnegan added a 9.900 before Bryant anchored with her perfect ten, which was the seventh of her career. The Tigers put up a 49.675 on vault to tie for the second highest score in program history overall and on the road.
LSU led at the halfway point with a score of 98.850-98.650.
On floor, junior Sierra Ballard led off with a 9.850 followed by Jeffrey, who made her first appearance in the lineup for the Tigers and scored a 9.750. Brock continued her career night and earned a career high with her 9.925 performance. In the fifth spot, Finnegan had another perfect routine to mark her second on floor for the year and take the win. Bryant anchored with a 9.975 as the Tigers earned a 49.575 in the third rotation.
In the final rotation, Arenas continued to show poise for the Tigers and led off with a 9.850. In her first career appearance on beam, Jeffrey scored a 9.900. Junior Sierra Ballard recorded a career high score of a 9.925 and Bryant added a 9.900. Finnegan closed the night out with a 9.975 to help the Tigers match their season high beam score of 49.550.
Bryant's performance earned her the all-around title with her career high score of 39.800. After earning two titles against the Crimson Tide, she now owns 20 titles on the year.
LSU's next competition will be March 3 against California, Washington and George Washington for a podium meet in the Raising Cane's River Center at 6 p.m.