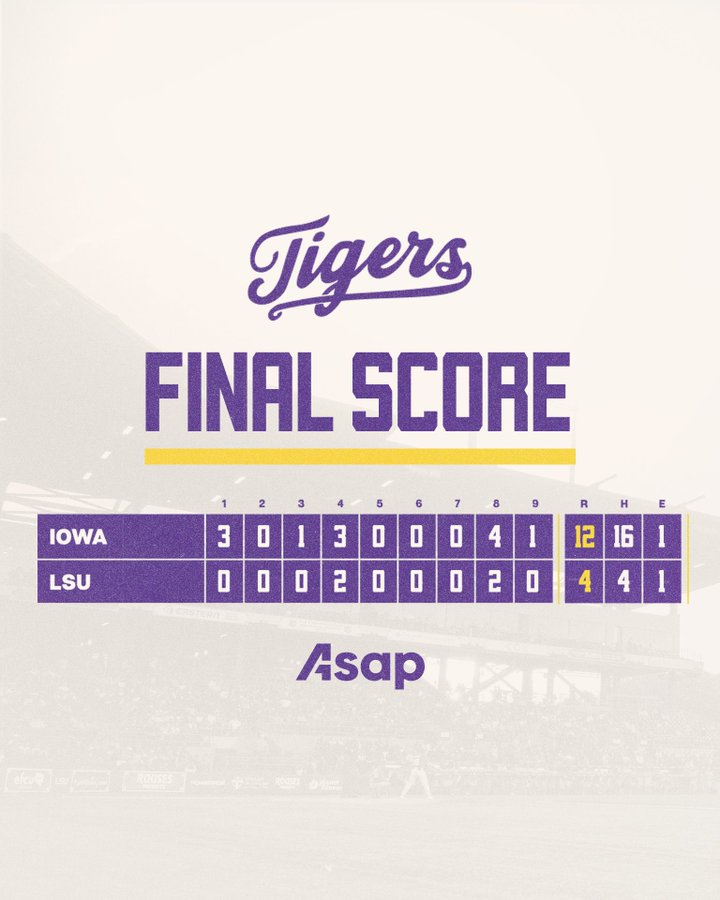 Less than 24 hours after mustering only three hits and being shut out by Sam Houston State, prohibitive preseason Big 10 favorite, Iowa, appeared to transform into an offensive juggernaut. The Hawkeyes pounded No. 1 LSU, 12-4, hitting three home runs, scattering 16 hits and holding the Tigers to four hits while striking them out 15 times.
It was not a good day for LSU (5-1) at the Karbach Round Rock Classic with the Tigers suffering their first loss of the season.
But as legendary Los Angeles Dodgers manager Tommy Lasorda said, "You win some, you lose some. That's baseball, fellas."
Some days you also get taken to the proverbial woodshed. That's where Iowa took LSU on Saturday.
Iowa (4-1) put up crooked numbers in the first, third and eighth innings, jumping on starter Riley Cooper (1-1) in the first inning for three runs. The Hawkeyes chased Cooper in the top of the fourth inning with three more runs for a 7-0 lead.
"We didn't slow the game down well enough," said LSU coach Jay Johnson. "Maybe if we take just one more good at-bat, the game might have been a little been different. We set the table with the bases loaded and nobody out in the first inning, but you've got to give (Brody) Brecht credit for getting out of it. There weren't many pitches from him in that sequence that were easy to put in play."
Cooper pitched three innings and gave up five earned runs on seven hits before Sam Dutton relieved him with no outs in the fourth. Iowa got three hits off Dutton and scored two runs on him before Will Helmers came on in relief and threw shutout baseball over the next 3.2 innings.
LSU scratched out two runs in the bottom of the fourth, cutting Iowa's lead to 7-2 when center fielder Dylan Crews (2-for-3, with 2 walks) hit a two-out, two-RBI single down the third-base line, scoring Gavin Dugas and Brady Neal who had walked to reach base.
Hellmers shut down Iowa in the fifth, sixth and seventh innings but LSU was not able to push across any runs to cut into Iowa's lead.
With two outs in the top of the eighth Iowa finally got to Hellmers for four consecutive hits – three singles and a three-run homer by first baseman Breenan Dorighi, who went 3-4 on the day. Freshman Micah Bucknam relieved Hellmers and forced center fielder Kyle Huckstorf (2-4) to ground out to first base for the final out of the inning.
"We didn't shut them down, either," Johnson said. "You've got to credit their hitters; they took good at-bats all day long."
Trailing 11-2 in the bottom of the eighth, LSU loaded the bases with one out when Gavin Guidry was hit by a pitch. Dugas then singled before Brayden Jobert was also hit by a pitch to fill the bases.
Crews hit an RBI-single up the middle scoring Guidry and then freshman first baseman Jared Jones (0-4 with 4 strikeouts) hit a sacrifice fly to deep right field, scoring Dugas to cut Iowa's lead to 11-4 heading into the ninth.
Bucknam struck out Sam Petersen and Cade Moss swinging before Brayden Frazier hit the Hawkeyes third home run of the game, a solo shot to right field, to make it 12-4.
LSU finishes action in the Round Rock Classic on Sunday at 4 p.m. against Sam Houston State. The game will be broadcast on affiliates of the LSU Sports Radio Network, and it will be streamed on a pay-per-view subscription basis by D1Baseball.com.
NOTE: Tre' Morgan ran into the left field wall Friday chasing a ball hit to the wall against Kansas State in LSU's first game. After banging into the wall (a home run), he held his wrist and played the rest of the game. Morgan had started in left field so freshman Jared Jones and junior Tommy White could also both be in the lineup. White was returning from a shoulder injury he sustained in the first game of the season against Western Michigan as he dove back to first base on a pick-off attempt.
Initially, on Saturday, Morgan was in the lineup against Iowa but was a late scratch.
"He can't play today," Johnson said when he was asked why Morgan was not in the lineup.