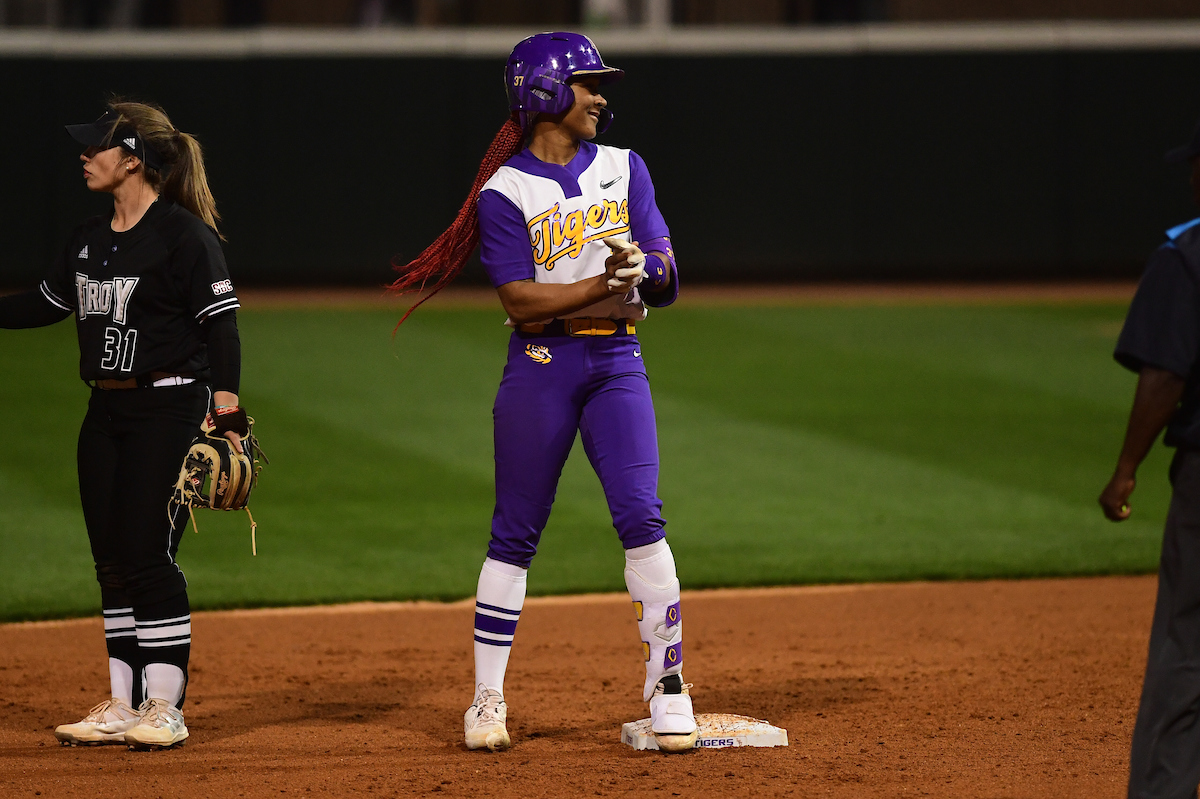 The No. 21 LSU softball team went from one extreme to another.
After losing the first game of Friday's doubleheader to Troy, the Tigers trailed by two runs and were getting no-hit by Libby Barker through five innings.
Left fielder Morgan Smith helped change her team's trajectory, though, doubling to lead off the sixth which helped propel LSU to a 10-run inning on nine hits and 10-2 mercy-rule victory at Tiger Park in the LSU-UL-Lafayette Crossover.
"(Hitting coach) Coach Howard (Dobson) made an adjustment with them in the sixth inning of game two," LSU softball coach Beth Torina said. "He just put them in a different spot. Thank God for Morgan Smith understood what Coach was asking her to do. I think everyone felt a lot more confident after that hit."
LSU (14-6) will host UL-Lafayette at 6 p.m. Saturday at Tiger Park and finish out the event with a doubleheader Sunday against Louisiana Tech at noon and Central Connecticut State at 2:30 p.m.
LSU 10, Troy 2 (6)
Barker had allowed two base runners through the five innings until LSU began to tee off on her, piling up nine hits against Barker and reliever Hailey Postell.
Shortstop Taylor Pleasants put LSU out in front 3-2 with an RBI-single and pitcher Shelbi Sunseri provided some separation with a three-run homer – her team-high eighth of the season – to make it 6-2.
"The first game, I do not think we adjusted," Sunseri said. "It was a tough loss. We should never have been in that position in the first place. We have to do a better job, and in the second game, we knew we had to make an adjustment. (Coach Howard) Dobson moved us up in the box in the last inning to try and catch the drop ball before it breaks, so that was our philosophy, and it worked. As a team, we bought into it. We had nothing to lose. She was throwing a no-hitter, so why not try it?"
Designated player Hayden Brown's sacrifice fly added to the run total where LSU also got run-scoring hits from third baseman Danieca Coffey (2-3), center fielder Ciara Briggs (2-3) and Raleen Gutierrez.
Sunseri (5-1) was the winning pitcher, allowing two runs (none earned) over six innings. She yielded four hits, walked one and struck out five.
Troy 5, LSU 4
LSU's defense crumbled around starting pitcher Ali Kilponen who was charged with three earned runs in the first game. She also walked four and struck out six.
Troy took a 2-0 lead with a pair of unearned runs in the first inning and never trailed. The Trojans extended that margin to 3-0 on Kennedi Gaton's lead-off homer in the fourth inning.
LSU tied game in the bottom of the fifth on a three-run homer from first baseman Georgia Clark, only one of three hits for the Tigers.
Kilponen (7-2) allowed two runs in the sixth on an RBI-single to Jade Sinness and fielder's choice when LSU answered with a run in the bottom half of the inning on a lead-off homer from Ali Newland but left the potential tying run in Briggs stranded at second base.
The Tigers got two runners on in the bottom of the seventh when Newland flied out to center to end the game.