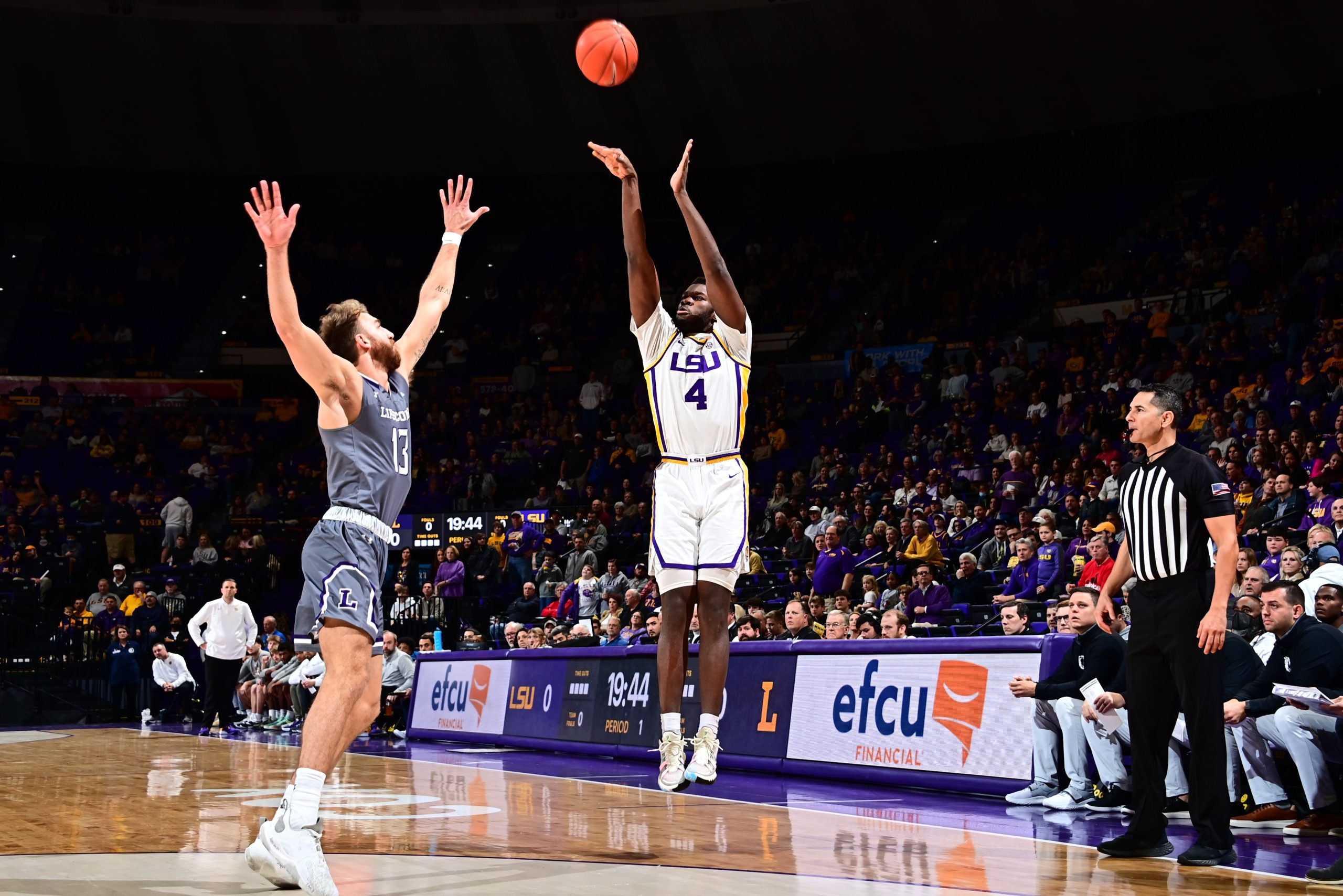 The layups are now over for LSU's basketball team.
The No. 17 Tigers completed the non-conference portion of their schedule as one of five teams still undefeated nationally following Wednesday's 95-60 victory over Lipscomb at the Pete Maravich Assembly Center.
LSU reached 12-0 for the first time since 2009 with senior leader Darius Days' 21 points leading the way for a team that had six double-figure scorers. Days made 8 of 12 shots and exploded with five 3-pointers, four of which came in the first half when he scored 12 of his points.
Transfer point guard Xavier Pinson scored a career-high at LSU with 17 points on 7 of 13 shooting, while guards Brandon Murray and Eric Gaines scored 13 apiece – a career-high for Gaines to go along with six assists.
Center Efton Reid III added 12 points and grabbed a team-high nine rebounds and Mwani Wilkinson had 11.
LSU held decisive advantages in points scored off turnovers (30 to 6) and points scored in the paint (56-22).
"I thought getting Days back on track was huge," LSU coach Will Wade said. "The ball moved really well. We had 20 assists on our made baskets. We had six guys in double figures which is huge. Pinson's really starting to shoot the ball like we know he can. Days kind of came back into his own a little bit. We did a good job of attacking the rim. I was really pleased with our balance tonight."
LSU will take a break for the Christmas holiday and return to open SEC play at Auburn on Dec. 29.
For the first time this season LSU played without leading scorer Tari Eason who was out with a back injury.
The Tigers, who shot 53 percent (40 of 75) from the field and made 55 percent of their 3-pointers (12 of 22), didn't need any contributions from Eason who was dressed in street clothes on the bench.
LSU never trailed, opening a 18-5 cushion on the second 3-pointer from Days in the opening five minutes of play, but with the Tigers going scoreless over the next five minutes, enabled Lipscomb (6-8) to remain within striking distance.
"We got off to a 18-5 start, I was happy with our start," Wade said. "We got stuck on 18 there for a while, turned the ball over two straight times. I was happy to get off to a good start. I thought our defense let up a little bit at the end."
A 3-pointer from Wilkinson kick-started LSU's biggest surge of the game over the remaining seven minutes of the first half with Pinson made a pair of 3-pointers to fuel that span that also included highlights from Alex Fudge who converted a steal into a slam dunk and Wilkinson added a second-chance basket. The Tigers wound up on a 21-6 run that made it 48-24 at halftime.
Gaines scored 11 of his career-high point total in the second half on 5 of 6 shooting with Pinson and Days each scoring nine points.

It took three minutes for LSU's lead to reach 30 points (59-29) on Pinson's layup, but it was Gaines' athleticism that expanded that lead to 42 points. The sophomore had an alley-oop slam off an assist from Murray at the 8:20 mark and converted a steal into another slam dunk for the biggest lead of the game at 93-51 with 3:05 to play.
"We did a good job of applying pressure," Wade said. "We played the 1-3-1 (zone) a little bit more. We played it against Louisiana Tech, and it gave us a couple of possessions. I thought we did a nice job getting some traps."