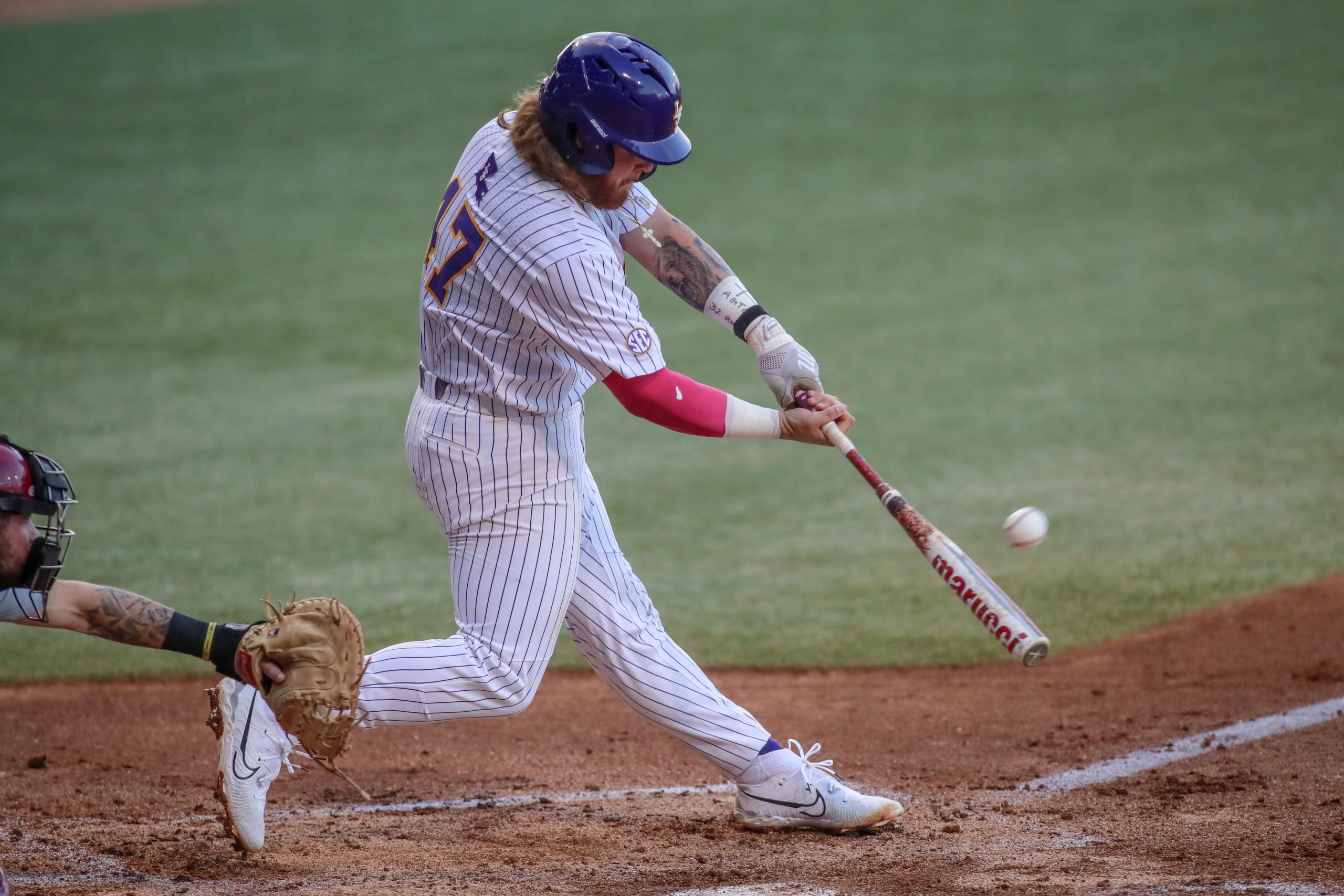 Tommy White hit his second grand slam of the season and belted a 438-foot, three-run home run on Saturday night – finishing with seven RBIs – to power No. 1 LSU's doubleheader sweep of Arkansas in the nightcap of a 14-5 victory over Arkansas to win a key Southeastern Conference series at Alex Box Stadium, Skip Bertman Field.
Gavin Dugas and Dylan Crews also homered for No. 1 LSU (21-3, 4-2 SEC), which simply overpowered No. 5 Arkansas (20-4, 4-2), outscoring the Razorbacks by a combined score of 26-5 in Saturday's twinbill.
Saturday night's game was originally scheduled to be played on Sunday but was moved to avoid anticipated inclement weather Sunday in the Baton Rouge area.
LSU, which lost the series-opener on Friday, 9-3, in 10 innings, pounded Arkansas in a 12-2 run-rule in seven innings in Saturday's first game. The Tigers fell behind, 2-0, in the nightcap and then trailed, 4-2, before tying it at 4-4 and exploding for six runs in the fourth inning.
Griffin Herring (2-0) got the win for LSU, taking over for starter Thatcher Hurd in the third inning.
Dylan Morris (0-2) took the loss, pitching one inning but giving up four runs, two unearned, for the Razorbacks.
The Tigers' homestand continues Tuesday when Grambling comes to the Box for a 6:30 p.m. CT first pitch. The contest will be streamed on SEC Network+ and it can be heard on LSU Sports Radio Network affiliates.
"We only have three losses on the season, and after each of those three losses, we've responded with an outstanding performance," LSU coach Jay Johnson said. "It was a great day for this team and a great day for our program."
Arkansas senior left fielder Jared Wegner hit a two-out home run, his team-leading 11th of the season, in the bottom of the first inning for a 1-0 lead.
But that was only the beginning of the early issues for Hurd.
First baseman Brady Slavens then doubled to right field on Hurd's next pitch. Hurd then walked the next three Arkansas batters – Jace Bohrofen, Kendall Diggs and Caleb Cali, which walked in Slavens make it 2-0.
LSU responded in the bottom of the first, tying it 2-2 when Crews absolutely hammered a one-out, two-run home run to left-center field to extend his hitting streak to 22 games.
It was Crews' ninth homer of the year and his second of the day, driving in Morgan, who drew a walk a on a 3-2 count.
"Dylan Crews is the best baseball player I've ever seen," Johnson said. "Not just the best college baseball player, the best baseball player at any level."
Cali doubled to left in the top of the third with no outs, driving in both Bohrofen, who had singled to lead off the inning, and Diggs, who Hurd hit with a 2-2 pitch to extend the Hogs' lead to 4-2. Hurd was replaced by Herring after Cali's two-run double.
LSU tied it at 4-4 in the bottom of the third on RBI-singles from Crews and designated hitter Cade Beloso.
Crews smoked a grounder past Bolton at shortstop into left field with one out, scoring second baseman Gavin Dugas from second to cut the Razorbacks' lead to, 4-3. Crews took second on the throw home attempting to get Dugas out. Dugas had reached when Adcock hit him with the first pitch of the inning and he then took second on an Adcock wild pitch.
Left-hander Zack Morris replaced Adcock to face LSU third baseman Tommy White following Crews' run-scoring single. White flew out to shallow right field for the second out and Beloso drilled a 3-1 pitch into center field to tie the game at 4-4 when Crews scored from second base.
LSU erupted for six runs in the bottom of the fourth inning with Dugas and White each hitting multiple-RBI homers for a 10-4 lead.
LSU shortstop Jordan Thompson led off with the inning with a triple to straight-away center that banged off of the top of wall inches from making it out of the park. Jobert drove Thompson in to give LSU its first lead, 5-4, on an error Bolton at shortstop that he misplayed.
Dugas then pulled an 0-2 pitch down the left field line for a one-out, two-run homer, his seventh of the season, and LSU went up, 7-4.
"A special day, a special performance," Johnson said of Dugas, who had two homers, four RBI and four runs in the doubleheader. "I'm really proud of him; he's really persevered through injury adversity, and we wouldn't be the same team without him."
Morris then walked Morgan and Arkansas put in right-handed reliever Dylan Carter to face Crews.
Crews smashed a grounder to third and reached on a fielding error.
White then hit his seventh home run of the year, a 438-footer to left-center field, to put LSU ahead 10-4.
Bohrofen doubled to right field to lead off the fifth, though it appeared he was thrown out attempting to take second on the hit. A review ruled Bohrofen safe, and then Herring walked Diggs and LSU decided to turn to Garrett Edwards for the second time on Saturday after he relieved Ty Floyd in the opener Saturday.
Edwards struck out Calif swinging for the first out and then gave up a single to Rowland that loaded the bases for the Razorbacks.
Arkansas pinch-hitter freshman Reese Robinett ground out to first but Bohrofen scored from third on the play, making it, 10-5, LSU.
Edwards then struck out Josenberger for the final out, leaving two Razorbacks stranded on second and third.
Carter appeared to settle in for the Razorbacks in the bottom of the fifth, put LSU down in order. Carter struck out Thompson and Jobert then forced No. 9 hitter catcher Brady Neal to ground out.
Edwards was in complete command in the top of the sixth inning, putting down the heart of Arkansas' batting order in only four pitches.
White hit his second grand slam of the season and his second home run of the game in the bottom of the sixth to put LSU up, 14-5.
Dugas led off the Tigers' sixth going down 0-2 before working his way into a walk. Morgan followed with his first hit of the game, an opposite field line drive single to left.
Crews, batting .534 for the season, drew a walk to load the bases with no outs.
Carter quickly went up 0-2 on White – but it didn't matter. On the next pitch, White slapped it over the right-field wall for a nine-run advantage.
Carter then walked Beloso, putting the fifth-year senior on base for the fourth time in four at-bats on the night before being relieved by right-hander Ben Bybee, the Razorbacks fourth pitcher.
Bybee managed to get Pearson to fly out, struck out Thompson and then forced Neal to fly out foul to third base while giving up one hit in between, a single to Jobert.
In Game 1 on Saturday, LSU pounded out 16 hits which lifted the Tigers to a 12-2 run-rule victory.
LSU starter Ty Floyd (4-0) impressed during his outing after giving up a home run in the first inning. Floyd fired 6.1 innings and allowed three hits with seven strikeouts. He only allowed two runs, one of them earned.
"I'm super proud of Ty," Johnson said. "He got off to a bit of a rocky start, but what a response he gave. We needed him to execute some pitches and stay focused on the present. What a performance by Ty, that was huge."
Arkansas opened the scotring in the first inning with a two-run shot to right field from left fielder Jared Wegner. Razorback centerfielder Tavian Josenberger scored after reaching on a fielding error.
Arkansas starter Will McEntire (4-1) was charged with the loss after tossing 4.1 innings and allowing seven runs on nine hits.
The Tigers responded in the bottom of the second with a pair of dingers from Dugas and Morgan. The inning started with a walk and a fielder's choice. With a runner on first, shortstop Jordan Thompson roped a double to right-centerfield, which scored right fielder Josh Pearson from first.
Dugas followed with a two-run shot to give LSU a 3-2 lead, and Morgan lifted a solo home run to right and extended the margin to 4-2. In the third inning, the Tigers added a run to its total with an RBI-triple from Pearson. Beloso scored following a double and made the score 5-2.
Crews launched a ball over the left-field wall for a 6-2 lead. A wild pitch from Razorback reliever Austin Ledbetter allowed White to score from third.
Morgan and Crews started the sixth inning with a pair of singles. With two men in scoring position, White lifted a sacrifice fly to right field and scored Morgan. Beloso followed suit with another sac fly, plating Crews to make the score 9-2.
The Tigers put three runs on the board in the seventh, accounting for the final margin in the run-rule victory.