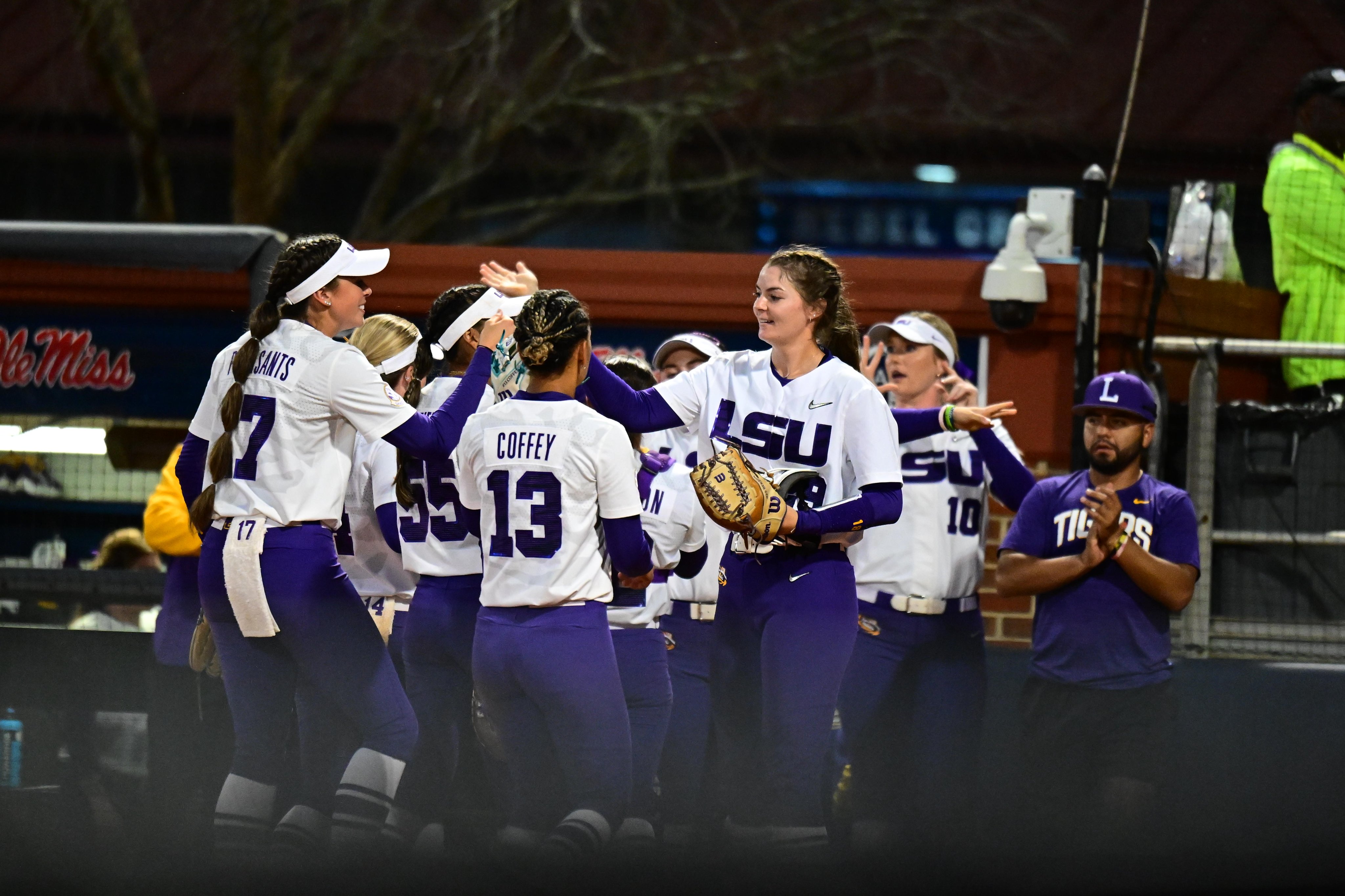 Freshman pitcher Sydney Berzon helped No. 15 LSU cure all of its ills at least for one game.
Berzon threw her third shutout of the season with a career-high 10 strikeouts and the Tigers picked up sacrifice flies in the first and seventh innings for a 2-0 victory Saturday at Ole Miss to split the Southeastern Conference series.
LSU (25-6, 3-5 in SEC) stopped a four-game SEC losing streak. The Tigers face Ole Miss (19-13, 1-4 in the series finale at 1 p.m. Sunday.
"It was a really good job by our offense to jump out on top and score in the first inning," LSU softball coach Beth Torina said. "I thought that set the tone for the entire game. We had a really good performance from Sydney Berzon. It was a much needed performance, but was also something she worked really hard for, so it was awesome to see her execute a really good gameplan."
Berzon's complete-game effort, which included allowing three hits and two walks, coincided with the return of standout shortstop Taylor Pleasants to the lineup following a five-game absence because of an injury. The shortstop, who batted seventh, was 0-for-2 in the game.
LSU took a 1-0 lead when Danieca Coffey and Ciara Briggs each singled and following a fielder's choice that moved Coffey to third, Ali Newland followed with a sacrifice fly to left that scored Coffey.
Ole Miss' starting pitcher Aynslie Furbush (7-5) only allowed four hits and struck out three, but allowed another run in the seventh when Karli Petty tripled and scored on Raeleen Gutierrez's sacrifice fly to left.
Berzon (8-2) turned away several scoring threats by Ole Miss which had two runners on the first and two on in the fifth.
Berzon struck out Jaila Lassiter swinging to end the first, starting a stretch of 10 batters she retired until the fifth when Savana Sikes led off with a walk. She was erased on a 4-3 double play and Berzon struck out Keila Kamoku swinging to get out of the inning.