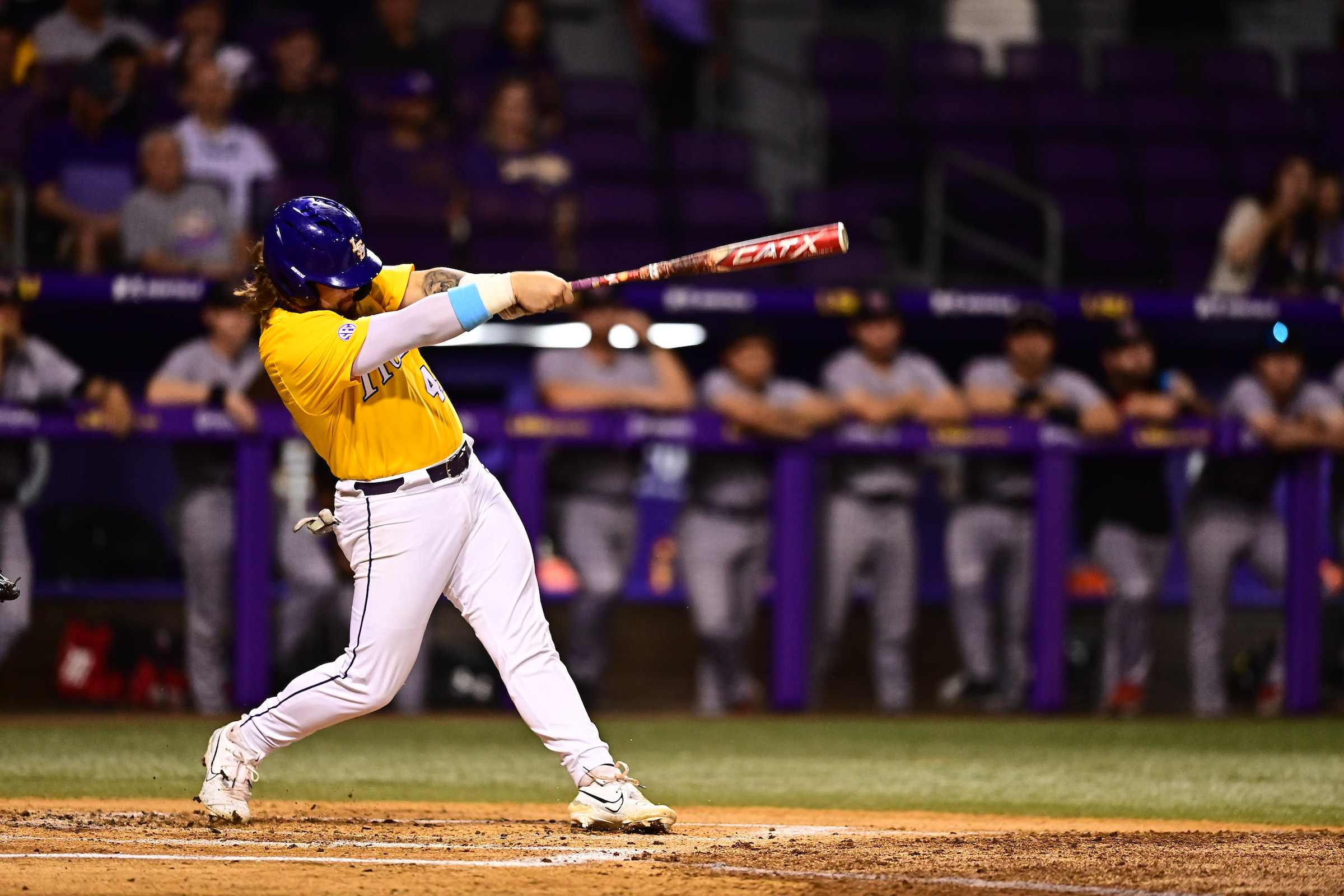 Designated hitter Tommy White hit a three-run home run, doubled and had four RBIs and freshman outfielder Paxton Kling hit his second home run of the season to help No. 1 LSU beat Lamar, 9-2, on Wednesday night at Alex Box Stadium, Skip Bertman Field.
Dylan Crews also scored three runs for the Tigers (12-1).
LSU junior right-hander Christian Little (2-0), a transfer from Vanderbilt, started and got the win. He pitched four complete innings, giving up one run on one hit with one walk and three strikeouts.
Garrett Edwards picked up the save for the Tigers, pitching 3.2 scoreless innings, giving up two hits and striking out two.
LSU returns to action for a three-game series with Samford starting Friday. The first game is scheduled for a 6:30 p.m. CT first pitch and can be viewed on SEC Network+. The matchup can also be heard on the LSU Sports Radio Network affiliates.
"It was a really complete win," said LSU coach Jay Johnson. "It started on the mound, (LSU starting pitcher) Christian Little did a great job, along with Will Hellmers and Garrett Edwards in relief. We knew Lamar would put the ball in play a lot, and I thought we were outstanding on defense. (Third baseman) Ben Nippolt and (shortstop) Jordan Thompson were a big story in this game in how well they defended the left side of the infield.
"Offensively, I thought we had a great set of quality at-bats. We walked eight times, we were hit with a few pitches, and we really cashed in on those with runners in scoring position. I'm really pleased with the performance all the way around."
LSU took a 2-0 lead in the bottom of the first when Crews, batting in the three-hole, walked on four straight pitches with two outs. White then laced an opposite-field shot off of the top of the wall in right field for an RBI-double, scoring Crews from first base for the first run.
Brady Neal then singled to score White from third to make it 2-0 after walks to Cade Beloso and Jordan Thompson. Lamar's Quinn Waterhouse (1-1) struck out Kling swinging on a 2-2 pitch with the bases loaded to end the inning.
LSU stretched its lead to 6-0 in the bottom of the second inning after an RBI-single from Crews scored Gavin Dugas and then White hit a three-run home run, his third of the season.
Catcher Ryan Snell led off the fourth with a solo home run off Little for Lamar (10-3). It was Snell's fifth home run of the season and it cut LSU's lead to 6-1.
Snell scored an unearned run in the top of the sixth to cut the Tigers' lead to 6-2 when relief pitcher Will Helmers hit him with a pitch and he took second on an error by third baseman Ben Nippolt. Snell took third on a passed ball and scored on an RBI-single to left field by right fielder Luke Bumpus.
Kling homered to left center in the bottom of the seventh to make it 7-2.
LSU led 9-2 after eight, when Crews reached first base with one out on an error by shortstop Kanin Dodge. Alex Milazzo singled to left to drive Crews in and then Thompson doubled to left field to score pinch-runner Mic Paul from second.
Edwards finished off Lamar in order in the top of the ninth.