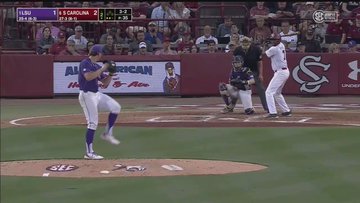 South Carolina's reputation for being powerful at the plate preceded the Gamecocks into Friday night's bash with No. 1 LSU at Founders Park in Columbia.
In fact, the No. 3 Gamecocks entered Friday night's series-opener against the Tigers leading the nation in home runs with 72.
So, the fact that half of South Carolina's hits on Friday night against LSU were home runs was not all that shocking.
A few things were shocking, though, as South Carolina blasted LSU, 13-5, in a game that was delayed when lightning forced suspension of play for more than an hour in the top of the fourth inning.
The Gamecocks improved to 28-3 overall and 9-1 in the SEC, while LSU dropped to 25-5 overall and 6-4 in conference play.
The teams are scheduled to play a doubleheader Friday beginning 11 a.m. that will complete the three-game series. The twin bill will consist of two nine-inning games, and there will be a one-hour break between games.
The games will be streamed broadcast on affiliates of the LSU Sports Radio Network (98.1-FM Baton Rouge), and they will be streamed by SEC Network+.
The first shocker of the game came in the bottom of the first inning.
South Carolina's freshman right fielder Ethan Petry hit a two-run home run off LSU starter Paul Skenes, the first homer he's allowed this season.
Even more shocking for LSU was Gamecocks' shortstop Braylen Wimmer hit a second home run off Skenes in the third inning – solo shot that gave South Carolina a 3-1 lead.
Petry's and Wimmer's home runs were the only hits Skenes (5-1) gave up while striking out eight.
Then, with the Tigers batting in the top of the fourth and down by two, lightning struck several miles from the ballpark, forcing at least a 30-minute delay.
The delay ended up lasting more than an hour, and when play resumed neither South Carolina's starter Will Sanders nor Skenes were able to continue and were replaced by relievers.
"Give credit to South Carolina, they got two good swings against Paul, and they hit homers," LSU coach Jay Johnson said. "But, he did strike out eight in three innings, and the max you can strike out in three innings is nine. He's been great, and I don't think they would have scored again if he had stayed in the game."
Enter shocker No. 2 for LSU.
The Tigers' pitching started giving up runs and handing out free passes to the Gamecocks like they were cotton candy at a carnival.
In the bottom of the fifth inning, freshman right hander Micah Bucknam relieved Sam Dutton after he had relieved Skenes when play resumed. Dutton pitched only one inning and gave no runs, but he appeared a little shaky, walking one and giving up one hit.
Bucknam hit South Carolina center fielder Evan Stone and following a single by Wimmer, Bucknam hit first baseman Gavin Casas to load the bases with no outs. Petry promptly cleared the bases with a grand slam for his second home run of the game and, kaboom, the Gamecocks had suddenly blown open the game with 7-1 lead.
Bucknam remained in the game and struck out catcher Cole Messina for the first out of the inning before left fielder Dylan Brewer unloaded a solo shot to right field to make it 8-1 and cap a five-run outburst. Bucknam struck out two to get out of the inning.
Bucknam started the sixth inning, though, by walking second baseman Michael Braswell.
Will Hellmers relieved Bucknam, but Hellmers threw a wild pitch and Braswell took second base to move into scoring position. After striking out Stone for the first out, Hellmers walked Wimmer and Casas to load the bases and Petry drove in his seventh run of the game on a sacrifice fly scoring Braswell to make it 9-1.
LSU shortstop Jordan Thompson's two-run home run in the top of the seventh cut South Carolina's lead to, 9-3.
Hellmers, however, gave up three runs on no hits in the bottom half of the seventh and South Carolina's lead increased to 12-3. Instead, Hellmers hit two batters and walked four.
LSU designated hitter Cade Beloso hit a two-run home run in the top of the eighth inning, driving in Dylan Crews, and South Carolina added its final run in the bottom of the inning, this on the strength of two hits and no free passes.
South Carolina right-hander James Hicks (6-0) – who replaced Sanders on the mound when the game resumed – earned the win by working four innings and limiting LSU to two runs on two hits with one walk and one strikeout.
"Hicks did a good job," Johnson said. "He didn't miss over the plate very much, and he kept the ball down well. We just didn't seem to see him very well tonight."
Mid 7 | JT hits the 2-run bomb and we'll go to the home half

LSU – 3
SC – 9
📺 SECN+ pic.twitter.com/vk1yOcJsE1

— LSU Baseball (@LSUbaseball) April 7, 2023
Mid 8 | Cade Beloso hits a 2-run HR and we go to the bottom of the frame

LSU – 5
SC – 12
📺 SECN+ pic.twitter.com/VQGinCa60L

— LSU Baseball (@LSUbaseball) April 7, 2023