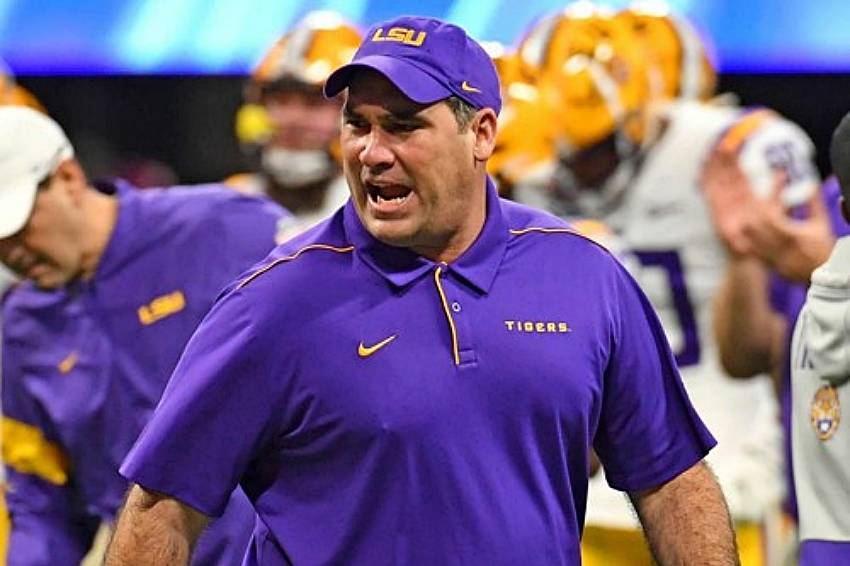 The NCAA's Division I Committee on Infractions panel ruled Thursday that former LSU offensive line coach James Cregg has received a three-year show-cause and the Tigers football program was placed on one year's probation for Level II violations.
The committee found that Cregg, whose 2019 offensive line at LSU won the Joe Moore Award – symbolic of the team's No. 1 unit – committed Level II violations when he gave team gear to a team prospect during a COVID recruiting dead period which is considered an impermissible benefit.
The school was also fined $5,000.
Cregg, currently an assistant offensive line coach with the NFL's San Francisco 49ers, and a former unidentified assistant director of recruiting, also met separately with the prospect and his family, a violation of the NCAA's in-person contact rule during the dead period.
"Today's decision of the NCAA's Committee on Infractions involving a former LSU assistant football coach concludes a 21-month cooperative process between the University and the NCAA," in a statement released by LSU. "Throughout this process, the University has worked in concert with the enforcement staff to determine the truth and to self-impose sanctions. We are grateful to the Committee and the enforcement staff for their work and for accepting our self-imposed penalties, and we are pleased to be able to move forward as an institution and as a football program. LSU continues to work through the IARP process regarding other allegations of rule violations."
The committee handed down the following measures:
* One-year probation for football program;
* Fined LSU's football program $5,000 (self-imposed)
* A limit of 55 official visits for football during 2022-23 year (self-imposed);
* One-week prohibition against unofficial visits in the football program before the 2022-23 academic year (self-imposed);
* One-week prohibition against recruiting communications in the football program before the 2022-23 academic year (self-imposed);
* Reduction of seven evaluation days in football program during the 2021 evaluation period (self-imposed);
* Three-year show-cause for James Cregg. During that period, any NCAA member school employing him must restrict him from any off-campus recruiting activities unless it shows cause why restrictions should not apply;
"Although the (committee) has encountered more egregious conduct in past cases, the violations in this case represent intentional misconduct that should be of concern to the membership," the panel said in its ruling. "The COVID-19 recruiting dead period was intended to protect the health and safety of prospects, student-athletes and institutional staff. It also leveled the playing field for recruiting at a time when government-imposed COVID-19 restrictions varied across the country."
LSU was proactive in self-imposing its own penalties which the NCAA accepted in most cases.
Former LSU head coach Ed Orgeron, who guided the Tigers to a 15-0 season and national championship in 2019, was also in the NCAA's crosshairs for what they considered a Level III violation when he had an off-campus contact with two prospects prior to the pandemic.
The panel concluded that a hand shake and brief greeting by Orgeron did not rise to the Level III offense after the school had previously taken measures by removing him from recruiting on the road, reducing his off-campus evaluations and limited the program to less than 55 prospects making official visits in an academic year.
The university also had self-imposed the following:
* Severing ties with former LSU booster John Paul Funes who spent 33 months in prison for admitting to embezzling more than $500,000 from a hospital's foundation and making payments to the father of a former LSU football player;
* In October 2021, the school also banned former standout wide receiver Odell Beckham Jr. from its facilities for two years after he handed out cash to LSU players on the floor of the Superdome after the Tigers defeated Clemson for the national championship;
* LSU reduced scholarships by eight over a two-year period that ended with the 2021 recruiting cycle in addition to docking itself recruiting time;
RULING FUELS APPEAL
The ruling by the NCAA is expected to help LSU in its appeal against Cregg, who won a judgment Aug. 25th of $492,945 against the school for a breach of contract after the school contended, he broke NCAA violations.
Cregg, who spent three seasons at LSU, was fired in the summer of 2021 by Orgeron who quickly hired Baton Rouge native Brad Davis away from Arkansas. He remains on the staff of current LSU football coach Brian Kelly.
Cregg was in the final year of a contract at LSU that was scheduled for pay him around $700,000. He filed suit against the school Aug. 19, 2021 and was awarded nearly $500,000 by District Judge Wilson Fields.
"We will pursue all legal options available to us including appealing," LSU released in a separate statement. "Today's decision by the NCAA's Committee on Infractions affirms LSU's response to the allegations arising out of Coach Cregg's conduct. Coach Craig admitted under that he contacted and provided athletic gear to a recruit after being warned by compliance staff of the COVID-based no-contact period with recruits.
"This type of intentional and knowing conduct was charged as a Level II violation by the NCAA enforcement staff, and the NCAA Committee on Infractions concluded it was a Level II aggravated violation for Coach Cregg and constitutes a Level II-mitigated violation for LSU. The university was given credit for responding promptly in terminating Cregg and self-imposing penalties, which the committee accepted. We believe this decision fully supports the hard work of our athletics compliance staff and our decision regarding this coach."
The NCAA still has a separate investigation ongoing through its Independent Accountability Resolution Process (IARP) into alleged recruiting violations by former LSU basketball coach Will Wade, who was fired after last season, and into payments by Funes and Beckham to football players.