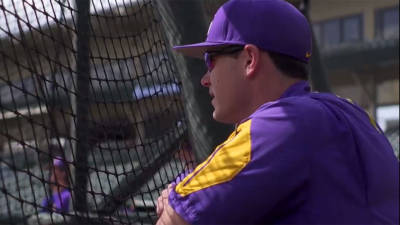 By JAMES MORAN | Tiger Rag Associate Editor
HOOVER, Ala. — Being a hitting coach is kind of like being an offensive coordinator, only there's no plays to call.
You compile a game plan and work with your hitters during practice to put them in a position to succeed. But once the umpire declares play ball, there's not much you can do besides encourage your charges and root them on from the dugout.
No hitting instructor can control if a hitter properly squares up a 2-0 fastball or lays off that nasty slider breaking down and away. In terms of results, your job happens at the mercy of the players to execute.
Their success is your success.
Their failure is your failure.
First-year hitting coach Micah Gibbs drew much of the ire of LSU fans as a team expected to go to Omaha began the season a middling 27-15 overall and 10-8 in the Southeastern Conference.
A roster comprised of many of the same players had hit down the stretch for Gibbs' predecessor, Andy Cannizaro, before his abrupt departure for Mississippi State. So the new coach must've simply not been getting it done, right?
Though an All-American in his playing days at LSU, questions arose regarding whether he was qualified to hold the job. LSU had never had its volunteer assistant serve as the hitting coach before. It was easy to forget the fact that Cannizaro, like Gibbs, took the job without a day of on-field coaching experience.
People always look to point the finger at someone when things aren't going well. And a hitting coach, like an offensive coordinator, makes for a convenient target. Especially when they're new on the job and don't project the same visible presence as their highly-regarded predecessor.
For nearly three months #FireMicah had become the new #FireJavi — as in Sanchez, LSU's hitting coach for seven season — when things went wrong.
#FireMicah been trending again this week, only in an obviously more sarcastic tone as LSU is in the midst of an offensive surge not seen since the nuclear bats of the Gorilla Ball age were phased out of the sport.
LSU mercy ruled South Carolina 11-0 in the SEC Tournament Semifinals on Saturday, marking the first time since 2000 that the Tigers have scored 10+ runs in five straight SEC games.
Speaking at a postgame press conference televised across the nation via the SEC Network, one player fully aware of the criticism leveled at Gibbs in past months went out of his way to make sure he got his fair share of the credit.
"We're having a good approach, and you've got to credit Micah Gibbs," shortstop Kramer Robertson said. "It's easy to criticize when things aren't going well, but people tend to forget about him when we're hitting the ball well like this. That guy has been here all year and working with us and we've bought into his approach and everything he's done for us."
Later on in the presser, LSU coach Paul Mainieri shared an anecdote from the immediate aftermath of Cannizaro's departure — a well-reported sore subject for the coach who declined to mention his former hitting coach and recruiting coordinator my name.
Mainieri said that Robertson, Cole Freeman and Greg Deichmann, three of the team's most veteran presences, came to see him in his office once they'd heard the news.
"When we had the coach leave in November and we had to restructure our staff," Mainieri began, "I can tell you Kramer, Cole and Deichmann all came to see me and asked me to please strongly consider making Micah the hitting coach because they had such respect for him. They didn't want someone to come in and change everybody's approach. Micah had been around for a year, and even though he was not coaching the players because he was the baseball operations director, he was in the dugout, he watched the games, he knows hitting. Maybe more importantly, he knew our hitters. If we would've gone outside and brought somebody in new, that person wants to come in there and make their signature on the hitters and all of a sudden you're changing things. I didn't think we needed to do that."
The coach continued: "I think Micah has continued to grow in the position, I think he's done a tremendous job. He's obviously got a different personality, a different style than the previous hitting coach. But players respect the heck out of him and his way of dealing with them in a one-on-one style that I think really resonates with them. They really love him. I think they've done a tremendous job. Let's call it the way it is: when your team is swinging the bat well, he ought to get the credit. If you're going to lay the blame on him when things don't go well, then he ought to be getting credit when things do go well. I think he's done a tremendous job."
That last part feels particularly pertinent. Coaches by nature receiver more blame than they deserve when things go wrong and more praise than they deserve when things go right.
The vast majority of the time, especially in baseball, it's about the players playing the game. Whoever executes best tends to win.
But if Gibbs is going to take as much flack as he did when things were going poorly, he deserves a share of the credit not that the Tigers are firing on all cylinders offensively and hanging Gorilla Ball-like run totals on SEC foes.
It's only fair.