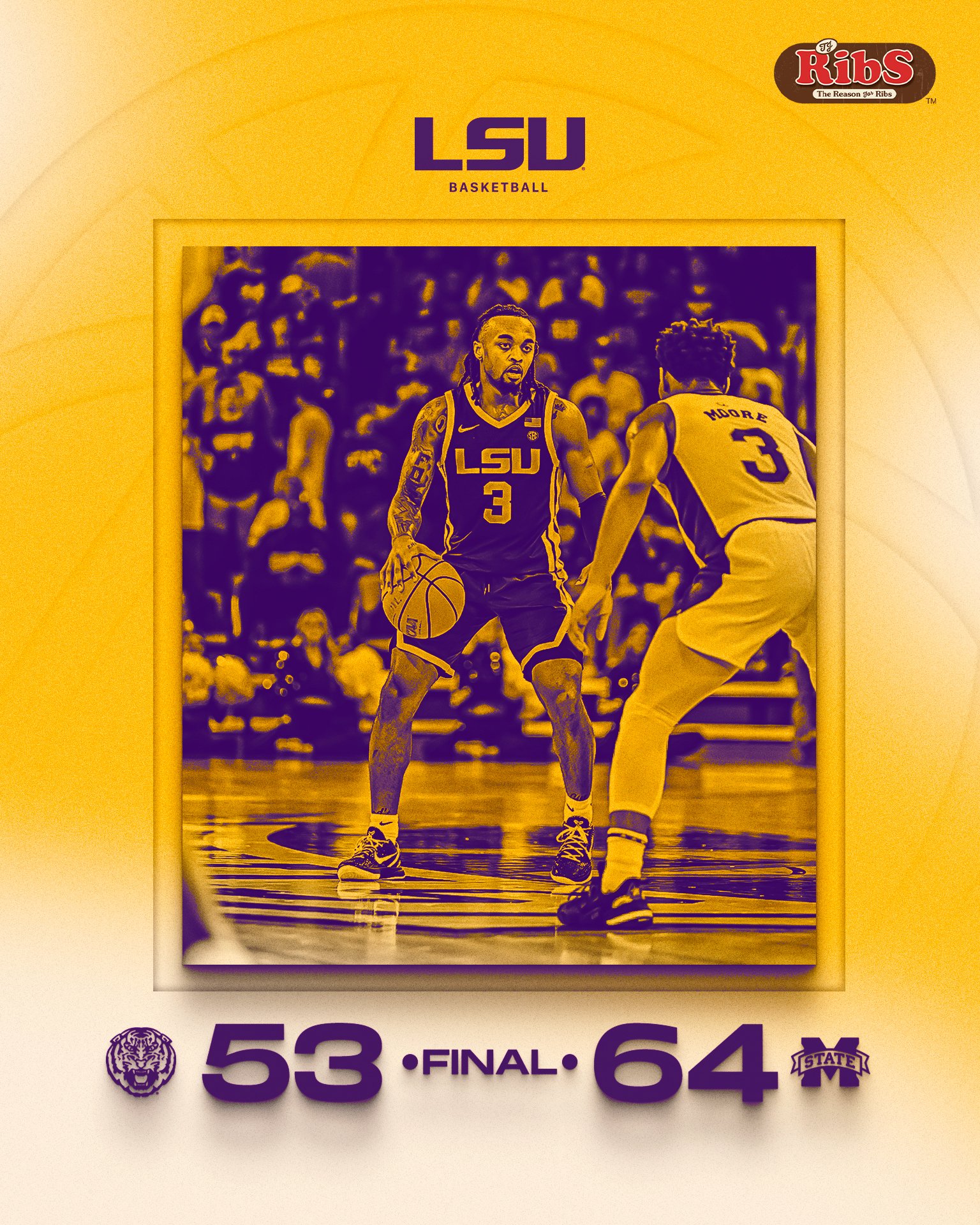 Tear up the scouting report and start dusting off the record book.
Any notion that LSU might put an end to its 10-game losing streak at Mississippi State on Wednesday because the Bulldogs "were not a good shooting team" evaporated in the first three minutes of play.
That's when State, which had struggled to score nearly as much as LSU has for most of the season, erupted.
Too many turnovers, a matador second-half defense, a long scoring drought and too many missed shots once again plagued LSU in its loss to Mississippi State, 64-53.
LSU (12-12, 1-10) lost its 11th consecutive game. The Tigers are now tied for the second-longest active losing streak in the nation with Cal Poly. Presbyterian has lost 12 in a row.
D.J. Jeffries hit two 3-pointers in the first 2 minutes, 13 seconds of the game, sandwiched in between were a pair of two-point field goals from the Bulldogs (16-8, 4-7 SEC) and three LSU turnovers.
Before you could say "Humphrey Coliseum," Mississippi State led LSU, 10-0, with 17:47 left in the first half.
But Jeffries, who had hit 3 of his last 25 3-pointers coming in, was not done. He feasted on LSU all game, pouring in a season-high 5-of-6 3's for a game-high 18 points.
Shakeel Moore scored 13. Tolu Smith finished with 10 points and seven rebounds for Mississippi State.
KJ Williams led LSU (12-12, 1-10) with 11 points. Adam Miller and Derek Fountain, a Mississippi State transfer, added 10 points apiece.
LSU recovered from State's unexpected early scoring onslaught, with a 10-0 run of its own, and the Tigers went up by as many as six points on two different occasions in the first half, leading 22-16 with 7:20 remaining in the half before going ice cold and failing to score another point before intermission.
Mississippi State scored the last nine points of the first half and opened the second with a 9-1 run to make it 34-23 on Cameron Matthews' dunk with 15:43 to play capped the spurt. The Bulldogs led the rest of the way.
"They came out to start in the second half, punched us in the face and we were unable to respond," LSU coach Matt McMahon said. "Our half-court defense really let us down in the second half. You're not going to win on the road when your opponent shoots 65% in the second half."
Especially not when LSU turned the ball over 15 times and State converted those turnovers into 20 points.
LSU also allowed Mississippi State to roam free close to the goal for most of the second half, giving up 34 points in the paint in the game including 14 layups and two dunks.
Mississippi State shot 52% from the field compared to LSU's 43.
LSU returns home Saturday at 7:30 p.m. against Texas A&M (17-7, 9-2). The Aggies beat the Tigers 69-56 on Jan. 7 in College Station.