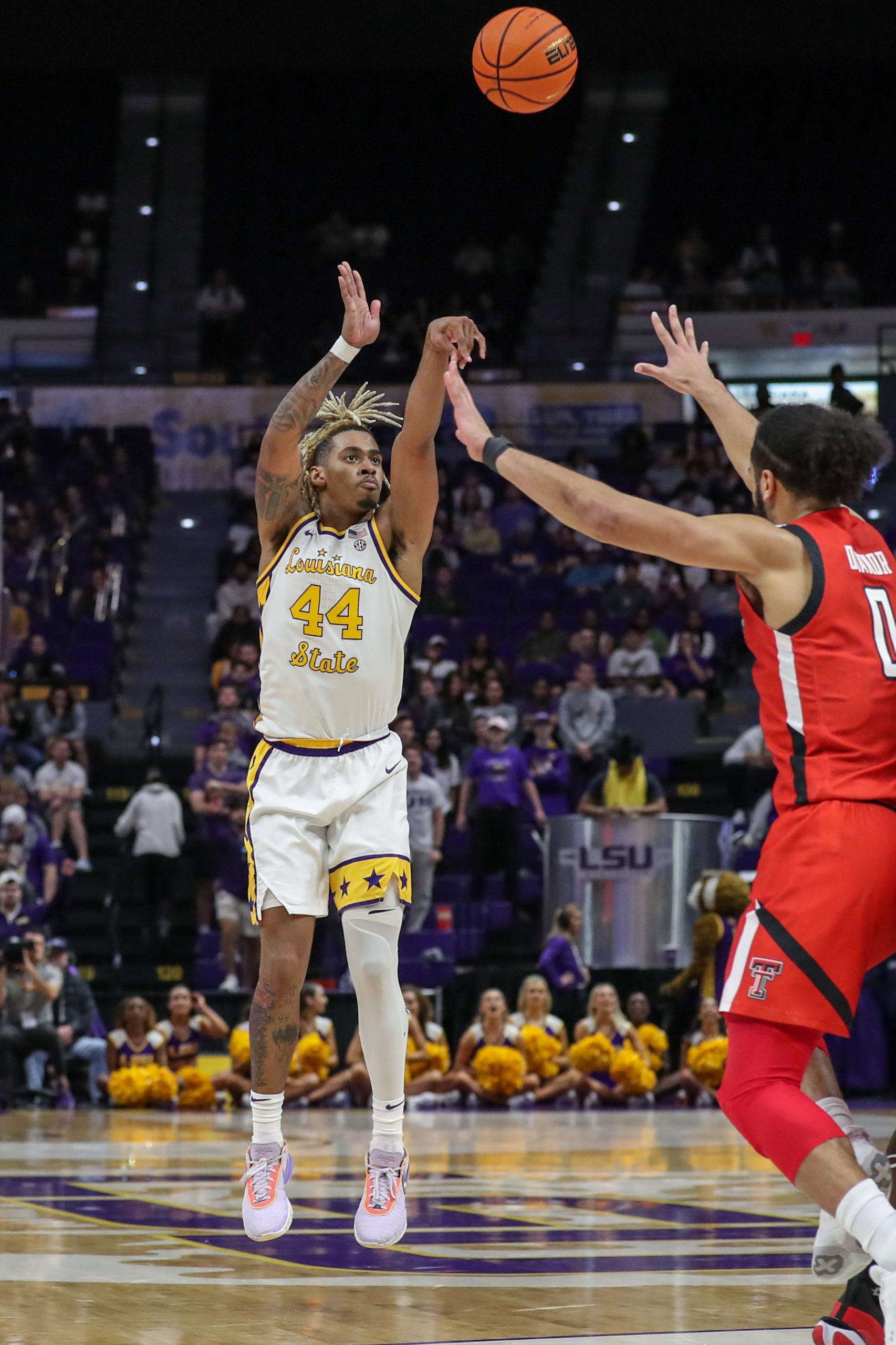 Adam Miller reappeared at the Pete Maravich Assembly Center on Saturday, but his sharp-shooting performance was not enough for LSU which dropped its eighth straight game, 76-68, to Texas Tech in the SEC/Big-12 Challenge.
Miller scored 20 points to lead LSU (12-9), knocking down 6 of 12 shots from the field, including 5 of 10 3-point attempts. KJ Williams added 14 points and nine rebounds, while Derek Fountain also scored in double figures for the Tigers.
Texas Tech (11-10) was led by Kevin Obanor scored 22 points, Kerwin Walton added 17 points, De'Vion Harmon had 14 points with eight assists.
"Disappointing loss for our team. I thought there were certainly some areas that were much improved for our program today," LSU coach Matt McMahon said. "We came out in the second half and were able to get the lead, go up by five with nine minutes to play. We held them to 10 points the first 11 minutes of the second half.
"We did a good job from an execution standpoint," McMahon said. "But then, just some of the attention to detail, had some breakdowns. Missed a free-throw box out that led to a three-point play. We got into some foul trouble and then we were not able to get stops down the stretch and we were not able to knock down shots. Credit to Texas Tech on the win."
Miller, who had only managed to convert 2-of-17 3-point shots in the past three games, looked at times like he was going to be the difference for the Tigers, whose last win was on Dec. 28, 2022 in the SEC opener against Arkansas, 60-57.
LSU went cold down the stretch, as it has been prone to doing during its current losing streak and that cost the Tigers their best chance at a win since a close loss at Kentucky in early January.
"Obviously we were trying to get Adam Miller as many looks as we could," McMahon said. "I thought it was great to see him shoot the ball well from three today. They (Texas Tech) did a good job of switching out and they were denying him on a lot of his catches. Then, when they switched their five-man onto him, we wanted to space the floor and have him drive it and that lead to some playmaking opportunities. At the end of the day, in the second half we were 32 percent from the field and 23 percent from three, and that's just not good enough to win."
Texas Tech outscored LSU 19-10 in the final 7 1/2 minutes to snap its own eight-game losing streak.
"This win was significant for a lot of reasons," Texas Tech Mark Adams said. "We needed the 'W' and to get it on the road was even better. I thought we played very good basketball for most of the game. I thought we did well on both ends and shared the ball.
"We had individuals who really stepped up," Adams added. "Kevin (Obanor) really stepped up and showed his leadership. He had over 20 points and played his heart out. Our bench played well and of course Kerwin Walton had a good night for us as well. It is encouraging for us to see these young guys play the way they did tonight."
KJ Williams hit a 3-pointer with 8:59 left in the game to put the Tigers up, 56-51.
Williams, however, picked up his fourth personal on Texas Tech's next possession after he blocked Obanor's layup attempt, then LSU failed to block out Obanor on a subsequent free throw attempt. Obanor got the rebound off his own miss and the put back score while also drawing the foul from Williams.
Obanor missed the free throw attempt, but Walton rebounded and got the put back and Texas Tech cut LSU's lead to 56-55.
"We really struggled to score from that point forward," McMahon said. "When he (KJ Williams) went out, and he didn't have his more efficient day from two-point range, but I thought the flow of the offense was a lot better when he was on the floor. Again, you go back to the free-throw box out. They convert that into an and-one and then they (Texas Tech) hit two threes."
But from that point on, LSU went 1-of-13 from the field, not scoring another field goal until Miller's layup with 24 seconds left in the game.
LSU trailed 41-33 at halftime, despite Miller's 4-of-6 3-point shooting during the first half.
Miller picked up his third personal foul with 3:33 left in the first half, a few seconds after he hit a 3-pointer to cut Texas Tech's lead to four points at 33-29. But with Miller on the bench, Texas Tech outscored LSU, 8-4, to lead 41-33 at halftime.
All five LSU starters scored in a 13-5 run to open the second half and gave the Tigers a 46-45 lead with 13:30 remaining. For the second time in the game, Walton hit back-to-back 3-pointers and Texas Tech regained the lead by five.
Walton's two 3-pointers came in the midst of a stretch of six-plus minutes in which every point was scored via 3-pointer or three-point play. Harmon's 3-pointer for Texas Tech with 16:31 remaining began the streak and it ended when Fountain scored in the paint to tie the game at 51 with 10:17 to go.
The last of the game's 12 lead changes came when Walton buried his fifth 3-pointer, giving the Red Raiders a 60-58 lead with 7:13 remaining. Texas Tech went on to build a 69-60 lead with 2:48 remaining.
Entering the game, Obanor needed 24 points to become the third active player in the NCAA with 2,000 points and 1,000 rebounds. LSU's KJ Williams and Jayden Gardner of Virginia are the other two. LSU honored Williams, before the game with a ceremony for becoming the 122nd player in the NCAA to reach the milestone.
Justice Hill, who had stepped away from LSU before the Auburn loss almost two weeks ago for a personal reason, returned to practice on Thursday and played nine minutes against Texas Tech. He scored three points on Saturday, a crucial 3-pointer from the corner after Miller evaded a trap from Texas Tech's high-pressure defense and found Hill wide-open for a catch-and-release.
Texas Tech improved to 11-2 in non-conference games but is 0-8 in the Big 12.
LSU returns to SEC play at Missouri on Wednesday.
"Yeah, it it's tough for us. It is," McMahon said. "But that's the job of of the coaching staff. There are certainly basketball areas we need to improve and get better. But I think, you know, really doing the job in one-on-one meetings, team meetings and so forth to make sure we keep our players in a mindset that you gotta keep working, gotta keep fighting, can't feel sorry for yourself. We've gotta try and find a way to win the next game."