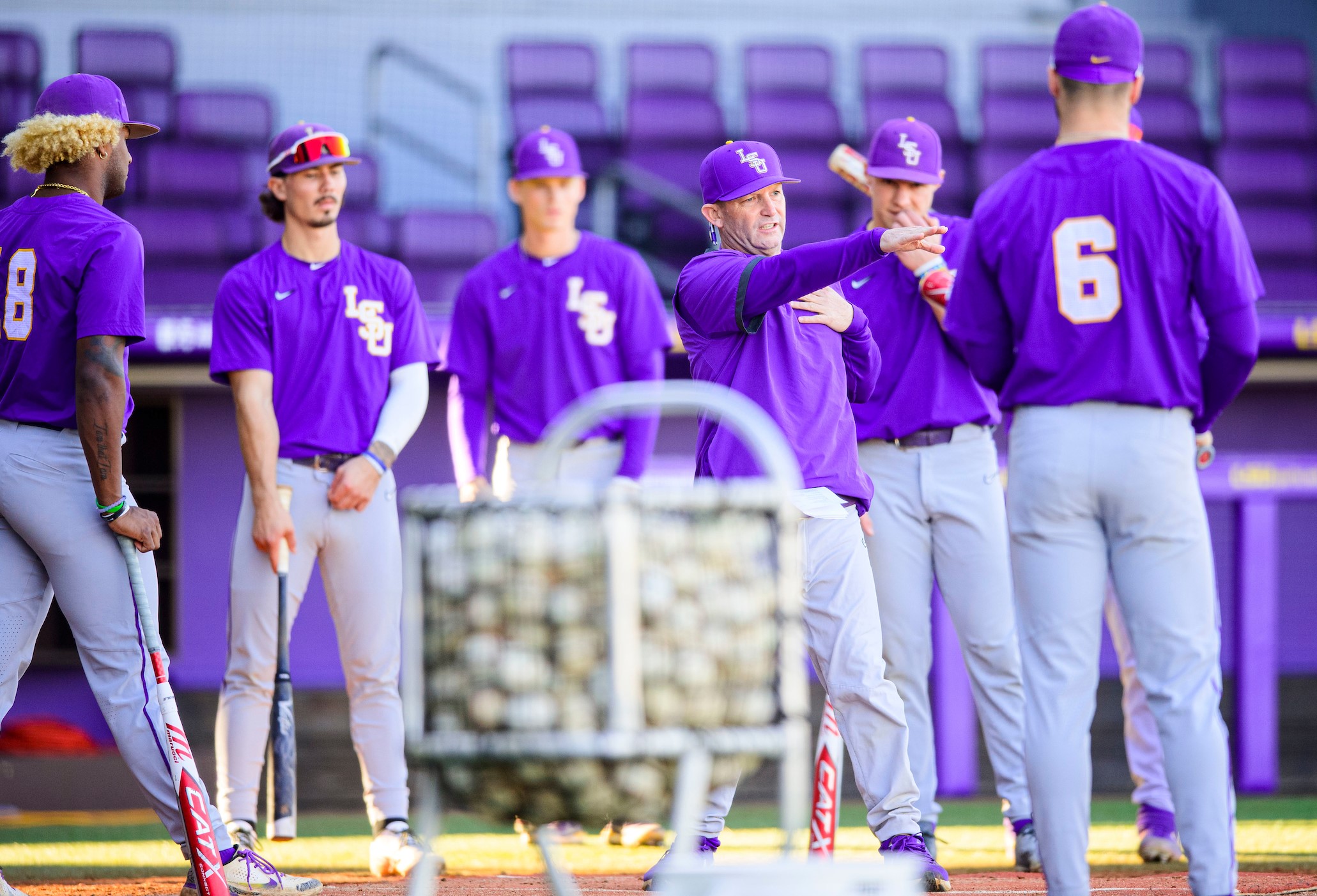 The LSU baseball team held its annual Media Day activities and opened preseason practice on a sunny Friday afternoon in Alex Box Stadium, Skip Bertman Field.
LSU, a consensus No. 1 in the college baseball preseason polls, opens the season at 6:30 p.m. February 17, when the Tigers play host to Western Michigan in Alex Box Stadium, Skip Bertman Field.
LSU returns 11 position players with starting experience and nine pitchers who recorded innings last season. The roster also features several talented transfers who are capable of making an immediate impact, along with a highly-touted class of true freshmen.
Jay Johnson is in his second season as LSU's head coach after leading the club to a fourth-place finish in the SEC in 2022, marking the Tigers' first Top 4 league finish since 2017. He addressed the assembled media Friday in the Champions Club of Alex Box Stadium and outlined his formula for handling high expectations that come with a No. 1 ranking.
"The expectations from me to our players are very clear," Johnson said. "In terms of core values and in terms of what this team needs to do to be successful, it's to prepare at the highest possible level. They're expected to give everything they have to executing what their job is in order for the team to win.
"The No. 1 ranking is awesome, I think it's great. You can utilize it for recruiting; I think young people want to go to schools that care about baseball and give them a chance to be successful. We have that here."
The LSU lineup is highlighted by junior centerfielder Dylan Crews, a 2023 preseason All-American, the 2022 SEC Co-Player of the Year and a consensus first-team All-American last season.
Crews is joined by several other accomplished veterans like junior first baseman/preseason All-American Tre' Morgan, senior outfielder/infielder Gavin Dugas, junior shortstop Jordan Thompson, junior outfielder/DH Brayden Jobert and sophomore outfielder Josh Pearson.
Other position players with starting experience include junior catchers Alex Milazzo and Hayden Travinski, senior first baseman/DH Cade Beloso, sophomore outfielder Josh Stevenson and senior infielder Jack Merrifield.
The veterans are joined by several talented newcomers, including impact transfers like third baseman/preseason All-American Tommy White (North Carolina State) and infielder Ben Nippolt (Virginia Commonwealth).
A group of skilled LSU true freshmen features infielder Gavin Guidry, outfielders Paxton Kling, Mic Paul and Zeb Ruddell, and catchers Brady Neal, Jared Jones and Ethan Frey.
"Offensively, we have more guys this year that are balanced in terms of speed, power, hitting skills and defensive aptitude," Johnson said. "Several of our returning players have made tremendous improvement since last season, and I'm excited to see how that translates to the games."
The Tigers' pitching staff boasts a number of accomplished arms, including junior right-handers Ty Floyd, Blake Money, Bryce Collins, Will Hellmers and Garrett Edwards, junior left-hander Riley Cooper, and sophomore right-handers Grant Taylor and Sam Dutton.
Sophomore left-hander Javen Coleman, who underwent Tommy John surgery early last spring, is making solid rehabilitative progress and may return to the mound at some point this season.
High-profile transfers like junior right-hander/preseason All-American Paul Skenes (Air Force), sophomore right-hander Thatcher Hurd (UCLA) and junior right-hander Christian Little (Vanderbilt) are projected to make an immediate impact upon the staff.
JUCO transfer left-hander Nate Ackenhausen will bolster the pitching corps, as will a stable of true freshmen hurlers that includes left-handers Griffin Herring, Nic Bronzini and DJ Primeaux, and right-handers Chase Shores, Aiden Moffett and Micah Bucknam.
"I'm really excited about (first-year pitching coach) Wes Johnson and the methods by which he develops our pitchers," Johnson said. "Wes is one of the preeminent pitching coaches in the nation at any level. Someone who watched our pitchers in the fall mentioned to me how complete and professional their deliveries are, and that's a by-product of their work with Wes."
Jay Johnson said the Tigers will embrace the opportunity to live up to their lofty preseason ranking.
"We play a game in 21 days, and we've got 18 practice sessions until then," he explained, "so we're looking forward to starting the process. We'll focus on maximum effort toward preparation and toward executing what the game requires in order for the team to be successful."