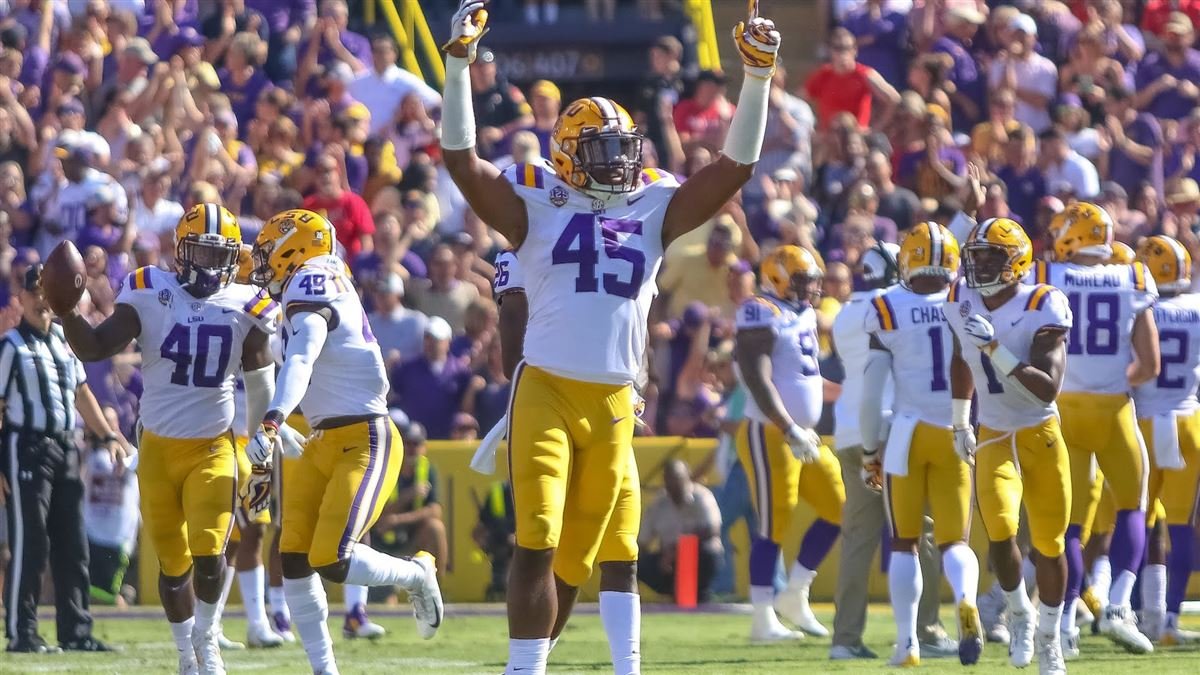 LSU senior Michael Divinity emerged as a rising star last season at the outside linebacker position.
There, he tallied 54 tackles, five sacks for 27 yards, an interceptions with a 31-yard return and two fumble recoveries.
Now as a senior, he's developed himself as a vocal leader, both on and off the field, though his voice has been heard from a different spot on the field during certain moments during spring camp.
Divinity has spent time these last couple weeks — a total of three practices and a scrimmage — working from the inside linebacker position.
"It's totally different (when pass rushing)," Divinity said. "You don't have that much space to maneuver around, and a lot of those guards and centers like to get their hands on you. It's totally different than going against a tackle."
Divinity doesn't know how permanent the move to middle linebacker will be, saying the media should ask head coach Ed Orgeron for a more concrete answer.
But his ability to move around the defense could prove invaluable for an LSU defense with increased depth and talent, especially at the outside linebacker position.
Divinity himself pointed to junior outside linebackers Andre Anthony and Ray Thorton as well as defensive end Travez Moore as outside rushers who have stepped up during spring.
And with the return of sophomore outside linebacker K'Lavon Chaisson, the Tigers will have many more options outside than in the 2018 season.
"Coach Aranda wants outside linebackers on the field because we're athletic," Divinity said. With those guys progressing this spring, it's going to help us have both outside linebackers on the field and help us be even better."
In addition, Jacob Phillips has missed spring practice with an injury, leaving a vacancy open at middle linebacker, opening up the spot for a versatile back like Divinity to earn some reps at the Mack position.
When playing inside linebacker, Divinity has stepped into the role left vacant by 2018 Butkus Award winner Devin White.
Working on both his skills at the new position and looking for tips on the leadership side, Divinity said he's spoken to White on a regular basis during spring camp.
"Yeah, we talk every day," Divinity said. "He's actually helped me out with just trying to be a leader. He's staying on me a lot about just being a leader and focusing and staying focused on this season."
As a leader, Divinity seems to know when to take a laid back approach and when to get serious.
After a poor performance in a scrimmage, Divinity took the entire defense and gave them an impassioned talking to.
"I said a couple cuss words," he said.
But his words had impact.
The following week at practice Divinity said his teammates played "LSU defense," at practice on the following Tuesday and Thursday and then the next scrimmage.
Other times on the field, according to inside linebacker Patrick Queen – who plays the rover position next to Divinity – he can be laid back and make jokes to get his point across.
Divinity said he makes a point to show he doesn't feel like he's more important than anyone else on the defense, and Queen confirmed he gets that across with ease.
"He's not going to tell us to do something if he's not going to do that himself," Queen said. "If he tells us to be in our playbook, I guarantee you'll catch him in his playbook. It's just little things like you gotta do what you're preaching."
It may be unclear whether he will remain in the inside linebacker position by the time fall camp roles around or if he's serving as a temporary replacement until Phillips returns.
Regardless of where he plays next season, he's taken advantage of the opportunity by proving his versatility and establishing himself as a vocal leader who will undoubtedly make a significant impact on the field next season, no matter what position he's playing.
"Mike is the vocal leader of our defense," said LSU defensive lineman Breiden Fehoko. "He echoes. He talks. He makes sure all the checks, all the calls, kind of like how Devin did last year."
Photo Credit: Terrill Weil